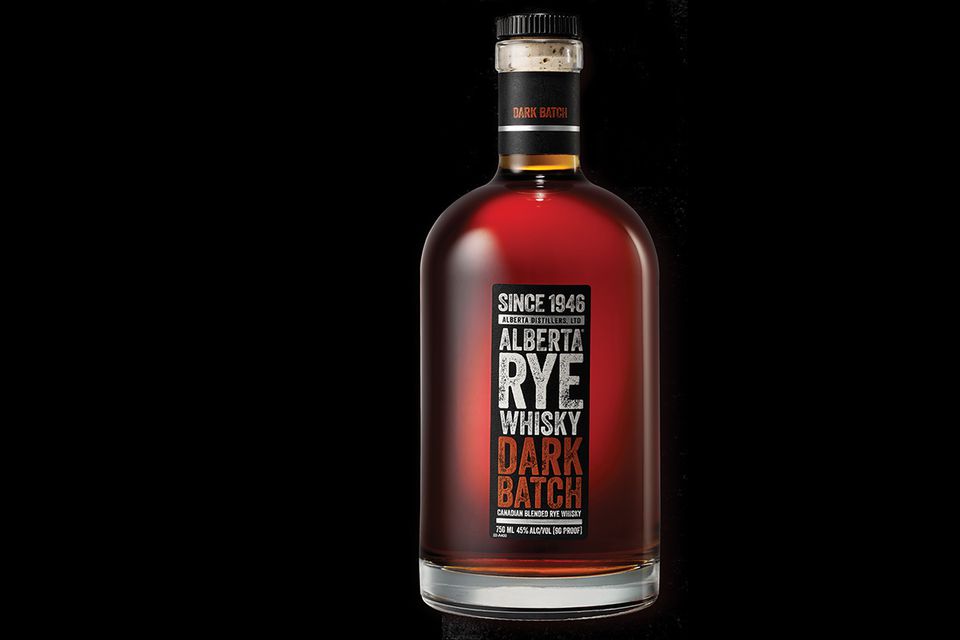 There are many times in life when you wish for a little of this and a little of that, though the specific mixture is not always available. If one of your desires is to have the smooth, mixable blend that is characteristic of a good Canadian whisky with that bit of spice found only in rye whiskey, then Albert Rye Whisky Dark Batch is the perfect option.
Released in April of 2015, Dark Batch is the latest whiskey release from one of North America's best rye whiskey distilleries, Alberta Distillers Ltd of Calgary, Alberta.
The distillery was founded in 1946 and their years of experience have created an affordable and mixable new whiskey that you are going to want to taste.
Canadian Blending Meets Rye Whiskey
As I have personally experienced, blending whiskey is no easy task and the blenders of Canada are some very talented people, they are masters of this craft. The beauty of Alberta Rye's latest creation is that they have taken that skill and knowledge to a new level, not only creating a blend of rye, bourbon, and sherry, but by starting off with a blend of rye whiskies.
Dark Batch begins in two different stills. In a pot still, one batch of rye whiskey is distilled to create a richly flavored whiskey. This one is aged for six years in new American oak barrels with a No. 4 char (there are 7 levels of char, 4 being the second heaviest). At the same time (or six years earlier), another batch of rye whiskey makes it way through a column still, then receives a 12 year rest in used bourbon barrels.
This second batch has both a higher proof and lighter flavor character.
These two rye whiskies are blended together in equal parts and now the blending for the bottle begins. Unlike many Canadian whiskies, the creators of Dark Batch do not keep their blend a secret. The finished whiskey uses 91% rye whiskey, 8% bourbon, and 1% sherry.
The recipe is distinct and classifies this as a true rye whiskey (not Canadian). The focus is certainly on rye and uses bourbon and sherry for accents. This is unlike the typical Canadian whisky, which relies on a corn or wheat base then uses rye, sherry, and other spirits as flavor accents. The distinction from many other rye whiskies, however, is that Canadian mastery of blending.
The Taste of Dark Batch
That spiciness that denotes a rye whiskey remains in Dark Batch, though it is not as bold as many of the other ryes available today. This whisky has a nice balance between spice, sweet, and smoke and that may make it more appealing to a broader audience, particularly drinkers who like Canadian or bourbon whiskies and have not yet developed the palate for a robust rye.
The nose begins with a light spice mixed with vanilla and oak. The palate is surprisingly un-spicy, instead marked with distinct flavors of honey and oak, which combine for a delightful sweet and bold flavor. There are also some smoky notes and an alluring dried fruit undertone. Dark Batch finishes long and smooth and is quite soothing.
Mixing with Dark Batch
This whisky is good on its own, as enjoyable as any number of other whiskies, but it really shines in cocktails.
The beauty of this one is that it can work in rye whiskey or Canadian whisky cocktails, in fact, it would be great in almost any whiskey recipe you have. It's balance and flavor is ideal for drinks.
The brand has a recipe called Rye Squeeze, which mixes Dark Batch with ginger beer (I used Q Ginger Beer) and two dashes of Angostura Bitters with an orange wedge. Simple and a great introduction to Dark Batch.
More About Alberta Rye Whisky Dark Batch
Blended rye whiskey produced in Calgary, Alberta.
Produced by Alberta Distillers Ltd.
Distributed by Beam Suntory Inc.
Released: April 2015
45% alcohol/volume (90 proof)
Retails for around $29.99/750ml bottle
Visit their website: AlbertaRye.com
It should also be noted that Dark Batch is the U.S. release of Alberta Premium Dark Horse Whisky, which is available in other markets.
Disclosure: Review samples were provided by the manufacturer. For more information, please see our Ethics Policy.