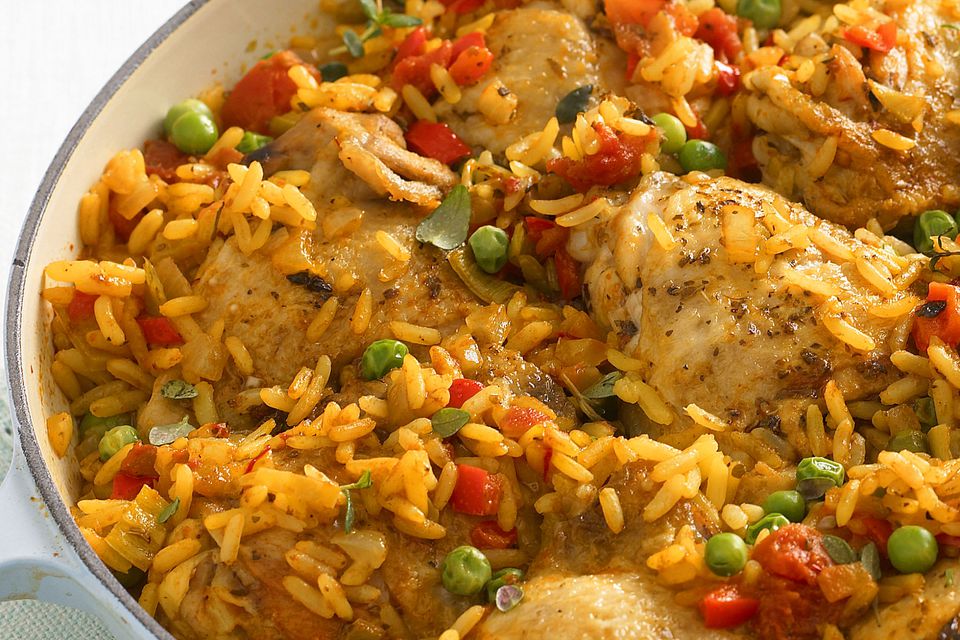 This is one of those classic dishes that are common in many regions of the Americas because of their universal appeal and the common Iberian heritage in Latin American countries. (Other dishes that share this distinction with Arroz con Pollo include Picadillo, Empanadas, and Rice Pudding.)
Several countries have a clearly discernable version of Chicken With Rice. In Peru, for example, the rice is cooked with lots of cilantro and the chicken is in intact pieces, while in Costa Rica the chicken is shredded and the dish is served with potato chips.
This Mexican version of Arroz con Pollo (pronounced somewhat like ah-ROHS cohn POH-yoh) has the chicken cut in large cubes and contains green chiles. (Note: Green pepper can be substituted for the green chiles, if you prefer.) It is quick and easy, yet very flavorful, and makes a great one-dish lunch or dinner.
3 tablespoons of vegetable oil or pork lard
1/2 cup chopped white onion
1/2 cup chopped fresh green chile (seeds and veins removed)
2 cups of long grain white rice
2 pounds (900 grams) skinless, boneless chicken cut into cubes*
2 cloves of fresh garlic, peeled and chopped
3 and 3/4 cups homemade chicken broth OR 2 cans of chicken broth, 15 ounces (443 milliliters) each
2 cups of tomato puree OR one 15-ounce (443 milliliters) can of tomato sauce
Salt to taste
*The size of the cubes of chicken breast is up to you. Some people like to make this with small, bite-sized pieces, while others prefer large chunks of meat that give the impression of almost eating a whole chicken piece. If you prefer dark meat chicken, use skinless, boneless chicken thighs instead.                                                                                                        
Heat the oil or lard in the bottom of a large pot. Sautee the chopped onions and chile over medium-high heat for a few minutes. Add the rice and continue to cook, stirring frequently, for about one minute, until the rice becomes translucent.

Add the chicken and garlic to the mixture and cook for about 2 more minutes. Pour in the broth, tomato puree, and salt (amount will vary according to how much salt is already in the chicken broth) and bring the mixture to a boil. As soon as it boils, reduce the heat so that the liquid is barely simmering.

Cover the pot and let it simmer for about 25 minutes without removing the lid. Take the pan off the heat and let it sit-still without taking the lid off—for at least 5 more minutes (or up to half an hour).

Serve your delicious Arroz con Pollo with a garnish of chopped onion, cilantro or diced chiles, if you like.
Variations of Arroz con Pollo
Don't hesitate to add a good handful of chopped veggies to this dish (carrots, peas, green beans, etc.) for added color, flavor, and nutrition.

Use peeled and diced tomatoes instead of tomato puree if you prefer a white rice with red specks.

Add a little bit of achiote paste to your Arroz con Pollo to give it a nice yellow color.

Vary the type of chile pepper or bell pepper used—try a red pepper instead of a green one.

Try these other renditions: Spanish Chicken and Rice, Florida-Style Arroz con Pollo, Peruvian Green Chicken With Rice.
Edited by Robin Grose