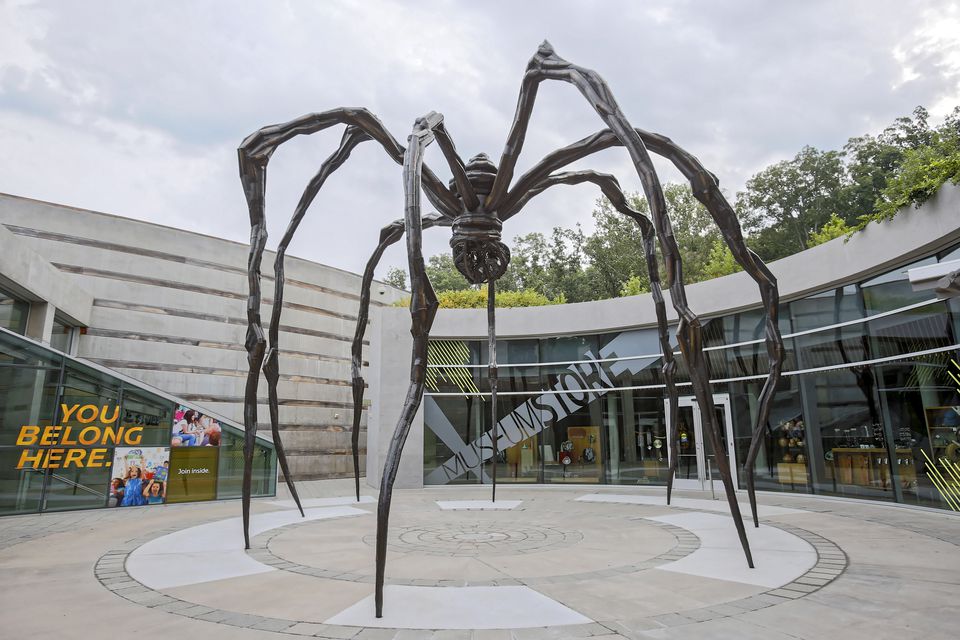 I'll never forget the magic of standing in front of an iconic work of art like American Gothic or Starry Night. Unexpected art museum discoveries can be equally thrilling. I couldn't wait to share those experiences with my grandchildren. But taking children into a building housing billions of dollars worth of art can be a little intimidating. Here's what I've learned -- combined with the advice of experts -- about taking grandchildren to art museums.
How Old is Old Enough?
What is the right age to take a grandchild to visit an art museum? Generally speaking, you want the child to be old enough to understand that the art isn't for touching and that a museum is not a place for running and yelling. For the most part, that means age 3 or older. But if you live near a museum and can stop in for very brief visits, children can be introduced to art much earlier.
Most museums allow strollers, although they may be prohibited in certain galleries or at peak times. The Guggenheim, the Art Institute of Chicago and a number of other art museums even offer stroller tours, usually scheduled before regular visitor hours, so that adults and very young children can enjoy a stress-free visit.
Another way to introduce a very young child to art is through holding him or her in your arms. This allows for quiet conversation about the art. Just be prepared to end the visit when the child becomes restless or loud.
Follow the Rules
When children are old enough to experience art while standing on their own two feet, it's time to teach the rules. Not only must they not touch the artwork, but the museum personnel will become nervous if they get close enough to touch. Some museums have tape on the floors to show how close is too close.
The best policy is to try to stay three feet away from artwork. The museum guards will be much more relaxed if you have the children put their hands behind their backs, but personally I think this is too hard for most kids to maintain for an entire museum visit.
Be sure to warn the grandchildren that sculptures are off limits, too, even though they are infinitely more tempting. Occasionally museums will have exhibits designed for touching, but these are rarer in art museums than in other venues.
More Hints for Managing Visits
I love doing things on the spur of the moment with my grandchildren, but I never tackle museums without preparation ahead of time. Museum visits will be much more enjoyable for all if you follow my three steps to manage behavior: Have a plan, share your plan with the grandchildren and be very specific about expectations. In addition, this general advice for museum-going grandparents is applicable to most art museums, as is this advice about avoiding a museum meltdown.
It's most important that you never try to see all of a large museum in one day. Choose one or two areas, floors, collections or exhibitions to explore. Plan a stop for lunch or snacks either in a museum eatery or outside on the grounds.
And leave before serious fatigue sets in.
If your grandchildren are very young or naturally rambunctious, take an additional person with you to help manage behavior. Have at least one adult for every two kids unless the children are older or very well-behaved. One adult per child is even better.
How to Handle Exhibits With Nudity
Your grandchildren will also need to be prepared to see nudity. The museum that you are planning to visit may have resources for talking about nudity with your grandchildren, but it's always a good idea to consult the parents. They may be able to do the initial groundwork for you so that you only have to deal with a few giggles.
Basically, the grandchildren should know that the human body has fascinated artists forever, that artists must master human anatomy and that it's difficult to study or show anatomy when subjects are clothed.
It's also worth pointing out that the body is the one thing that all humans have in common and that all humans spend a certain amount of time nude.
Be as matter-of-fact as possible and, when you do encounter nudes, refrain from either hurrying the children past or insisting that they linger. Instead, follow their lead, as long as their parents are comfortable with this approach.
Resources for Families
Many museums offer special resources for families. These include family rooms where kids can experiment with art and guided activities for the museum. Some museums have special docent-led or audio tours especially designed for children.
Sketching in the museum is a time-honored activity that the grandchildren may enjoy. Take a sketchbook and pencils for each child or purchase them in the gift shop. An extra bonus is that sketch breaks allow grandparents time to rest. You should be aware that most museums do not allow markers, paints and other messy art supplies. In addition, sketching may be prohibited in some special collections.  Ask if you're unsure of the rules. 
More Ways to Enjoy Art Museums
Inventive grandparents can find other ways to enhance the grandchildren's enjoyment and understanding. I read a parent's blog that suggested taking the children to the gift shop ahead of time, letting them pick out postcard reproductions that appealed to them and then visiting those artworks. I like this idea, but I don't like spending premium time -- when you've just arrived and everyone is fresh -- in the gift shop. Also, if the pieces of art end up being in different areas of the museum, you could be in for a lot of walking.
I would probably do the same thing in reverse: See the art first, and then let the children buy postcards of their favorites later. Some museums have laminated images of artwork that you can borrow and use in different activities.
You can also preview the art online with your grandchildren and let them pick out pieces that interest them. Some museums have their online images organized by collections.
If you limit the grandchildren to a specific collection or two, you can avoid having to cover the entire museum in one visit.
If you preview the art online, you can then print out the images and put them in a booklet or folder for the kids to take with them. Be sure to mark each image with the name of the artist and of the artwork. The grandchildren will be eager to share what they know with you, and you will love seeing them exhibit this "teaching behavior."
Once the grandchildren are museum veterans, you may want to to look for artwork in particular sets. Young children may enjoy seeking out artwork about animals. Alternatively, you can look for the largest artwork in the museum. (That will appeal to most kids!) Or search for the smallest, the oldest, the most valuable or art done in a particular medium. 
If you are close enough to make repeated visits to one museum, a grandchild may be interested in designing a tour to share with cousins, parents or friends. Think of the learning that becoming a tour guide will entail!
Consider a Variety of Museums
By all means, take the grandchildren to the grandest museum that is accessible to you, but don't overlook smaller museums or specialized museums. These may offer fewer challenges in terms of space and scope than larger museums. There may be fewer nudes, too!
What grandchild wouldn't enjoy The National Museum of Wildlife Art in Jackson, Wyoming? And what grandparent wouldn't enjoy seeing the Norman Rockwell Museum in Stockbridge, Massachusetts? Then there's the new Crystal Bridges Museum of American Art in Bentonville, Arkansas, with free admission courtesy of WalMart.
A relatively new development is the appearance of children's museums dedicated wholly to art. The most famous is the Children's Museum of the Arts in New York City. These are more like children's museums than art museums, though. They focus on facilitating the creation of art rather than the exhibition of art.