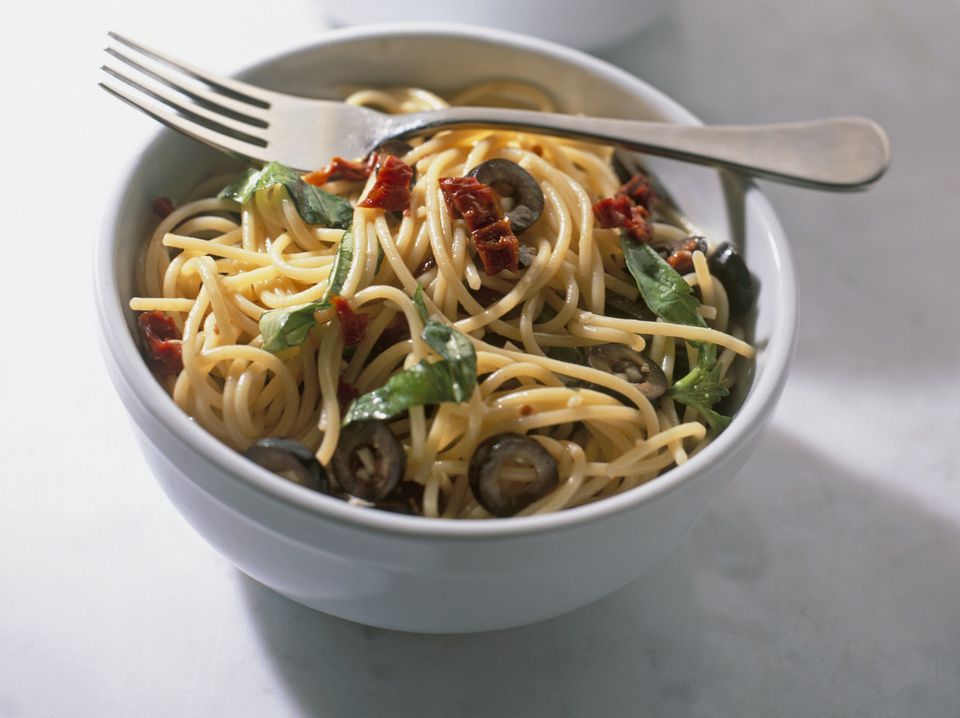 Sometimes the simplest of foods are so nourishing and tasty they seem more than gourmet. Artichokes and sun-dried tomatoes can be popped out of a can and tossed on a plate of pasta to take a dish from ordinary and everyday to gourmet. 
This is a simple pasta recipe with sun-dried tomatoes, artichoke hearts and fresh chopped basil, but the combination of ingredients is simply sublime and far greater than the sum of it's parts. This is an absolutely fantastic vegetarian and vegan pasta dish. I like to add the tiniest of a balsamic vinegar drizzle when I make this recipe, and I also like to use roasted red peppers instead of fresh if I have them on hand. 
Another tip? If you're really looking to impress with this simple and easy sun-dried tomato and artichoke pasta recipe, spring for freshly made pasta, rather than the usual boxed kind. Most grocery stores have fresh pasta in the refrigerated section, usually near the cheeses. 
See also: 
2 tbsp good quality olive oil
3 cloves garlic, minced
1/2 red pepper, diced
1 jar sun dried tomatoes, drained (or, you can use about 3/4 cup dry, rehydrated)
1 cup artichoke hearts, coarsely chopped
1/3 cup sliced black olives
1/3 cup fresh chopped basil
1 box bow tie pasta, cooked according to package instructions (salt the water when cooking for the best flavor)
First, sautee the minced garlic in olive oil for a minute or two, then add the red peppers and the fresh basil.
Allow to heat for just another minute or two, then add the tomatoes, artichoke hearts, olives and basil and allow to cook until heated through, stirring frequently, about 2-3 more minutes. Do not over cook, as you'll lose the good fresh flavors from the basil.
Toss with cooked pasta and enjoy!
I find that this recipe is perfect just as it is (though I usually add a drizzle of balsamic vinegar), but you may want to top it off with a bit of sea salt or kosher salt and fresh ground black pepper. If you're not eating vegan you might want to top it off with some Parmesan cheese (or use nutritional yeast to sprinkle on top if you are eating vegan).
Like this recipe? Here's more simple vegetarian pasta dinners you might enjoy:
Easy portobello mushroom and asparagus pasta in a light vinaigrette
Sun-dried tomato and walnut penne
Simple vegetarian pasta with roasted vegetables