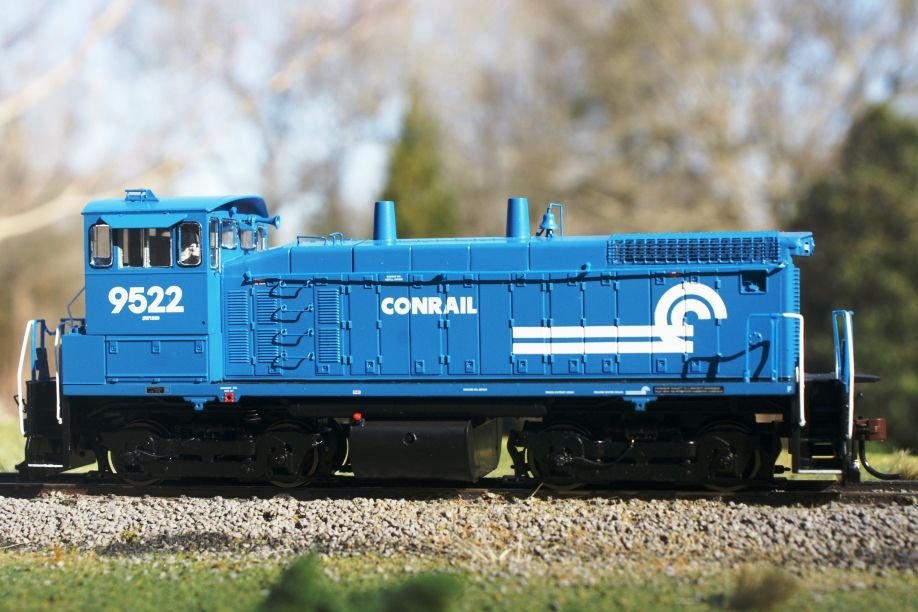 The SW1500 has been in Athearn's product line for decades. But don't confuse these newest releases with the original "blue box" kits. Despite being only in the Ready-to-Roll line, these locomotives feature excellent detailing including some which are roadname and road number specific.
With a smooth and quiet drive inside and DCC ready, these locomotives are a good value at $124.98 MSRP.
Originally scheduled for April delivery, this latest round of locomotives comes in four roadnames with multiple numbers and paint schemes and has arrived ahead of schedule!
Prototype Background
EMD introduced its 1500 horsepower SW1500 switcher in 1966. Although the end-cab design is similar to previous switchers, this locomotive stood much taller than earlier locomotives.
Designed for switching duties in rail yards and industries, the lower long hood and end-cab location greatly improves visibility for the engineer when switching. Although the long hood end was usually designated as the "front" most railroads operated the locomotives with the cab leading to provide a better line of sight between the engineer and switchmen on the ground.
The locomotives were powerful enough to see use outside of the yards as well. Serving as local power on branch lines or short lines the locomotives could stretch their legs a little.
Roads expecting road service from their SW1500s specified Flexicoil trucks which allow operation up to 60 mph. Most roads added MU connections to allow the switchers to operate in pairs or larger consists. For more on this versatile switcher, see the complete locomotive profile.
The most obvious spotting feature of the SW1500 vs. the similar SW1000 (1000 hp.) is that the SW1500 has two exhaust stacks to the SW1000's one.
There were however a number of differences between production runs and railroads. Through mergers and sales, it was not uncommon for some railroads to roster multiple versions of the SW1500.
The Conrail units reviewed for this article are one such example of this mixed pedigree. Conrail inherited SW1500s from the Penn Central, Indiana Harbor Belt (via PC,) Indianapolis Union and Reading. Major detail variations between the orders included AAR or Flexicoil trucks, louvers on the hood doors and full or partial handrails along the sidesills. Most of Conrail's locomotives went on to serve Norfolk Southern or CSX.
Paint and Details
Let's start the review of these models with the exterior. As usual, Athearn's paint and deco finish are second to none. Paint is evenly applied and the graphics are crisp and legible down to the finest print. Also noteworthy is there are subtle lettering differences between the different Conrail samples I purchased. Roadnumber-specific detailing like this is expected on the premier Genesis line - it is a welcome addition to the Ready-to-Roll series.
The extras don't stop there. Athearn's Ready-to-Roll line has seen a notable increase in details over the years. While there is still room for the detailer to have some fun with these models, even if you add nothing, you've got a great looking locomotive.
Pilots include MU hoses and receptacles, drop steps and coupler cut levers. A Sinclair radio antenna sits atop the cab roof. The bell even has the appropriate air line. The cab interior, easily visible through the many windows, is very nicely done. All that's left to add is an engineer figure.
Handrails are plastic, but on the three samples I purchased everything was straight and well aligned. (The shorter railings on these versions certainly help.)
Add in the fact that Athearn put the correct Flexicoil trucks on 9504 and AAR trucks on the other two Conrail units and you can see they do their homework.
One detail does cause a bit of an operating problem. The drop steps are attached in a down position and extend past the pulling faces of the scale knuckle couplers. Trying to couple the units nose-to-nose (commonly done by Conrail in yards) the two steps prevent the couplers from mating properly.
A quick swipe with a file should solve this if replacement metal couplers don't prove long enough to solve the problem. You could also carefully remove the step and glue it back in the raised position if not MU'ing locomotives.
One unit arrived sitting at a hard angle in the box. The horn and one drop step had come off. It's not the first time I've had this problem with a locomotive (not only from Athearn.) Despite manufacturers' best efforts, rough handling in shipping is inevitable. Fortunately both parts will be easy to glue back in place. In this case, it may even work to my advantage as I'll glue that drop step back on in the raised position to clear the way for the rear coupler!
Operation
These models don't look like the old blue box kit. They don't run like it either. I found all three of my samples to be quiet and smooth runners.
With switchers, slow speed running is important. These models will creep very nicely. I expect even better control after adding a DCC decoder and programming.
There is adequate room for a decoder in the long hood of the locomotive and the models come DCC ready with a quick plug. I'd highly recommend one of the new capacitor-equipped decoders for these locomotives if you'll be doing a lot of switching. These will compensate for dirty track and non-powered switch frogs even during slow speed switching.
Adding sound may require a little more work. There is room for a speaker in the cab if you're willing to sacrifice the interior. Another option, if you choose to permanently MU a pair of units, would be using a second non-powered switcher to hold the speaker. Simply disguise the wire connections as MU hoses.
Athearn continues to use bulbs for lighting. These fit inside the housing somewhat loosely. If you've got the hood off to add a decoder, especially if you're trying something more ambitious like the conversion above, it is likely worth your time to replace the bulbs with LEDs as well. I know I'm not alone in thinking this change is the biggest thing Athearn could do to their models to make a major difference in overall quality.
Enhancements and Upgrades
While Athearn's Ready-to-Roll line continues to raise the bar, there is still some more detail you could add to really make these models stand out. This is not a critique of the model. With an MSRP $45 below a Genesis model, you'd expect less detail. None of these things have to be added to the model. They're just fun projects for those who like to customize.
The biggest detail improvement you could make to these locomotives would be to add walkway tread to the body and see-through etched step treads in the step wells. This could be done with minimal impact to the painted locomotive.
Athearn modeled the Conrail units for a late 1970s - early 1980s look. Modeling a later era means plating over some of the cab windows. Some units received all-weather cab windows as well.
A must for any diesel is weathering. There are many ways to approach this. Since switchers assigned to larger yards tended to receive maintenance regularly, a light approach is often best. But every railroad and every locomotive was different so let prototype photos be your guide.
No matter how much I tell myself "I don't need any more locomotives," as long as Athearn keeps putting out quality like this at a street price of under $100 - it just isn't easy to say "no." While there are still a few things to upgrade or modify, Athearn's Ready-to-Roll line is a solid performer and value. These switchers should provide reliable service for many model railroads set in the late 1960s to the present.