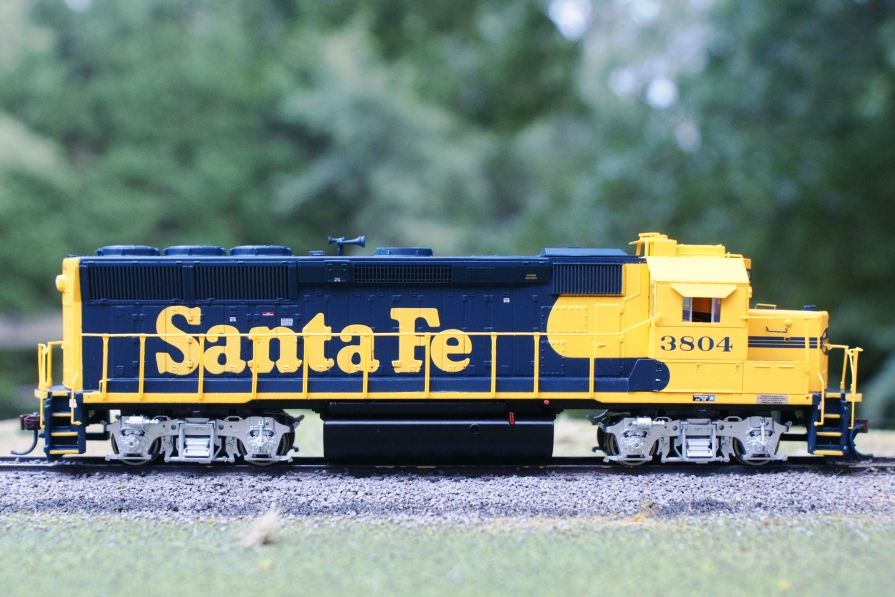 Most of EMD's "Geeps" sold in big numbers and could be found on railroads all across North America. The GP40X was not one of them. Although it was only purchased in small numbers by a few railroads, the locomotive is one of the more distinctive varieties of the popular line.
Not only was the GP40X production run small, it was also quite diverse. Differences in the short hoods, trucks, lights and numerous other details made each railroad's fleet unique.
All the more surprising then that a manufacturer would select this model for production. Athearn has done just that however, capturing the many detail changes between roads as well - all at a surprisingly low $99.98 MSRP.
Prototype Background
EMD introduced the GP40X in 1977 as a testbed for an improved 645 engine. Some locomotives also received experimental HT-B trucks as well as other options like radio control equipment for unmanned helper locomotives
Only 23 locomotives were produced with the largest fleet going to the Santa Fe (10). Union Pacific bought 6, Southern Pacific 4 and Southern 3. No two roads' locomotives looked the same.
The locomotive paved the way for the GP50 - the last locomotive to use the 645 engine. For more details on the prototype, see this locomotive profile.
Paint and Details
Although Athearn has released several Geeps in the Genesis line with a high level of prototype-specific detail, this model comes in the Athearn has released the Ready-to-Roll line.
As can be seen in the photographs, there are still a surprising number of road-specific details. 
Correct trucks, fuel tanks and lighting packages in addition to smaller roof details distinguish the SP and ATSF models. (Athearn has also released the locomotive in Norfolk Southern in this round with a high short hood.) 
There are some details absent from this locomotive. Generally, these are of the common variety, like windshield wipers, and not difficult to find or add on your own if you so desire. The biggest voids are in the pilots. Air and MU hoses and coupler cut levers would go a long way to improving the look here. Holes for many of these parts are pre-drilled for you.
Overall, the tooling on the body is very well done. door latches and hinges are molded crisply. 
As usual, Athearn's paint and deco finish are second to none. Paint is evenly applied and the graphics are crisp and legible down to the finest print. This includes markings on the truck sideframes on the SP model - a very nice detail!
Handrails are plastic, a fact often lamented on these models, but on the two samples I purchased everything was straight and well aligned. 
Operation
The locomotive runs smoothly and quietly at low speeds. These models will creep very nicely. It is everything you've come to expect from Athearn. A plug is provided for easily adding a DCC decoder. And this model has room to add a speaker if you want sound.
Athearn continues to use bulbs for lighting. If you've got the hood off to add a decoder, it is likely worth your time to replace the bulbs with LEDs as well.
I know I'm not alone in thinking this change is the biggest thing Athearn could do to their models to make a major difference in overall quality.
One nice lighting touch is the illuminated rotary beacon light on the roof of the SP units. With conventional DC operation, this light simply illuminates constantly. A more prototypical effect is easily possible with DCC. The locomotives also feature constant and directional lighting in conventional which comes on at a slightly higher voltage than is required for the locomotive to start moving.
Enhancements and Upgrades
In addition to upgrading the lighting with DCC controls and potentially LEDs, the locomotive could be further enhanced with a few more options. Like most models, the biggest thing you can do to quickly change the look is weathering.
Adding the rest of the detail array to the pilots, cab, roof and underframe will also take this locomotive to another level.
The plastic knuckle couplers, while functional, could also be replaced with stronger metal versions for more reliability at the head of a long train.
Overall, for a street price around $80, Athearn has delivered another good value in a distinctive locomotive model. Athearn has released this model at multiple times and continues to find new twists to keep it new - not an easy feet for a locomotive like this!