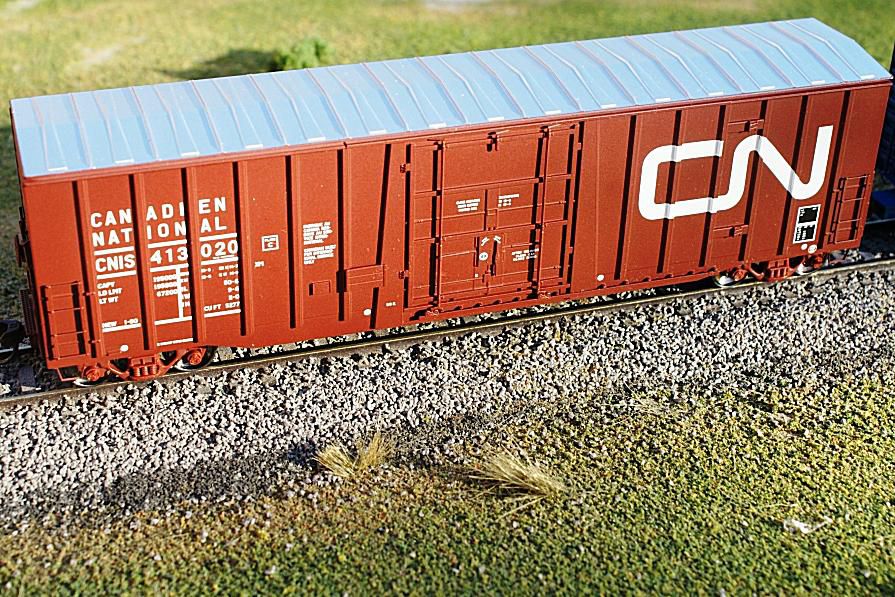 The latest new HO scale freight car release from Atlas replicates two variations of a common Canadian boxcar. Built for international service, these cars can be found all across North America.
Now in its second release, the car comes decorated in eight road numbers (four each release) for the following roads, plus undecorated:
British Columbia
Canadian National
Grand Trunk Western
A third release has been announced with CP Rail, Ontario Northland, Quebec Central and Youngstown and Austintown roadnames.
MSRP: $39.95 each, $34.95 undecorated
Prototype Background
Canadian regulations require their railroads to use equipment built in Canada. National Steel Car Company is the leading freight car company in Canada and one of the largest in all of North America.
NSC began building fleets of 50'6" plug door boxcars in 1975. By 1980, more than 1,000 were on the rails. Most went to Canadian railroads including Canadian National, Canadian Pacific, BC Rail, and Ontario Northland. Two hundred were delivered to Grand Trunk Western south of the border. Since their introduction, many (mostly former CP cars) have been sold to short lines. Nearly 40 years after their introduction, hundreds of these cars are still on the rails.
These cars feature a single "plug" door on both sides. A plug door fits into the side of the car providing a flush wall surface inside and a tighter seal around the door. These cars could be most commonly found in foodstuff and paper service.
On either side of the door, a large tapered side post, wider at the side sill than the top chord, is the most distinctive spotting feature of these cars. Over the course of production there were several changes in the car bodies which Atlas has captured in these models.
Customization
Changes in tooling methods have allowed manufacturers to affordably replicate an increasing number of prototype variations.
It wasn't that many years ago that any new model was a big announcement. Now we get new models almost monthly and with customized parts and assembly that was reserved for limited production hand-crafted brass models.
Prototype variations included in these models include:
5111 or 5277 cubic foot carbodies
70 or 100 ton trucks
Ends with nine or ten horizontal corrugations
Deep or shallow side sills
Nine or ten foot plug doors
Corner posts
Atlas also includes two sets of bolsters and coupler boxes with the cars. The extended draft gear better replicates the cushioned couplers on the prototypes but also increases the minimum radius on the car. Atlas recommends a 22" minimum curve. That is unusual for a 50' boxcar which usually have no trouble on 18" or smaller. Of course all of these curves are far tighter than what the prototype could handle, but it is worth noting that these cars may not work on some layouts. This is the trade off that comes with increased prototype fidelity.
Paint and Details
The paint and graphics on each of the samples I purchased are neatly applied. Each of the cars features a silver "bare metal" roof. The British Columbia car features an added logo panel.
In addition to all of the unique details, all of the models feature a high level of detail in general.
Ladders, cross-over platforms, lower door tracks, hand brakes, tack boards, stirrups and the door guides are all separately applied. There is nice underbody detail as well. Air hoses and coupler cut levers are about the only details you could add - if desired.
Weathering and Enhancements
Aside from installing the extended cushion draft gear bolsters included with the car, there is not much the modeler has to do to improve the look or operation of these models. I prefer metal, "scale" knuckle couplers over the Accumate couplers included. These are easy to replace when changing the draft gear. Although no instructions are provided for this, it is a fairly obvious process requiring only the removal / replacement of two screws.
The model is already equipped with free-rolling metal wheels and weighs in at oz.
All of the wheels on my samples checked out against a standards gauge.
Like most models, the one thing you can do to improve the overall look is apply a little weathering. How much or how little you apply is up to you. Good for layouts set in the late 1970s to today, if you model a later year you may want heavier weathering. The bright silver roof is most in need of some sort of treatment. Washes of grime or rust will go a long way to tone down the bright roof if you want something other than a brand new-looking car.
Overall, these distinctive boxcars represent an excellent value and fill an important void in the HO boxcar scene. Whether spotted at a paper mill, canned food plant or just passing through, these cars should be a welcome addition to any modern railroad.