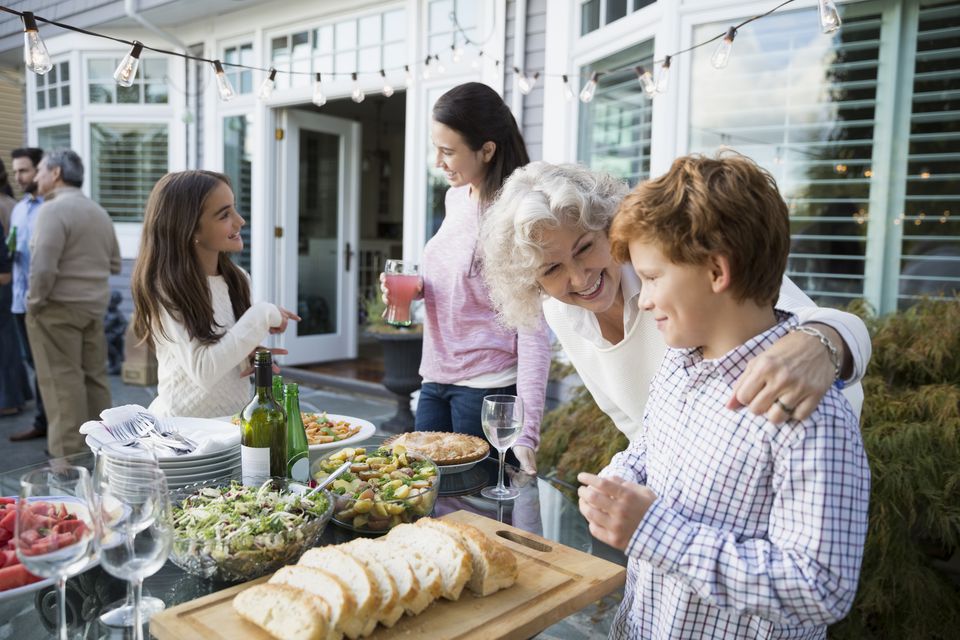 Planning a family reunion requires organization and inspiration. You'll be making lots of lists for organization. Here are some random family reunion tips to provide the inspiration.
Get Organized
Organizing a reunion is no small task, but it is best handled by a smallish group. Put too many people in charge, and nothing will get done. Instead assign every interested person to a committee so that everyone feels invested in the reunion.
Choose a coordinator. You'll need one person or a couple to act as coordinator for the reunion. Grandparents make great coordinators because they are more likely to know most if not all of the family members. Sometimes two sisters work well together, too. Coordinators should be mindful of the wishes of the group but must be able to make executive decisions when necessary. Others who are willing to help can be assigned to an appropriate committee. 
Use networking skills. Communicating about the reunion is easiest electronically. If most members of your family are on Facebook, that's one way to communicate. You can create a Facebook group for your family or a Facebook event that will allow members to RSVP. If your family has a web page, it can be used to post updates. An event planning website, such as MyEvent.com, will allow you to communicate with family members and do some specialized tasks, such as collecting fees and donations. Email is less efficient. Many individuals use email only for business, and many teens and young adults avoid it altogether. Be sure to make phone calls to any family members who aren't web-savvy.
Take time to update. Be sure to take some time at the reunion to update addresses, phone numbers and other contact information. This step is especially crucial since so many are giving up landlines, and cell phones may be the only way to reach them. This can be done as people arrive. It's easiest if you have a printout of the info you have, so that folks can make quick alterations to the information instead of having to start from scratch.
Learn Family Members
As families age and grow, it becomes harder to know family members. Those who feel as if they don't know anyone will be less likely to attend reunions, so the problem compounds itself. Here are some solutions to help people keep family members sorted out.
Think about tees. Some families order T-shirts for reunion attendees. Shirts can be ordered as cheaply as $5 apiece, and they can be ordered in different colors for different branches of the family. Color-coded T-shirts are probably the easiest way to learn which relatives belong to each other.
Use cheaper identifiers. A cheaper alternative to T-shirts is to use colored wristbands on attendees to indicate the branch. If the reunion is large and lots of folks don't know each other, name tags are a good idea. If you decide to use name tags, a snippet of colored ribbon can be attached to each to indicate the family branch. There's no reason to do name tags ahead of time. Let the attendees fill them out as they arrive.
Create a family tree. Cover a wall with butcher paper and sketch in the main branches of the family. Ask each person attending the reunion to bring a snapshot. Each branch of the family sketches their part of the family tree and adds their snapshots. The quality of the photos needn't be high. A computer printout or color copy is fine. The purpose is to help every member of the family learn every other member. Encourage everyone to snap photos of the charts. You'll be surprised how often you will refer to these photos when you need to spell a name correctly or get a family relationship right.
Learn More About Your Family
It's hard to warm up to people about whom you know little or nothing. It can be difficult to become well-acquainted with family members during the short time span of a reunion, but these strategies can help. 
Map family locations. If members of the family are far-flung, post a map and allow attendees to mark their locations. This is a great learning activity for the younger members of the family.
Tell what's new. A good dinner activity for medium-sized groups is for members of the family to take turns telling what is new in their lives. Even preschool children can take part. Applaud each participant with enthusiasm!
Showcase family talents. A talent show can be a big hit. You'll need to notify family members ahead of time so that they can come prepared. Set a time limit to keep performers from wearing out their audience. Designate someone as emcee to keep the acts moving along and to tactfully cut short any acts that go on for too long.
Share a slide show. A slide show is a great addition to a family reunion that is being held indoors. Give that job to your most tech-savvy family member, and ask every branch of the family to email some favorite photos to him or her. 
Hire a photographer. Although most families have an abundance of shutterbugs, it's nice to hire a photographer so that no one feels pressured to take pictures. Pictures posted on a family website or Facebook page will continue the process of helping family members learn each other and will also build excitement for the next reunion.
Out-of-the-Box Activities
Traditional family reunion games are great, but you'll have a better family reunion if you include some of these less common activities as well. 
Bid for a better reunion. Some families raise money for the next reunion with an auction. Family memorabilia will bring the best prices. There are dozens of things that can be done with old family photographs, from putting them on china plates to making quilts with them. The easiest thing, of course, is just to have them reproduced and put them in a frame. Crafts done by members of the family will also be highly prized. Flea market finds are often popular, as are items associated with locations that play a part in family history.
Consider alternative games. Although softball, volleyball and flag football are perennial reunion favorites, they can be too rough for youngsters and too strenuous for oldsters. Instead consider one of these multi-generational games. They can be enjoyed from ages eight to eighty.
Set aside a place for card games and board games. Those who have trouble warming up to people they haven't seen in at least a year sometimes can ease into contact through games. This is an especially good strategy for in-laws, who may not know many people, and teenagers, who are sometimes reluctant to attend reunions. It's easy to relax and get to know people while playing a game. This selection of board games contains some that are favorites with tweens and teens. Very young children can enjoy these easy card games.