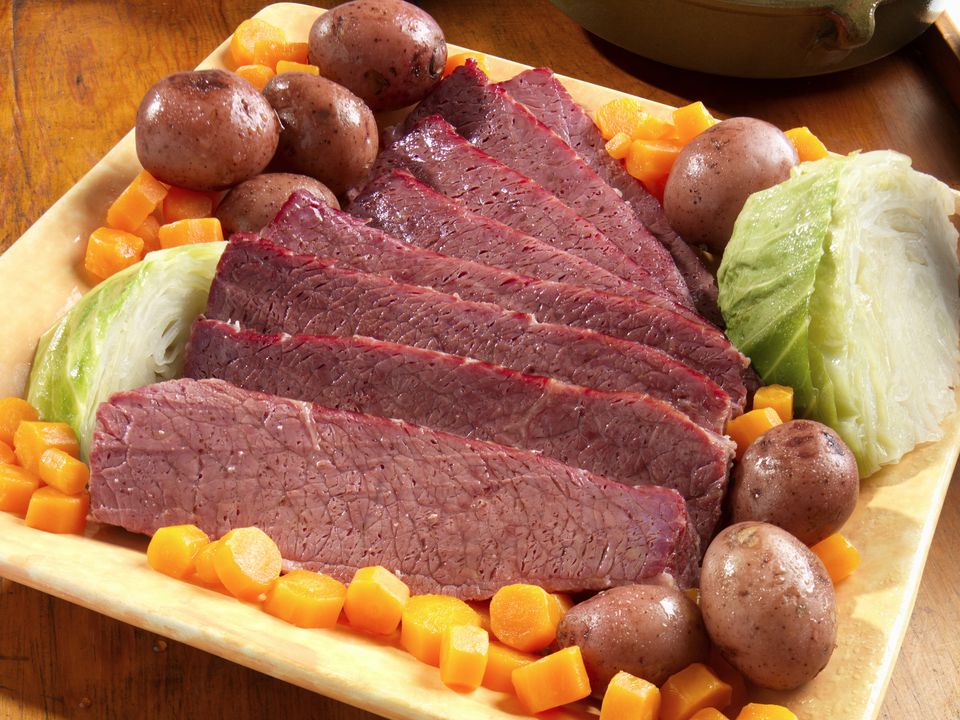 This basic corned beef dinner recipe is an all-in-one boiled dinner made with a variety of spices and vegetables along with corned beef brisket. Feel free to add turnips or cut-up rutabagas to the pot along with the carrots and potatoes.
The corned beef is cooked with whole spices in a bouquet garni bag or cheesecloth bag. In a pinch, if you don't have cheesecloth, use a tea ball or tea infuser, or tie them in a sturdy coffee filter. 
The recipe makes about 6 servings, but it can easily be scaled up for more. I always cook more for the great leftover possibilities, like corned beef hash, sandwiches, and casseroles.
See Also
Spiced Corned Beef with Cider
8 allspice berries
1 teaspoon black peppercorns
2 large bay leaves (crumbled)
2 sprigs thyme (or about 1/2 teaspoon dried leaf thyme)
1 corned beef (about 4 pounds)
3 cups beef broth
1 medium onion (cut in 6 to 8 wedges)
1 clove garlic (minced)
2 1/2 to 3 pounds potatoes (Yukon gold or red-skinned, washed and quartered)
4 large carrots (halved and cut into 3-inch lengths)
1 small head cabbage (cored and cut into 6 to 8 wedges)
For the Optional Mustard Sauce:
2 tablespoons butter
2 tablespoons all-purpose flour
2 cups reserved liquid from corned beef
1 cup heavy cream
2 tablespoons mustard (grainy variety; or to taste)
Optional: 2 to 3 teaspoons horseradish
Optional: chopped fresh parsley
Combine the whole allspice berries, peppercorns, bay leaves, and thyme in a cheesecloth bag; tie tightly.
Put the corned beef in a 6- to 8-quart saucepan or Dutch oven; add beef broth, the seasoning bag, and add water just until beef is covered. Add garlic and onion. Bring to a boil; reduce heat to low, cover, and simmer for 2 hours. Remove the corned beef to a platter, cover with foil, and keep warm.
Skim fat from the broth and add the potatoes and carrots to the broth (remove some of the broth if there is too much liquid). Bring to a boil; cover, reduce heat to medium-low and cook for 10 minutes. Add cabbage wedges and continue cooking for about 20 minutes, or until cabbage and vegetables are tender.
Remove the corned beef and vegetables to a platter and keep warm, reserving 2 cups of the cooking liquid if making the mustard sauce. 
Optional Mustard Sauce
In a saucepan over medium heat, melt 2 tablespoons of butter. Add 2 tablespoons of flour and cook, stirring, for 2 minutes. Stir in 2 cups of liquid from the corned beef and 1 cup of heavy cream into the flour mixture. Whisk in 2 tablespoons of grainy mustard, or to taste. If desired, add a few teaspoons of prepared horseradish, to taste.
Slice the corned beef and serve with the vegetables and mustard sauce, as desired. Sprinkle parsley over the potatoes and cabbage, if desired.