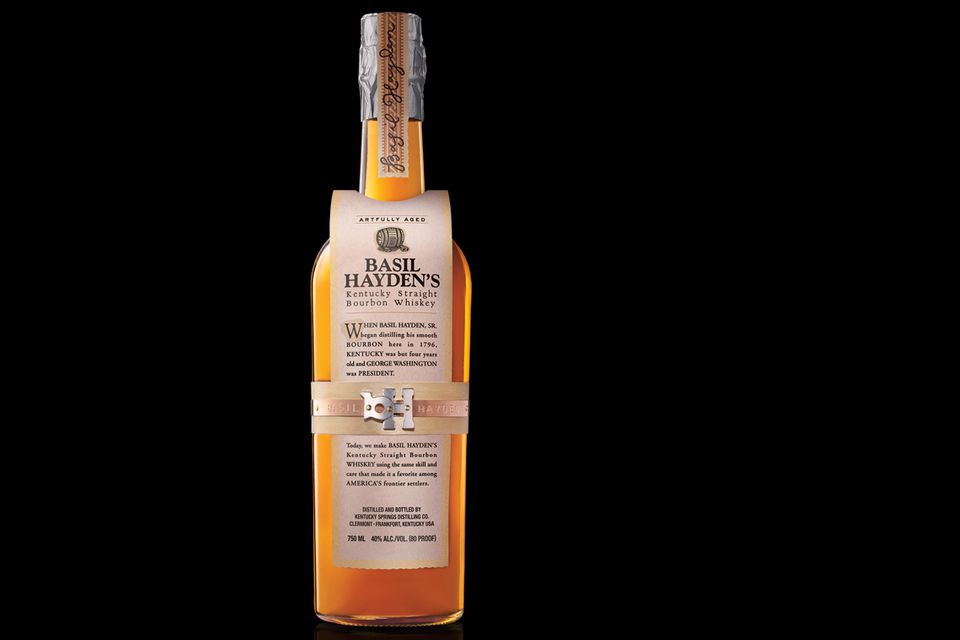 Fans of smooth, sippable and eminently mixable premium bourbon whiskies will enjoy Basil Hayden's Kentucky Straight Bourbon Whiskey. This golden amber-colored bourbon has a nice balance between rye spice and citrus notes and is as enjoyable on its own as it is in any of the great ​bourbon cocktails
Basil Hayden's may be one of the most overlooked whiskies on today's market, but it is a hidden gem.
The Basil Hayden's Story
One of the quieter brands of bourbon whiskey, Basil Hayden's has a long and storied past.
It began in 1796 with the brand's namesake, Basil Hayden Sr., a Kentucky distiller originally from Maryland. 
Hayden wanted to create a more flavorful whiskey and decided to break from tradition by adding grains other than corn to his mash bill. One of those grains was rye, which brought in spicy notes and created the exact bourbon we enjoy today under the Basil Hayden name.
Today, Basil Hayden's remains under the Jim Beam Small Batch Collection though it has recently distanced itself from that branding and is doing a great job of standing on its own (it is still owned by Beam).
It holds no age statement, instead, the brand says that this whiskey is "Artfully Aged to Taste" (around 8 years) and it remains in a small-batch production.
The Review of Basil Hayden's Bourbon
Nose
Basil Hayden's offers one of the softest, most gentle bouquets of any bourbon in existence. Sweet citrus notes are dominant, with white pepper, oak, and vanilla aromas also evident.
Warm honey, soft caramels, and orange marmalade are also present.
Body and Palate
Basil Hayden's is light-bodied, opting for finesse rather than brute strength on the palate. Flavors of white pepper, orange peel, lemon and corn notes are offset by gentle cinnamon and rye spice and fleur de sel caramel flavors.
With this flavor profile, Basil Hayden's is a study in subtlety, making it a perfect choice for a session whiskey or a night when one doesn't want a bold, in your face bourbon and perhaps wants to contemplate the subtleties of the art of distillation.
Finish
With some bourbons, a short finish would be considered a defect, but it fits perfectly with the style of bourbon that includes Basil Hayden's. The finish is dry and rather brief, with a nice cinnamon pepperiness refreshing the palate before leaving a light vanilla oakiness on the palate before dissipating.
Final Thoughts
In sum, Basil Hayden's is a great bourbon whiskey and is under-appreciated by many bourbon enthusiasts.
It makes a great aperitif before a meal as it will leave the palate intact. Its soft, light citrus and pepper notes make for a great session whiskey and it is complex without being dominating, making it perfect for mixing.
Basil Hayden's is simply a great bourbon and an extremely versatile one at that.
Basil Hayden's Cocktails
About Basil Hayden's Bourbon Whiskey
Kentucky straight bourbon whiskey distilled from corn and rye and aged in new charred American oak barrels.
Produced by Kentucky Springs Distilling Company in Frankfort, Kentucky
Part of Jim Beam's Small Batch Collection
Originally Published: March 19, 2011
Edited by Colleen Graham: October 16, 2015