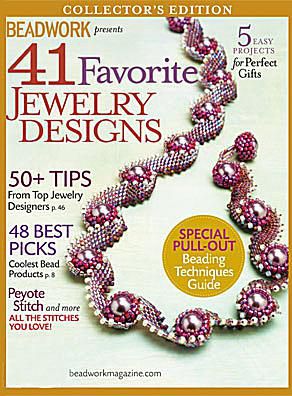 Do you collect and save Beadwork magazines?  
If so, you will definitely want to get a copy of this special edition of Beadwork magazine.
Beadwork Magazine's compilation issue Beadwork Presents 41 Favorite Jewelry Designs is a fantastic addition to any beader's magazine collection and it is now available as a digital download from the Interweave Press beading publication store. It's a great way to get the best of the best beadwork jewelry projects from multiple amazing designers in one publication.
The collector's edition includes some of the best projects to be published in Beadwork Magazine prior to 2009 and includes work by artists such as Marcia DeCoster, Laura McCabe, Janice Berkbile, Rachel Nelson-Smith, Scarlett Lanson, Nancy Cain, Maggie Meister and Kate McKinnon - among others! That's a great thing about beadwork projects and techniques - they never grow old or go out of style.
One of the best features of this Beadwork collector's edition is the summary in the index that indicates what stitch type is used for which projects. Most every beading stitch is well represented with projects! Everything from stringing and crimping, fringe making, knotting, picots, wire working as well as the off loom beadworking stitches of brick stitch, chevron chain, herringbone stitch, ladder stitch, netting, peyote stitch, right angle weave, spiral stitch, square stitch and St. Petersberg chain all have projects.
Of course, you can learn all of those stitches from the tutorials here, and then learn new projects from the magazine.
While all of the projects included in the special issue have been published previously, new readers will be able to enjoy the best projects of the last five years and seasoned beaders and regular readers of the magazine will appreciate having these stunning projects all in one collection.
The editors have even made special mention of five easy projects included in the issue that work up quickly and are perfect for giving as gifts.
The projects include twenty beaded necklace designs, thirteen beaded bracelet designs, five beaded earring designs, two beaded brooch designs and one beadwork purse design. Many of the designs feature component pieces that can easily be adapted to other projects - such as earrings. Or you can adapt the clasp design on one project for use with your other projects. The projects are often displayed in more than one colorway as well - so you can get an idea of how it might look if you don't have the exact beads and colors called for in the design.
In addition to the beautiful projects, there are a few special sections that are sure to help less experienced and the seasoned beader alike.  The first is a special reference section with instructions for all of the basic beadweaving, stringing, crimping, bead embroidery and wire work techniques needed for the projects.  There are also editors' picks for cool new beading products.
One of my favorites is the section with more than fifty handy and helpful beading tips from some of the best known bead artists.
The hints are organized into groups by the type of tips - stitching tips, designing with color, beading materials, taking ideas from design to execution, and finishing touches.
Priced at $14.99, this issue is available for download from the Interweave Press Beading Store.
My beading tip for you is this: the Interweave store often offers coupons and special discounts as well as free beading projects and information for subscribers of their Beading Daily and Jewelry Making Daily newsletters. Sign up and you can save on this special magazine issue and other great Beadwork publications.
Edited by Lisa Yang