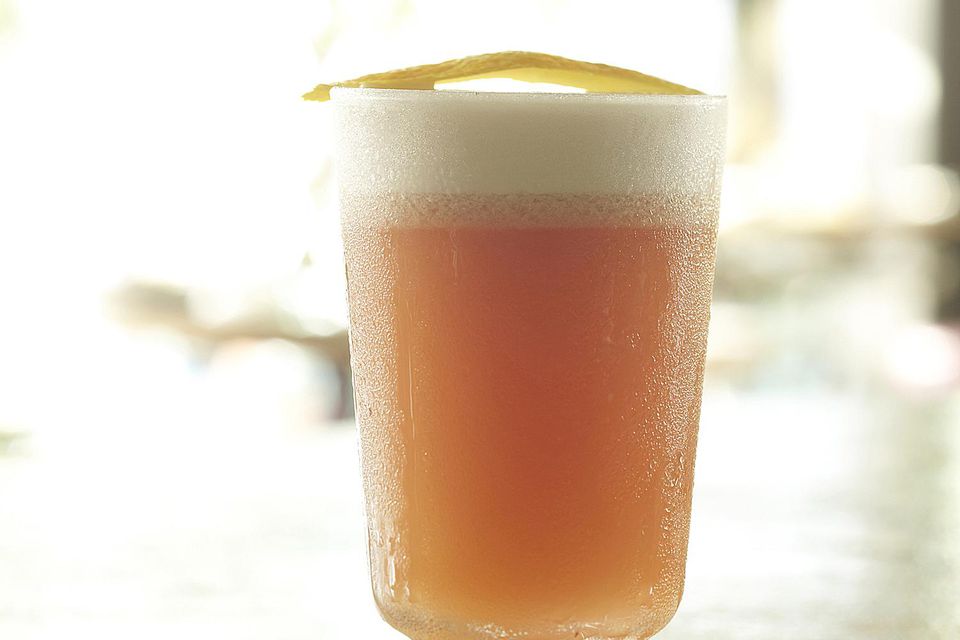 The cocktail scene in America has exploded in the last several years. Bartenders have experimented with everything from cotton candy to Pop Rocks to bacon in their cocktails, so I rarely find myself surprised by the creativity of modern mixologists. That is, until Tom Fischer of the Bourbon Blog and mixologist Steven Dennison of Varanese Restaurant in Louisville, Kentucky sent me a recipe for a cocktail that combines beer, bourbon and barbecue all in one drink.
The drink was created in honor of the annual Beer, Bourbon and Barbecue Festival in Manhattan that is held every January. BourbonBlog.com has a nice video of the two creators mixing up this cutting edge cocktail. 
The concoction includes bourbon, honey liqueur, hefeweizen-style beer and barbecue sauce. It is, admittedly, a very unusual drink and will not be to everyone's liking. However, it is fun to try and you have to appreciate how the team has brought together these three very manly flavors into a single glass.
One of the most surprising parts of the Beer, Bourbon, and Barbecue Cocktail is in the treatment of the beer. Unlike most beer mixed drinks, we are only using the foam as a garnish to top off the drink and give it a lasting, signature touch.
Ingredients:
1 ounce "BBQ water"* (instructions below)
1/4 of a whole orange
Preparation:
*To Make BBQ Water
Essentially, the BBQ element of this cocktail is simply watered-down barbecue sauce. Rather than mixing a pasty sauce into the drink, we just want the essence, the flavor, of the sauce.
It can be made in any quantity you desire so if you are just curious about the drink, it may be best to make just enough BBQ water for one or two drinks.
Just be sure to keep the sauce to water ratio equal.
1 19-ounce bottle of Jack Daniel's Honey Smokehouse Barbecue Sauce 
19 ounces hot water
Combine barbecue sauce with an equal part of steaming hot water in mixing bowl.
Whisk until fully incorporated.
Let sit to cool or refrigerate.
To Make the Beer, Bourbon, and Bacon Cocktail
Combine the liquors, BBQ Water and a squeeze the juice of a quarter of an orange into a cocktail shaker filled with ice.
Shake vigorously.
Strain into a cocktail glass.
Pour a quarter of a bottle of beer into a cocktail shaker.
Shake until foamy.
Spoon the beer foam on top of the cocktail to garnish.
Originally Published: January 29, 2010
Edited by Colleen Graham: October 23, 2015