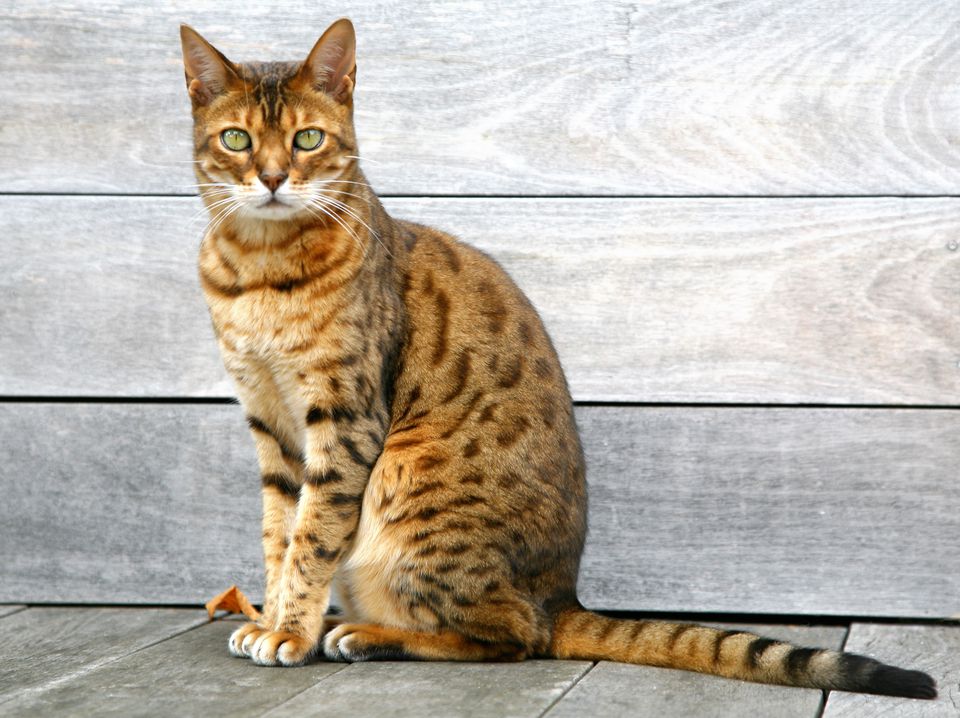 Toby, a Snow Lynx Spotted Bengal

Toby, submitted by His Human, playing with a red toy in a leopard print hanging bed. © Dawn Mendoza

The Bengal Cat combines the exotic look and feel of the small forest-dwelling wild cats they descend from, with the dependability and loving temperament of the domestic cat. For a walk on the wild side with an affectionate companion, you can't go wrong with a Bengal. These 26 photos of exotic Bengal Cats show their wild and domesticated side, courtesy of their human companions.

"Toby is a Snow Lynx Spotted Bengal with stunning baby blue eyes — he is the most loving cat I have ever had in...MORE my entire life!" says his owner. Aside from being very smart and responding when he's called by name, he also sits upon request. After constant eye contact, he will fall asleep while sitting up and start to sway back and forth. Toby loves to cuddle and be held; he's truly this owner's diamond in the rough.

Continue to 2 of 25 below.

Metallic Miss, an SBT Generation Bengal

Photo of Metallic Miss sitting on orange glass, submitted by Her Human. © Terra Sinclair

Metallic Miss came from her owner's first litter of Bengals, and she kept her because the Bengal was such a unique color of Brown Spotted Bengal. She is a charcoal colored brown, which is not often seen in the SBT generation -i.e. Stud Book Tradition, meaning at least four generations away from the leopard cat-of Bengal cats. 

Continue to 3 of 25 below.

Millie, a Bengal Kitten

Millie with irridescent eyes, submitted by Her Human. © Sara

Millie is a Bengel kitten who is almost one year old. Already, she is showing signs of a cute Bengal personality! She plays fetch just like a dog, running after bottle caps and bringing them back for her owner to throw again. She's an adorable, fun loving and loyal cat.

Continue to 4 of 25 below.

Savannah, the Climbing Cat

Savannah climbing a leather chair, submitted by Her Human. © Philip

This is a two-year-old Bengal cat named Savannah, who is a patient companion to her owner. Savannah runs like a Cheetah and loves to play. Although she is an indoor cat, she finds many places to climb in her owner's home, which he is purr-fectly content to watch her do. 

Continue to 5 of 25 below.

Luna, a Seal Mink Spotted Snow Bengal

Luna, Submitted by Her Human. © Christina

This is Luna, a Seal Mink Spotted Snow Bengal. She is six months old and a joy for her owner to have around. She is pictured in the morning waiting for her owner to turn on the water for brushing her teeth so that Luna can play in the sink! She is a very one-person cat and loves to purr while laying on her owner's outstretched arm like a tree. Luna has several roommates: Akira, a Brown Spotted Bengal, Suki, a spotted stray, Shiloh, a pound rescue and Ravioli, a senior street rescue.

Continue to 6 of 25 below.

Toby, a Silver Bengal Kitten

Toby lying on her back in a plaid bed, submitted by His Humans. © Henrietta Smith

Toby is a female silver Bengal kitten, 14 weeks old in this picture. Toby was raised at home, and she was a spoiled, bossy kitten who liked to pick a fight with her two older silver spotted brothers. Toby was given to a four-year-old little boy with disabilities named Ethan. When he came to visit Toby, Ethan was very sad because he had lost his own kitten after someone let him outside. Toby's owner decided Toby was just the one to put a smile on Ethan's face — and she sure did! Toby and...MORE Ethan have become best buds.

Continue to 8 of 25 below.

Tengo, a Marbled F2 Bengal

Tengu sitting outside, submitted by His Human. © Jacqueline Luttrelle

Tengu is a Marbled F2 Bengal, and in this photo, he is an adult cat. You can see in the photo that he has a streak of wild in him, which is more noticeable with F2 Bengals. Here, he is pictured outside in his owner's outdoor enclosure. 

Continue to 9 of 25 below.

Sophie, a Rosetted Bengal

Sophie with green eyes staring straight ahead as she lies on the floor, submitted by Her Human. © Angie Davidson

This is Sophie, who is a pure Rosetted Bengal. Her owner got her from the Bengal Rescue Centre in the U.K. How could anyone bear to part with that face or those gorgeous eyes? This is a photo of her looking much happier than when she first came home. She's amazingly intelligent and loves to play fetch with a paper ball! Sophie is quite a chatty Bengal, meowing away to her owner all day (and sometimes night). Some of her meows result in the most amazing and weird noises that her owner has...MORE ever heard.

Continue to 10 of 25 below.

Aradia, an F3 Bengal Kitten

Aradia holding a toy in her mouth, submitted by Her Human. © Christina Clark, Witchinghour Bengals

This is a beautiful F3 Bengal girl kitten named Aradia. Aradia lives ​in Ohio to help better another's Bengal program. She is extremely wild looking and has such a wonderfully sweet personality!

Continue to 11 of 25 below.

B'Elanna, a Snow Bengal

Elanna standing up to gaze out the window, submitted by Her Human. © Sari Grove

B'Elanna Banana Tornado is a Bengal cat named after B'Elanna Torres on Star Trek Voyager who is half-human, half-Klingon. She was named this because Bengals are hybrids also, part Asian Leopard Cat, part domestic.

B'Elanna says "hi," can use a toilet, and is a superb jumper. Her silver coloring is in the snow category and her belly is white with spots. When she looks out the window she also makes a clucking noise to attract the pigeons, but she can't get them through that window!

Continue to 12 of 25 below.

Tabitha, a Rescued Bengal

Tabitha lying in a beige bed, submitted by Her Humans. © Mary Williams

One day, this owner was out in the garage and a strange cat ran out. The cat was frightened, dirty and just skin and bones. The homeowners started to feed her and slowly the cat began to come closer. They finally got her into the house and discovered she was a Bengal.

Although they advertised for a lost Bengal, they watched the lost pets column in the newspaper all to no avail. Finally, they decided to take her to the vet and have her checked. Today she is a beautiful, happy, healthy, loving cat...MORE with a glossy coat. Her owners are delighted that Tabitha adopted them as her humans!

Continue to 13 of 25 below.

Pandora, a Bengal Kitten

Pandora playing with paper, submitted by Her Human. © Sabrina Asay Copper Mountain Bengals

This Bengal's full name is Summermist Pandora of Copper Mountain, but her owner calls her "Pandora" for short. She is a beautiful example of a Bengal kitten. She is very adventurous as you can tell from her photograph. She spends her days chasing her mouse and playing fetch and loves to climb to places, the higher the better. Sometimes, her owners hear a loud meow and have to rescue Pandora from some place close to the ceiling. 

Continue to 14 of 25 below.

Titus, a Marble Bengal

Titus, submitted by His Human. © Robin Howarth

This is Titus when he was about eight months old. He is a Bengal with marble markings. His owner bought him from a breeder. 

Continue to 15 of 25 below.

Montecore, the White Tiger Bengal

Montecore outside, submitted by His Human. © Douglas J. Howitt

This cat's name is Montecore or "Monte" for short. He is a full-blooded, Tica registered Bengal Cat. He was named after one of Siegfried and Roy's white tigers. He is about six months old in this photo. Monte loves to play fetch with his favorite toy and is not satisfied without at least 10-15 minutes of playing toss. He even catches his toy mid-air while jumping from his multi-level cat condo or from counter to counter.

Although his owner has had quite a few cats, never was one...MORE as smart and agile as Montecore. Lastly, he is very friendly and loving. He loves to nuzzle and is quite the lap cat. 

Continue to 16 of 25 below.

Luci Liu, the Chirping Bengal

Luci Liu lying down with a collar on, submitted by Her Human. © Jean Ann Ingram

This cat's full name is Mommy's Miss Luci Liu, but she goes by the shortened version of Luci Liu. She is a one-year-old female Bengal with a lovely spotted coat. What is most unusual about Luci Liu is her meows. Instead of creating the sound you'd normally expect to hear from a cat, her meows sound similar to a bird's chirps!

Continue to 17 of 25 below.

Calvin, a Silver Spotted Bengal

Calvin, Submitted by His Human. © Theresa Radke

Calvin and Hobbes are some of the smartest, cutest cats that their owner has ever seen! Calvin is Silver Spotted and Hobbes is Golden Brown Spotted (you can see Hobbes on the next slide).

Although their owner never taught them to fetch, they both love to play the game. They will find a toy, bring it to their owner and drop it on the floor, waiting in wild anticipation of the throw. Sometimes, Calvin and Hobbes will play fetch for 20 to 30 minutes before tiring out!

Continue to 19 of 25 below.

Hobbes, a Brown Spotted Bengal

Hobbes about to jump, submitted by His Human. © Theresa Radke

Bengals are very smart cats.They love to play fetch and come when called by name. For this owner, anytime someone says to Hobbes "Go get the toy and I'll throw it," off Hobbes runs, looking for a toy with which to play! Hobbes also likes to jump quite a lot. This owner loves Bengals, saying "Bengals ROCK!"

Continue to 20 of 25 below.

Capo and Vinnie, Snuggle Buddy Bengals

Capo and Vinnie spooning on a Jack O'Lantern bed, submitted byTheir Human. © Jeanne Lione

Capo and Vinnie are two Bengals that are one day apart in age. They grew up together and love each other very much. Their owner catches them snuggling together like in this photo all the time. 

Continue to 21 of 25 below.

ItsyBitsy and Buster As Kittens

ItsyBitsy and Buster as kittens in a human's hands, submitted by Their Human. © Blissful Beader

The lady who fostered ItsyBitsy and Buster was a volunteer from a local Humane Society, and she raised these two Bengals plus their four siblings in her home until they were old enough to be weaned and taken to their forever homes.

Buster is on the left and ItsyBitsy is on the right. Their owners were the first to choose from the litter when they were four weeks old. They stayed with their foster mother for another month, during which their new owners visited several times a week to help socialize...MORE the litter.

Continue to 22 of 25 below.

ItsyBitsy and Buster During Naptime

ItsyBitsy and Buster full grown and snuggling, Submitted by Their Human. © Blissful Beader

Since these owners got a pair of Bengal siblings, they've been fortunate to watch them grow together. Even though Buster and ItsyBitsy cuddle with all of the other cats in their home, they take naps snuggled up together all the time.

Continue to 23 of 25 below.

ItsyBitsy and Buster, Sitting Pretty

ItsyBitsy and Buster sitting upright, submitted by Their Human. © Blissful Beader

One day ItsyBitsy and Buster's owner walked into the bedroom to find them sitting this way. Their owner went to grab a camera and they held their pose, sitting pretty and ready for a photo-shoot. They must have been having a deep philosophical discussion.

Continue to 24 of 25 below.

Mushu, a Marble Bengal

Mushu the Bengal in a pot, submitted by His Human. © Christina Cason, Dragondust Bengals

This is Mushu of Starbengal, a Marble Bengal in one of his favorite spots- a pot! Truth be told, it used to be his favorite spot, but then he got too big to stuff himself into it any longer. He is the true ruler of the house and always keeps his owner laughing at his antics. 

Continue to 25 of 25 below.

Sirius Black, a Black Bengal

Sirius Black with his paw over his mouth, submitted by His Human. © Sandra Lehner

This is Sirius Black, named after the character from the Harry Potter books. He is a Black Bengal and in the sunlight, you can see his dark on dark Bengal markings. He was one of eight kittens, and so tiny, but now at almost two years, he weighs in at a solid and sleek 16 pounds. Sirius Black is his owner's first pedigree breed, usually adopting strays instead. 

Sirius is better than watching HBO! He flies through the air and as he skims the top of a leather chair, his owners agree it is a...MORE price to pay for the entertainment. He is always appreciative of toys, he loves his cat condo where he can climb to great heights and he is like a little kid when he needs to be loved. He lives with his stepbrothers, Harry Potter (a Maine Coon), and Remus Lupin (a Savannah).

His owner is especially grateful for the impressive times is when Sirius sleeps so deeply that his owner can trim all four paws and he never wakes up. His human thinks he is almost as good as having grandkids.