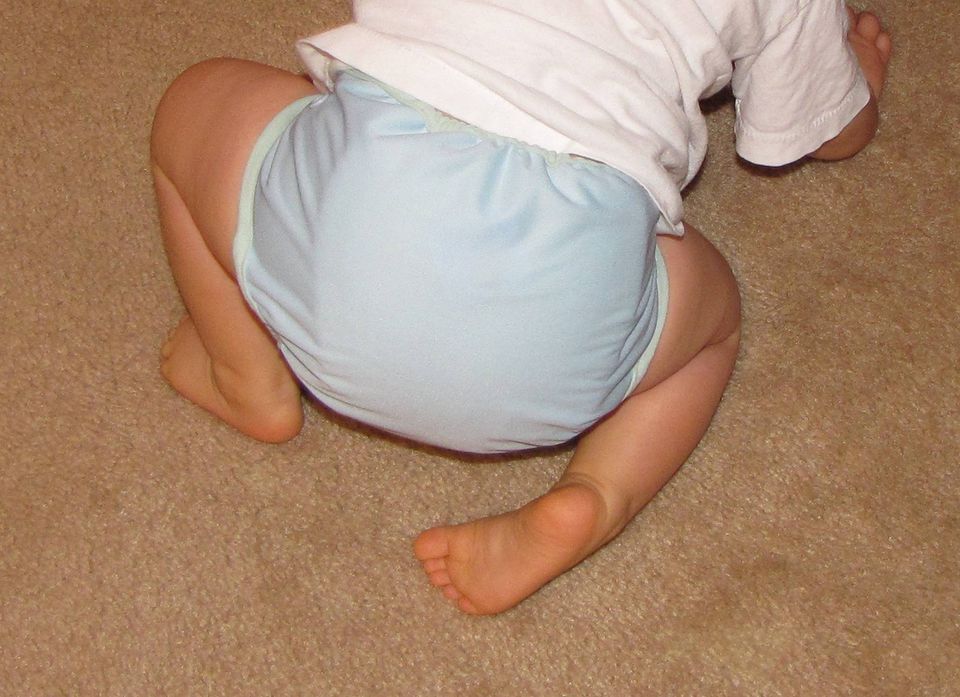 Best Bottom diapers are a simple cloth diapering solution that's affordable for every family's budget. If you're confused about all-in-ones vs. pocket diapers vs. diaper covers, Best Bottom makes it easy. The company's only option is a diaper cover with snap-in inserts. Use this Best Bottom cloth diapers review and other important information to decide if this cloth diaper is right for your baby.
Pros of Best Bottom One Size Diapers
Insert snaps securely into diaper cover
Double leg gussets keep messes in
Snaps or Aplix closure options
Cute color combinations and prints
Easy to wipe off
Cover and a pack of three inserts give you three diapers in one
Cons of Best Bottom One Size Pocket Diapers
Diaper cover and inserts are sold separately
Hands will have to touch the dirty inserts to remove them from the diaper and place them into the wash
Sometimes big messes can get off the insert and onto the inside of the diaper cover
Best Bottom Diaper Inserts
Best Bottom diaper covers and inserts are sold separately. Inserts come in packs of two or three and typically cost between $12 and $17.
Best Bottom offers three types of inserts. One is called Stay Dry, a four layer microfiber insert that has a fleece top resting against your baby's bottom. The other is a Hemp/Organic Cotton insert that's made of five layers of hemp/organic cotton with a soft fleece up against baby. Overnight is a six layer microfiber insert with the ability to snap in a Stay Dry or Hemp/Organic cotton insert on top.
The inserts are thick but don't make your baby look bulky. Even after they've been used, the side against your baby feels dry. The bottom side against the diaper shell is soaking wet. All of that moisture is wicked away from your baby's tender skin.
Although the diaper is one size, inserts are sold in small, medium or large sizes.
Small is for newborns to 14 pounds. Medium is for babies 11-22 pounds. Large covers 16-35 pounds.
Best Bottom One Size Diapers
Best Bottom diapers are a two-part system. First, you buy a diaper cover. The solid colors are inspired by ice cream. A few prints are offered too. The second part of the system is the insert.
You have to purchase the diaper cover and insert separately. This can run you close to $30.
You'll probably have sticker shock at first because all-in-ones and pocket diapers usually cap off around $25, with most running in the $15-20 range. Keep in mind, though, that you're getting three inserts for that one diaper cover. Remove a dirty insert, wipe the inside of the diaper shell and snap in a new insert.
Basically, you're getting three diapers in one vs. buying a $25 pocket diaper. That knocks that $30 price down to $10 per diaper.
The diaper cover features four rows of snaps to adjust for baby's size. Most of the other cloth diaper brands only offer two or three rows. This gives you more of a custom fit based on your baby's size and shape.
I own many types of cloth diapers, including Blueberry Diapers, FuzziBunz, Happy Heinys and Thirsties. The Best Bottom diapers are one of the trimmest and have a similar fit to the GroVia line of cloth diapers.
Some cloth diapers make your baby look like his bottom is bigger than his head. But the Best Bottom diapers look great under pants. Baby doesn't look bulky at all, yet the inserts keep him dry and the double gussets in the diaper cover prevent leaks.
My very first experience with Best Bottom diapers wasn't a good one, though. I fastened the insert, put the diaper on my baby, snapped the diaper cover around his waist and watched him crawl around the room visiting his toys.
About 15 minutes later, he had the tell-tale smells of needing a diaper change. I peeled back the diaper to find the mess had started out on the insert but then fell to the diaper cover shell. It was mashed into the shell too firmly for me wipe it down, snap in a new insert and feel like I was putting a clean diaper back on him.
I threw everything into the washer right away instead.
That was the only mishap with Best Bottom diapers. Since then, both small and big messes have stayed put.
The biggest drawback to Best Bottom diapers is the cleanup. You have to unsnap the insert from the diaper cover. The top feels fairly dry because the moisture is wicked away but the bottom is wet. This wetness will get on your hands as you try to empty the shell and get the insert into your diaper pail. Unlike with all-in-ones and pocket diapers, you will be touching baby's waste with the Best Bottom diapering system.
After you remove the insert, you'll need to wipe the inside of the diaper shell to clean the wetness. Then you just snap in a clean liner and re-diaper your baby with the same diaper cover.
It's convenient not to have to lose a whole diaper with each diaper change. A pack of inserts really does give you three diapers in one.
Best Bottom Diapers Wash and Care
Properly washing these cloth diapers is similar to washing other brands. The manufacturer's website recommends you wash everything every 2-3 days. I wash my Best Bottom diaper cover and inserts daily.
You have to unfasten the insert from the shell before putting them into the wash. This requires you to get a little more intimate with the insert than you would for a pocket diaper or all-in-one.
You'll need to wash your hands after getting the inserts out of the diaper cover and into the wash because your fingers will be touching wet parts of the insert. If you're used to throwing an all-in-one into the washer or shaking a pocket diaper into the wash without having to touch dirty inserts, the Best Bottom diapers will take some time to get used to.
The website's official instructions tell you to run a cold rinse and wash in warm or hot water with a 1/4 or 1/2 cup of additive-free detergent. The rinse cycle should be in warm or cold water. Tumble dry on low or line dry.
My Best Bottom diaper inserts are dried on the permanent press cycle with the dryer temperature on low.
The inserts also dry quickly when line dried but not as quickly as the inserts from my pocket diapers. The shell is almost dry the minute it comes out of the washer.
Tips for Buying Best Bottom Diapers
You can't buy Best Bottom diapers directly from the manufacturer's website. Do check the website for a list of authorized retailers, though. Many only have online stores but offer free shipping, clearance items and special sales.

 

Comparison shop between several sites. Sometimes Amazon.com has the best deal on a certain color. Sometimes one of the online only retailers listed on the manufacturer's website has a better deal. The savings can be a few dollars or more.
Disclaimer: One Best Bottom diaper cover and a package of three inserts were purchased for review from an online retailer. Total cost with shipping was $28.80.