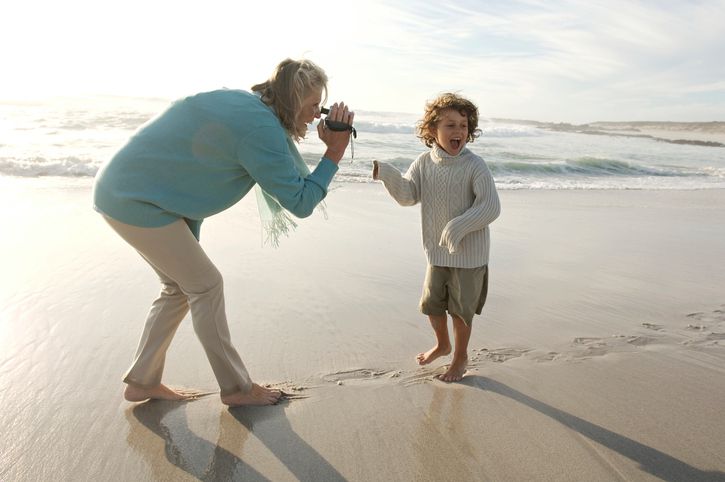 How do you capture the most important moments with your kids and grandchildren when cameras and video camcorders are getting more complicated? If you want something to just keep at your side when making family memories is most important, you don't need to worry about a lot of storage, megapixels, or other features you aren't going to need. If you feel like the plethora of digital choices out there is too complicated or overwhelming, don't worry. This article is all about the cameras that keep...MORE things simple while letting you take photos and videos of those special moments.
The first step is to decide whether you need a camera or camcorder. Digital photo and video cameras are usually capable of creating photos and movies, but most do their primary job a lot better. If you want to take photos, go with a camera. For videos, the handy camcorder is the way to go.
Basic things to also think about include: the amount of zoom the camera has; the quality of image/video it produces; and what kind of controls you will need to learn to use. More zoom, more megapixels/HD/4K, and easy controls is usually a safe bet. Don't worry about the additional complicated specs or features you don't know if you need or not. This list includes top quality cameras and camcorders for grandparents that are as simple as "point and shoot."
Best Digita Camera: Canon SX600 HS

If you want to capture the special moments with family or unique sites while vacationing, you won't want to drag along ten lenses and a massive camera. In this case, simple is better. Point-and-shoot cameras are about as simple as they come since they focus on taking photos without any additional equipment. The Canon SX600 HS is a great point-and-shoot camera that is easy to take out and use whenever you want. Its slim profile is small enough to even fit in your pocket if you want to hug family...MORE instead of holding additional bags or cases.

The camera comes with a standard 16 megapixels which will capture every detail of people and locations you maybe photograph. The 18x optical zoom will give you a lot of room to zoom in on far away objects, which is perfect for sporting events and family outings. For night shots, you can use the ​pop-up flash to illuminate people or your surroundings for clearer photos. The camera is also capable of shooting standard HD videos.​​​

Best Camcorder: Panasonic HC-V770

Movies usually capture more special moments. When family members look back on their lives, videos can make them relive those moments. Digital camcorders have come a long way in recent years so you don't have to mess with tapes. It is now easy to find a small, high-quality video camera at an affordable price. A good camcorder will be as easy as pointing at what you want to shoot and pressing the record button. If you want to capture videos of important events, the Panasonic HC-V770 is a great...MORE choice.

A long 20x optical zoom can record objects and people far off into the distance without losing the video quality. Once again, you will notice this zoom during sporting events, parties, or outside. If you want that professional look to your videos, the camcorder can produce brighter colors and better contrast using the HDR sensor. For phone ​savvy users, the camcorder also can link up wirelessly to transfer files.

Best Small Camera: Sony DSCWX350

The Sony DSCWX350 is another great point and shoot camera that is small and convenient to use for a variety of purposes. Since you probably want to spend your time with family instead of reading a lengthy camera manual, this camera is the perfect choice for something that is straightforward to use. The controls are easy to learn to use since each feature has a logical place either on the camera or on the LCD screen.

The 20x zoom is great for distance or close-up photography when you want to...MORE capture extra details in the image. Focusing on people while taking photographs can be difficult if your subject (like a little energetic child) isn't staying still. The camera overcomes this issue with a high-quality autofocus to keep people or focal objects sharp. To express your creative side, the camera comes with many easy-to-use filters and effects, including a panorama mode, to create new and unique images. 

Best Dual Camera and Camcorder: Canon VIXIA HF R800

You might want to find a digital camera that takes both photos and videos. To save space and money, a great choice is a camcorder that takes good photos as well. Canon has started to blur the lines between digital cameras and camcorders in recent years. While their expensive DSLRs and mirrorless cameras are quite capable of taking beautiful videos, their handy cams like the Canon VIXIA HF R800 can take quality photos as well. If you want something that will give you the ability to snap a shot...MORE whenever you want, this is a great option to consider.

Another standout feature of this camcorder is the 57x zoom. This digitally enhanced zoom keeps long distance objects and people in focus without issue. The built-in image stabilization will also help reduce or eliminate the natural shakes the image has if you choose to shoot without a tripod. Finally, the camera records in true HD for high quality videos.

Continue to 5 of 8 below.

Best Skype Camera: Logitech HD Pro Webcam C920

While being able to capture the moments when you are there is great — seeing what the little ones are up to when you aren't, keeps you in touch when you are far away. A Skype camera for grandparents let's you stay in touch pretty much all the time. 

This webcam is easy to set-up, even for the least tech-savvy and it has over 8,000 reviews on Amazon to boot. It has full HD 1080p recording for sending video messages and 720p live streaming so you can get a clear picture of how big the...MORE family is growing. 

Most Durable Camera: Olympus TG-5

Digital cameras can take a beating, especially around little grandkids who don't know any better. For outdoor vacations and energetic children alike, the Olympus TG-5 is an extra tough digital camera that will survive the elements if you need some additional protection. A well built, waterproof exterior frame means you can take this camera wherever you want to capture some unique perspectives other cameras simply can't match.

The TG-5 is waterproof, dustproof, crushproof and more. Beyond its...MORE survivability, it is also a great choice for night photography. While other cameras have more megapixels, this camera's 12 MP sensor will get the job done. With the lower megapixel count and large lens, more light can get to the sensor for brighter pictures. 

Best Instant Camera: Polaroid Snap Touch Instant Camera

Do you want to give your family a taste of what photography used to be like before digital cameras came along? Physical photos are still a treasure for people to look back at the memories without charging their laptop, tablet, or phone. From the company that literally invented this category of camera, the Polaroid Snap is a modern day take on technology that has existed since World War Two. The Snap takes a minimalist approach to its design, meaning it's simple and easy to use right from the...MORE start.

The camera has an integrated, full-color printer that will produce 2" x 3" high-quality photos. This photo size is perfect for sharing with friends and family during special events. An adhesive back makes the photos stickable to any surface when you want to proudly display your photographic work. Share photos with children and other family members instantly. Just be sure you have plenty paper on hand! 

Best Action Camera: Yi 4K

Don't assume that action cameras are only for the young and adventurous types that need a video camera to strap to their head. You don't need to be bungee jumping off of a bridge to use an action camera during the next family get together. They are often easier to use than traditional camcorders and will survive the abuse of family and pets. Better still, pass the action camera around during parties or vacations so everyone can participate. The Yi 4K, for example, is the best option for those...MORE moments when something unexpected comes up to record.

The camera provides many different recording options, including the standard HD format or higher quality 4K settings. The built-in 2.2" LCD screen will let you see exactly what you are recording so you can get the perfect shot. As an action camera, you can also connect the Yi 4K to your phone for remote control. Record yourself with the family or set the camera up in different spots to get unique videos other cameras can't produce.  
Sign up for our daily deals newsletter

Disclosure: At The Spruce, our expert writers are committed to researching and writing thoughtful and editorially independent reviews of the best products for your life and your family. If you like what we do, you can support us through our chosen links, which earn us a commission. Learn more about our review process.