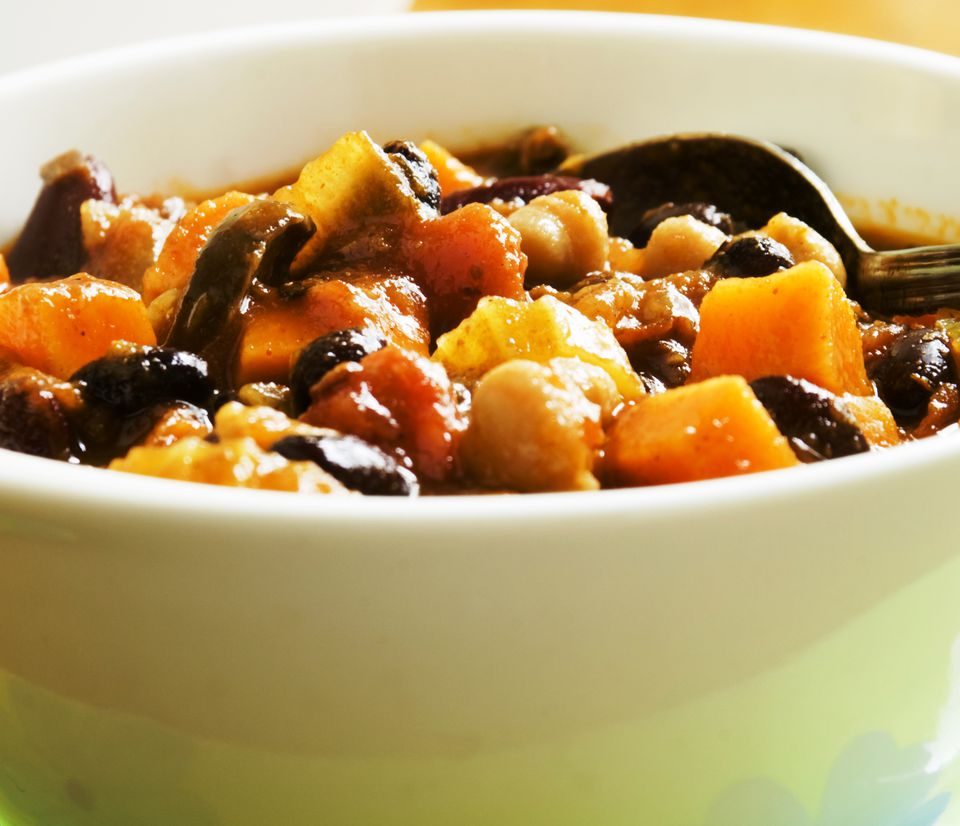 I have to confess, chili is not actually one of my favorite of vegetarian meals, but even I couldn't stop eating this vegetarian and vegan black bean chili with sweet potatoes, it was just so flavorful! The sweet potatoes and carrots match perfectly with the spiciness of the fresh chili flavor. And, with more than 20 grams of protein per serving, this is an excellent source of protein for anyone: vegetarians, vegans and kids! See also: ​More high-protein vegetarian recipes
This is my new favorite go-to homemade vegetarian chili recipe!
All of the ingredients in this recipe are both vegetarian and vegan, and, if you use water (instead of vegetable broth), it is gluten-free as well. Some store-bought vegetable broths are gluten-free and some are not. Read the label, if in doubt, or, make your own homemade vegetable broth. 

See also:
2 cloves garlic, minced
1 small onion, diced
2 small sweet potatoes, peeled and chopped
2 medium carrots, sliced
1/2 red bell pepper, chopped (optional)
2 tbsp olive oil
1 15 ounce can black beans (or a little less than two cups, if you're cooking them fresh)
1 15 ounce can diced tomatoes or tomato sauce
1/2 cup water or vegetable broth (make sure your broth is gluten-free if needed)
1 tbsp chili powder
1 tsp cumin
1/2 tsp cayenne (or to taste)
1/2 tsp garlic powder
1/2 tsp salt
1/4 tsp black pepper
First, sautee the onions and garlic in olive oil for a minute or two, then add in the sweet potatoes, carrots and bell pepper until the onions are soft, about 5-6 minutes.
Next, reduce the heat to medium low, and add in the all of the remaining ingredients, stirring to combine well.
Allow your chili to simmer, partially covered and stirring occasionally over medium-low heat, for about 20-25 minutes, until flavors have mingled and the sweet potatoes, carrots and bell peppers are soft.
Makes 5 - 6 servings of homemade black bean chili.
Got leftovers? This black bean and sweet potato chili is so amazing that I'd be surprised if you didn't eat it all up, but just in case, here's a few ideas for what to do with leftover chili. Of course, you can always portion the leftovers into individual servings of tupperware containers and stick it in the freezer, which is what I do. I love grabbing a container of frozen chili to take with me to the office for a simple lunch along with a little side green salad. 
Nutritional information per serving:
(Based on five servings): 
Calories: 427, Calories from Fat: 67
% Daily Value:
Total Fat: 7.5g, 12% / Saturated Fat: 1.2g, 6% Trans Fat: 0g
Cholesterol: 0mg
Sodium: 368mg, 15%
Total Carbohydrates: 72.0g, 24%
Dietary Fiber: 17.3g, 69%
Protein: 21.4g
Vitamin A 289%, Vitamin C 65%, Calcium 15%, Iron 31%
See also: