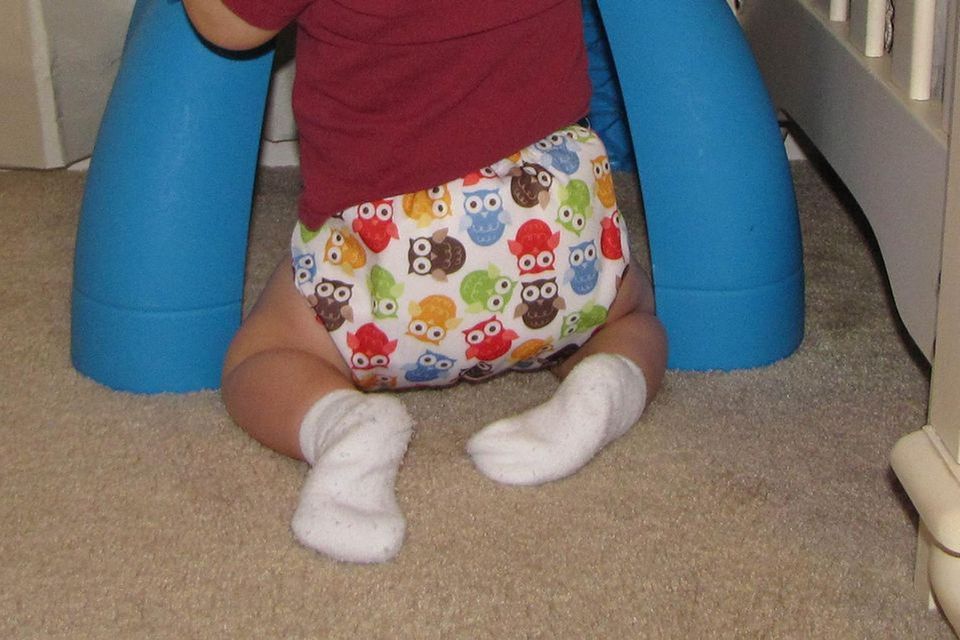 The Blueberry Diapers brand offers a variety of cloth diapering options. But are they right for your baby? Whether you're new to cloth diapering or you're a cloth diapering vet, Blueberry Diapers should be on your short list of cloth diapers for a number of reasons. Find out what you need to know in this Blueberry cloth diapers review along with other important information about the diapers from a mom who tested them on her one year old.
Pros of Blueberry Diapers
Some of the cutest prints on the market today
Available as all-in-ones, pocket diapers and diaper covers
Durable diapers that stand up to the rigors of cloth diaper washing and drying
Easy to stuff the microterry insert into the pocket diaper
The Blueberry Diapers website features videos and pictures to explain more about each type of diaper.
Quickly became a favorite in my house, along with Happy Heinys and Rumparooz cloth diapers.
Stand up to long-term use so you can pass them down to your next baby
One-year warranty on craftsmanship
Cons of Blueberry Diapers
Microterry insert gets stuck inside the laminated pocket diaper, making it hard to shake the insert loose into the washing machine. Many times you have to stick your hand inside the pocket to get the insert out.
Price hike made these diapers jump from one of the most affordable to one of the most expensive.
Aplix Vs. Snaps
The one size diapers feature snaps you adjust according to your baby's size, whether you buy all snaps or the Aplix style of closure.
These three rows of snaps tighten the diaper from top to bottom for when baby is a newborn. As your baby grows, you move to the next row of snaps to loosen the diaper and finally all snaps will be undone at the biggest size when your baby reaches potty training age.
You can purchase Blueberry Diapers with snaps to secure the wings or choose an Aplix closure.
Both closures are well-constructed, regardless of which one you purchase.
The snaps are secure and you may even feel like you're ripping the diaper if you pull too hard. After tugging on the diaper in those middle-of-the-night diaper changes when you're trying to keep baby from waking everyone in the house, I can tell you the snaps don't pull at the fabric at all. They are strong and will come in handy when your baby is old enough to attempt to pull his diaper off.
The Aplix closure is very handy when you have a wiggler on the changing pad and you can't keep your baby still long enough to fasten four snaps. Use the Aplix closure just like you would a disposable. It's quicker than the snaps and the closure's sewn well.
You will notice balls of fabric attaching to the Aplix after a few washings. It's only noticeable if you have the hook and loop closures that aren't white.
For example, the Minky Blue Pop style (white with blue, light blue, brown and black dots) has black Aplix. After the diaper is washed a few times, white lint is visible on the Aplix edges. It's also visible when your baby is wearing the diaper.
The lint on the closure can be removed after each washing but busy moms with a laundry basket full of pocket diapers that have a dark hook and loop closure don't have time to pick lint off.
Blueberry Diaper Inserts
Each pocket diaper comes with two microterry inserts. One is a three-layer small insert and the other is a four-layer longer insert that's adjustable. The longer insert is perfect as your baby grows but it's also handy to use for smaller babies overnight.
Blueberry Diapers also has an option to upgrade your inserts. If you don't want the microterry inserts that are included with your purchase, pay a nominal fee to upgrade to bamboo inserts. These inserts are a blend of organic cotton and bamboo with a small four-layer insert and a larger six-layer insert.
Blueberry One Size Deluxe Pocket Diapers
The One Size Deluxe Diapers come with a microfleece inner layer. It's soft and wicks moisture away immediately. In fact, it does such a good job of wicking the moisture away that it will take you a while to be able to recognize if your baby is wet or not.
After several months of use, there are still times I'm not sure if baby's diaper is wet. The microfleece feels so dry, sometimes I have to stick my hand inside the pocket to feel the microterry insert. Sure enough, the insert will be saturated but the microfleece up against baby's skin doesn't feel wet at all.
Blueberry One Size Bamboo Deluxe Pocket Diapers
The inner layer of the One Size Bamboo Deluxe Pocket Diapers is made of bamboo and organic cotton velour. This part of the diaper is what rests up against your baby's bum.
It's super-soft and you'll wish you had a blanket made of the material the first time you touch the diaper. Then your baby will wet on it.
The diaper turns into a soppy mess. The moisture feels just like it would if you had put a prefold diaper on your baby. It's cold and soggy. The moisture isn't wicked away like it is with the One Size Deluxe diapers that have an inner layer of microfleece instead of bamboo.
When my baby is wearing this diaper, I am constantly checking it to see if he's wet yet. I don't want him to have to sit in the wetness so I change him the second I feel moisture.
This isn't a diaper I'd pack in my bag or put on my baby when we leave the house. I only use it at home. It's the one Blueberry diaper I would return if I could.
Blueberry Minky One Size, Minky One Size Bamboo Pocket Diapers
If you like a furry feel to the outside of your baby's diaper, the Minky One Size and Minky One Size Bamboo pocket diapers are perfect for you. These are more expensive than the One Size Deluxe pocket diapers, though, but hold up their value if you ever want to sell your diapers after baby outgrows them.
Just like the Blueberry One Size Deluxe Diapers and the One Size Bamboo Deluxe Pocket Diapers, the Minky style is available with a microfeece liner or a bamboo liner. Two microterry inserts are also included in the price with the option to upgrade to the bamboo inserts for an upcharge.
The difference you're paying for with the Minky diaper vs. the One Size is the soft outer shell.
Although it's easy to look at the material and think your baby's just going to soak right through it, the Minky is laminated like the other types of Blueberry pocket diapers to make it waterproof.
Blueberry Diapers Wash and Care
I wash my Blueberry Diapers every day and do not let them sit overnight. The User Guide that comes with your purchase includes the wash and care instructions, which instruct you to wash them in warm water and add an extra rinse to your wash cycle.
Tumble dry on low or line dry. I use the permanent press cycle with the dryer temperature on low. The diapers have held up without me having to wait for them to line dry. They're just as waterproof now as they were when they arrived on my doorstep. In other words, no leaks in spite of them being used, washed and dried in a dryer daily.
Tips for Buying Blueberry Diapers
Check the clearance sale section on the BlueberryDiapers.com website. Slight imperfections, most not even noticeable, can save you several dollars to make these diapers fit into your family budget. For example, a $24.95 Minky One Size Diaper was $12 in the clearance center because the wrong thread was used on the exterior of the diaper.
Comparison shop between several sites, including Amazon.com and the manufacturer's website. Regular prices can vary by several dollars.
Buy one diaper to try before committing to a few of that style. If you purchase directly from Blueberry Diapers, the company will only give you a refund on diapers that have not been washed.
If you're unsure about snaps vs. Aplix closures, try one of each. You'll make up your mind fast about which one you prefer.
Disclaimer: Three types of diapers were purchased for review from the manufacturer for this Blueberry cloth diapers review. Total cost with shipping was $61.51.