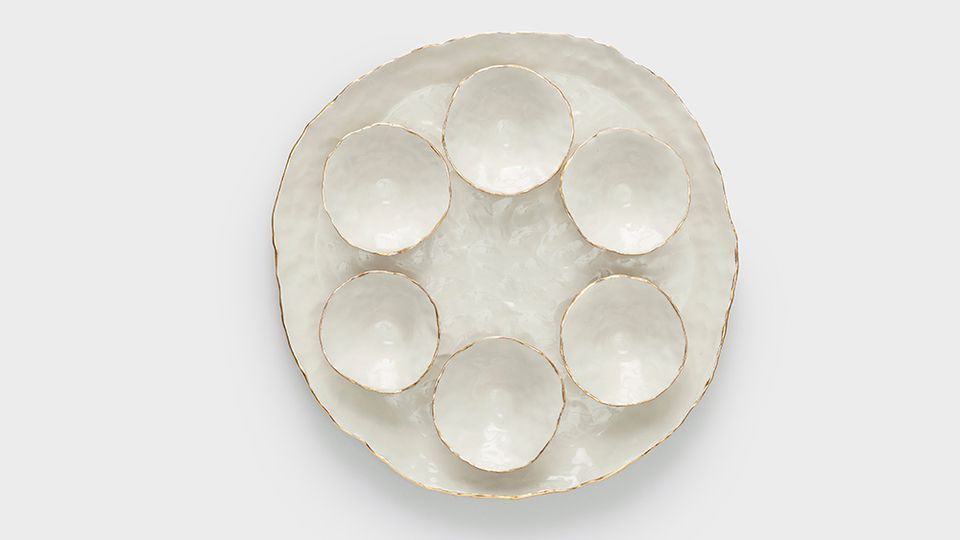 From Maine to Brooklyn we've tracked down a selection of the USA's most creative potters, each using a variety of wheel thrown and hand built techniques. Amongst the collection, there's colourful stripes, white porcelain with clear glazes and influences from the coast. Enjoy and get inspired.
Isabel Halley
Brooklyn based ceramicist Isabel Halley develops the most beautiful handmade pieces using porcelain, clear glaze, 22 karat gold and a pinch technique.
Isabel's collection includes everything from a mother of pearl pinch pot to a Seder plate and porcelain wine cups. Her work is delicate and feminine and has been featured in the likes of L'official, Design Sponge and Vogue.com.
Btw Ceramics
Brooke T. Winfrey is the designer behind the brilliant Btw Ceramics. She started Btw in fall 2011in Brooklyn with a line of striped dinnerware, which she created to be 'minimal, functional ceramics that are modern and approachable'. Her pieces are handmade and her collection includes bowls, mugs and cups and striking pitchers, planters and vases. She says that 'each piece is treated as its own individual creation where irregularities are embraced'.
A Question of Eagles
A Question of Eagles is run by husband and wife duo Melissa and Jonathon from their studio in Los Angeles. They are 'inspired by nature, their travels through the American landscape and studio pottery of the 60s and 70s'.
Their beautiful shop selection includes unique zig zag mugs in toasted white, classic carved 'mountain mugs' in matte black and brilliant mini cactus pieces to hold your incense in.
Object & Totem
Julianne Ahn is the name behind Object & Totem, which she runs from a studio in Brooklyn, where she is a resident ceramicist at Saipua Floral Studio in Red Hook.
Julianne graduated from the Rhode Island School of Design and the School of Art Institute of Chicago. Her pieces are all handmade with a 'current emphasis on classic tableware, limited edition vessels, hand thrown beaded jewellery and experimental art objects'.
Elephant Ceramics
Michele Michael worked for many years as a magazine editor and prop stylist in New York before discovering clay. She started Elephant Ceramics in 2010 in small studio in Brooklyn and now lives and works in rural Maine, where her studio looks over the Eastern River. She says that 'living near the coast of Maine, along with my strong connection to nature, influences my distinct colour palette and penchant for the colour blue'. Indeed you can see the coastal influence throughout her collection, which has beautiful shades of blue and rough textures.
Arrow + Sage
Hailing from Hillsborough in North Carolina, Anna Eaves grew up in a creative environment with an artist mother and a writer father. Anna has a background in fine art and photography and is a self-taught potter. She runs Arrow + Sage from her studio in Raleigh, North Carolina to produce her ceramics. Her pieces are hand built and each item is completely individual showing 'clean lines and bold, minimalist glazing techniques that create a contemporary, modern aesthetic'.
Sheldon Ceramics
Over in Los Angeles' Silverlake Sheldon Ceramics is run by ceramicist Peter Sheldon and his girlfriend and business partner Ellen. Each of the pieces of ceramics is made by Peter to 'embrace the unique variations and personality of the materials'. The pieces are designed to 'enhance the home'. Peter has a BS in Ceramics and Fine Art and undertook ceramic residences where he explored ancient techniques such as wood firing and anagama kilns. Peter has said that 'currently our work is fired in gas kilns but markings of flames and speckles of ash have had a lasting influence on the work'.
Michelle Luu
Based in Los Angeles Michelle Luu is a full time microbiologist by day and potter by night and fell in love with ceramics after joining a studio class in 2013. Michelle says that for her 'pottery is a form of meditation where I am able to let go of the stresses of life'.
Her pieces are wheel thrown and she has a range of beautiful collections from the colourful stripes collection with cups, tumblers and mugs to the rustic collection with speckle glazes.