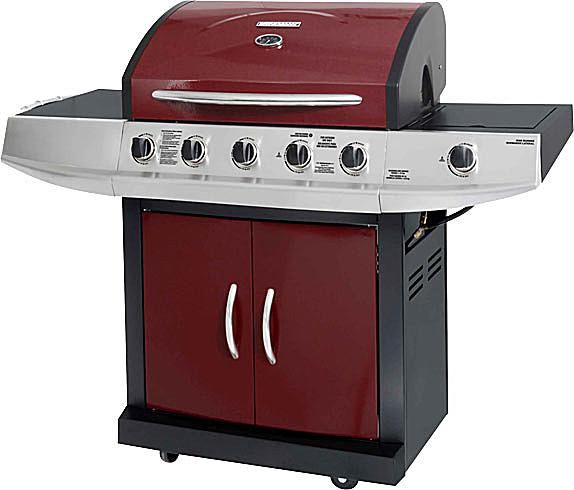 The Bottom Line
The Brinkmann Red Sedona is a large, well featured, and inexpensive gas grill available exclusively at Walmart for around $240USD. This grill even has a good heat output for its size and the 5-burner configuration gives some evenness to that heat. Sounds like a great deal. Sounds a little too good to be true, and guess what? It is. This isn't a quality product, and for the size, it should be.
I bet you don't need a gas grill this big, so I suggest looking for something smaller and better built.
Pros
Large, 5-burner gas grill
Low price
Cons
Poor quality construction
Thin, lightweight burners
Description
Five 10,000 BTU stainless steel tubular burners
513 square inches of primary grilling space for a total cooking area of 726 square inches
50,000 BTU maximum output from the main burners
13,500 BTU standard side burner under a flush mounted cover
Porcelain coated cast iron cooking grates
On-knob piezoelectric ignition
Enamel and powder coated steel construction with stainless steel control panel
Propane tank, rotisserie kit, and cover sold separately
Made in China by Brinkmann exclusively for Walmart
Guide Review - Brinkmann 5-Burner Red Sedona Model# 810-2545-W
This model has been discontinued.
You're looking around the local Walmart and see a really big, bright red gas grill with a shiny stainless steel control panel.
Certainly, this grill stands out and for $240USD this sounds like a great deal. This 5-burner gas grill can pump out 50,000 BTUs under 513 square inches of primary grilling space, actually a good heat output. Unfortunately, the thin materials and open rear venting do not let it hold in heat well. The five burner design does work to even out the heat somewhat, provided that you have more than just two of the burners running.
The problem with this gas grill is the quality of its construction. Typical of the low priced Brinkmann grills, this unit relies on thin and low grade metals. Because of the lightweight materials and firebox design, this grill cannot reach high temperatures. For some this might not be an issue, but if you are serious about grilling, this isn't the grill you want.
One of the things I hate about the way Walmart lists grills is to give you the total, maximum BTU output of every burner on the grill, right up front, like it means something. All it really means is how much fuel you are going to go through, and with this grill, you could go through a lot, especially if you are going to be turning all five main burners and the side burner to high. Ignore this number.