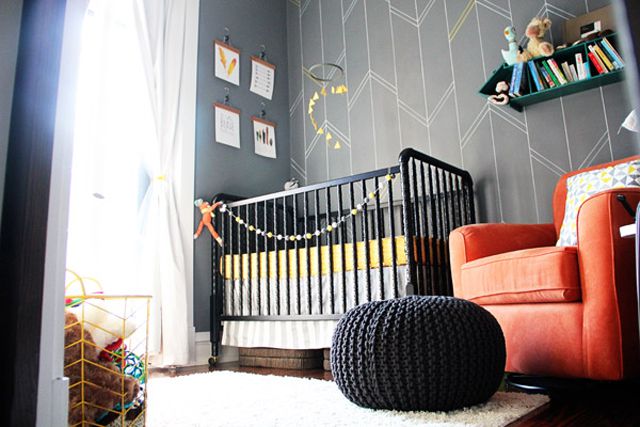 Want to design a beautiful nursery on a budget? Go buy a Sharpie!
According to Becky, the multi-talented mom and blogger behind "Preparing for Peanut(s)," this gorgeous, tribal-themed accent wall took just a few hours to make. The cost? A whopping $5! 
That's right, folks! A stunning, tribal-inspired feature wall for less than the cost of a decaf latte! 
To recreate Becky's impressive design, you'll need a long rule, a level, and a couple of Sharpie Paint Pens.
These easy-to-control crafting pens come in multiple sizes and colors and can be purchased at your local craft store. You can even buy metallic pens! (Perfect for adding a little glam to your project!)
Whatever the color or style, Becky recommends picking up a water-based marker, which is easier to cover up than the oil-based variety. If you make a mistake, just paint over the error and try again. Ready for an update? Unlike traditional pattern work, which often requires multiple base coats to cover, this easy-on paint method is also easily painted over. 
To see more photos (including an animated GIF of the whole process), check out the full tutorial here. Looking for more inspiring DIY projects? You love these 15 Creative Nursery Walls Ideas!