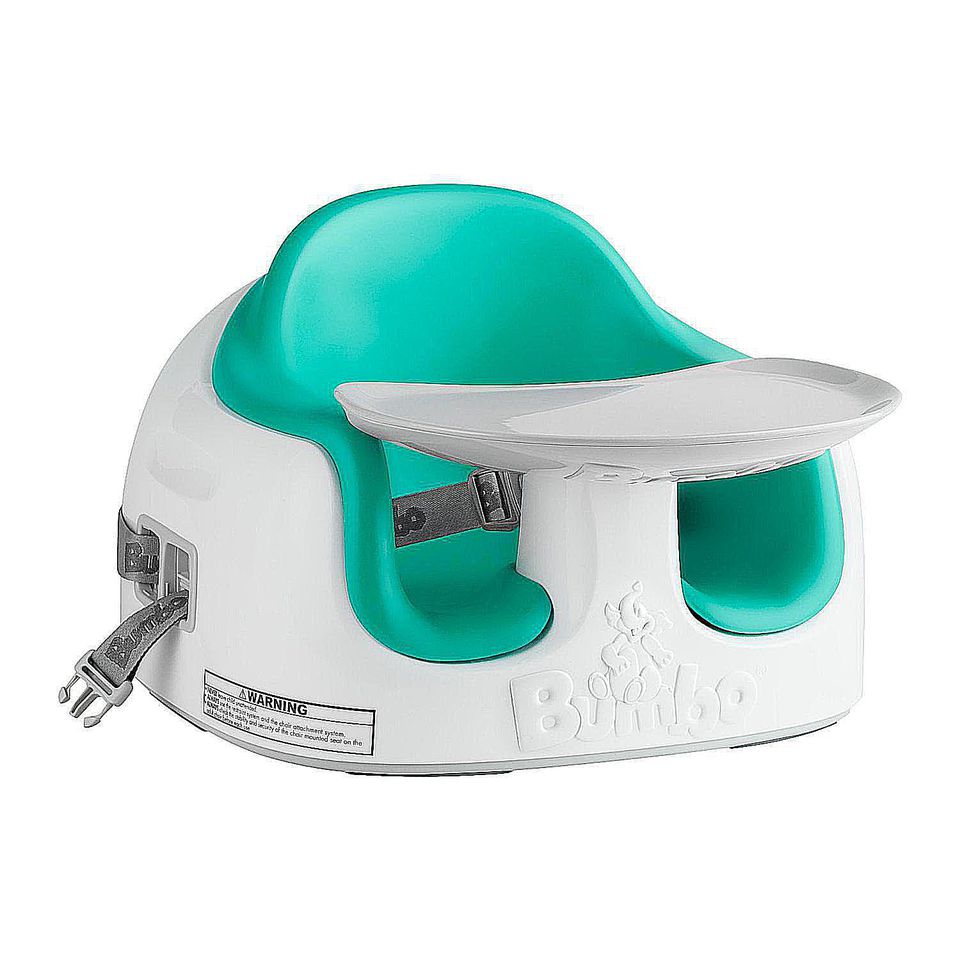 The Bumbo Seat - loved by many parents and a cause for concern for others. What could be so controversial about a baby chair? This soft foam seat is cozy for babies to sit up and see the world around them, but the Consumer Product Safety Commission issued a safety warning about after several babies were injured while using it. However, since the recall and safety warnings, the manufacturer has updated the Bumbo Seat with safety harnesses or trays that keep baby in the seat.
Some babies still manage to fall over or tip out of the Bumbo chair, though.
Due to the potential for injury, despite the company's efforts to upgrade the safety features of the seat, using a Bumbo Seat is not recommended. Parents who want to use a Bumbo chair for their baby should make sure to only select an updated model with the safety straps or tray, and should buckle baby in each time.
The Bumbo Seat is not to be used on high surfaces such as tables or countertops! Be aware that this product may pose a risk to your child if you do not follow manufacturer's instructions.
What Is It?
One-piece, low-density foam seat for babies.
Weight limit is 22 pounds.
Can be used as soon as baby has sufficient neck strength to hold up head.
Weighs about 3 pounds.
Retail price about $40.
Comes in lilac, blue, aqua, lime green and yellow.
Pros
Easily washable.
Portable and lightweight.
New models have a harness to keep baby in the seat.
Cons
Baby may not enjoy the Bumbo chair once he or she is mobile.
Older babies can arch their backs and tip out of the seat.
Some packaging showed Bumbo Seats being used on tables or counters, which is not safe.
Should You Buy a Bumbo Seat for Baby?
Many parents report that their babies love being able to sit up and look around from a fairly young age.
This seat looks funny, but the soft, molded foam chair provides a simple way for baby to interact with their surroundings.
Even with the Bumbo chair love from parents, though, there's a significant down-side to this baby seat. A recall of Bumbo Seats was initiated in 2007 because some parents used the seats on high surfaces and their babies were injured by falling from a counter or table. The recall involved adding more warning labels about using the seat on high surfaces or leaving baby unattended. Do not use Bumbo Seats on high surfaces, ever, or leave your baby unattended. The Bumbo Seat is for use on the floor only. Using the Bumbo chair on top of another elevated surface, even if that surface isn't very tall, increases the angle, distance, and force of a fall for your baby if he or she should tip the chair over or somehow fall out.
In 2012, CPSC announced another Bumbo Seat recall. This time the repair kit also included a restraint belt to help keep the baby in the chair.
Despite the earlier recall and the new warning labels, parents are still using the Bumbo seat on high surfaces, so more babies have been injured since the recall. Even more troubling are CPSC reports showing that some babies ended up with skull fractures after falling from a Bumbo seat on the floor.
These incidents involved falling on a hard floor or onto a toy. If you're using a Bumbo Seat for your baby, you should be aware of this potential for injury. If you choose to use a Bumbo chair, make sure the floor around it is clear and that your child won't hit a wall, furniture, or toys if he or she falls from the chair or tips it over.
The Bumbo Seat is made of low-density foam with a smooth plastic-type covering, so it's soft and is easy to wipe clean. The foam is lightweight so the Bumbo Seat is easy to carry with you outside the house. Bumbo Seats now have a harness strap or a tray to keep baby in the seat. The Bumbo Multi-Seat (Buy on Amazon), for example, has a tray, in addition to the harness, that can be used for feeding or playtime. Older models may not have the safety strap.
As soon as baby can hold up his or her head, the Bumbo Seat can be used.
The seat is designed to help baby have good sitting posture right from the start. The seat is made so that baby's bottom is lower than his or her legs, so baby's weight is centered in the bottom of the seat. A front post keeps baby from sliding forward. Once baby is able to arch his or her back, it's possible to tip out of the seat if you're using a version without a safety strap or tray. The Bumbo Seat itself is not tipsy, whether baby is in the seat or not, thanks to a wide, flat base.
This seat also offers another alternative to tummy time for younger babies. If baby doesn't like tummy time, the Bumbo seat may be a more pleasant way to keep baby from laying on his or her back too much. A play gym or play mat could also help make tummy time more fun. Other alternatives are a bouncer seat or something like the 4Moms Mamaroo.
If you decide to buy a Bumbo Seat, the only models you should consider are the ones with a safety harness or a tray that keeps baby from falling out. Don't buy an older used model. Be sure you're using the seat according to manufacturer's instructions, and always fasten the safety strap or put the tray on.