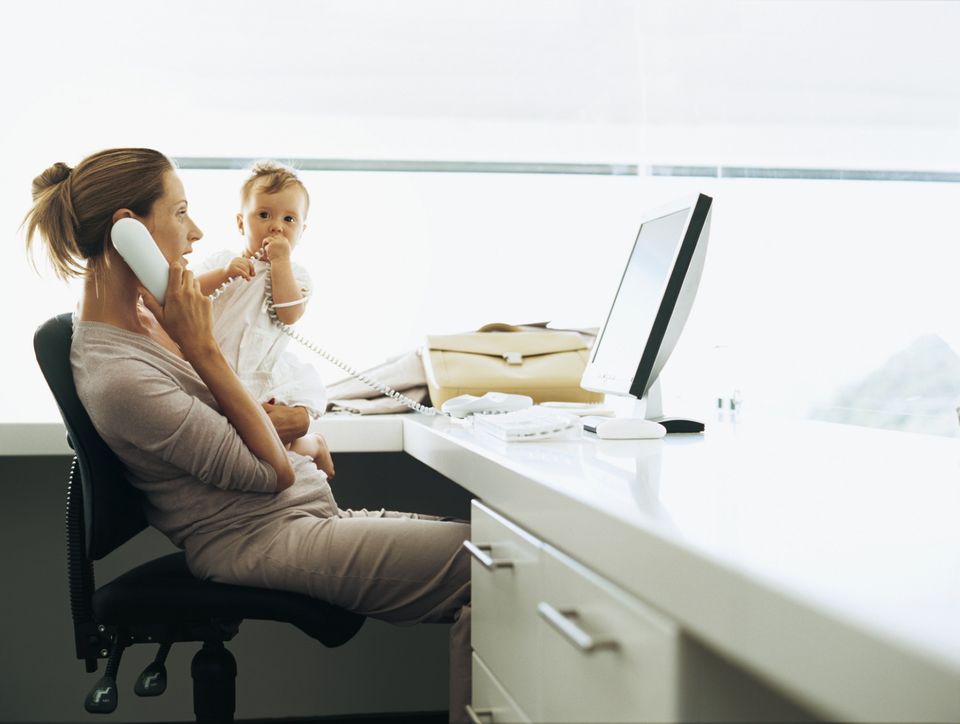 You're squeezed for time but you want to stay home with the kids and make money, have something for yourself and be your own boss. Get ready to start your own company with one of these nine business opportunities every mom has time to start.
Drop Shipping Business
Want to run your own store but don't want to deal with the high cost or hassle of storing inventory? Open up an online shop as a drop shipper.
This business model gives you wholesale access to manufacturers selling products. You list the items on your website, mark them up to retail price and when a customer places an order from you, you turn that order over to the manufacturer. The manufacturer then completes the order for you, shipping the items directly to your customer on your behalf.
You'll need to get a resellers permit from your state which will allow you to resell these items. You'll also need to contact the city and state's business license divisions to see what type of licenses and permits you'll need.
A drop shipping business opportunity is one of the easiest types of companies you can run because it's yours, you check for new orders and then turn those over to the manufacturer without having to do much else to operate the business. Drop shipping opportunities exist for just about every type of product you can think of, from baby items to big screen TVs.
As with any business you're thinking of starting, you'll need to do the following: Determine if you should talk to an attorney before you start your business, specifically a local business attorney and/or tax attorney. They can help you decide how you should set up any business, such as opening shop as a sole proprietor,  LLC, LLP or corporation.
You should also consulting with an insurance agent to decide if you'll need product liability insurance or other forms of business insurance. The task may seem daunting at first but these steps help you to start a business that will grow and be protected for the future.
Independent Consultant
You've undoubtedly seen independent consultant businesses in action. From the lady down the street selling essential oils to your best gal pal selling kids' clothes at trunk shows she hosts in her living room, independent consultants sell a variety of products. Other types of independent consultants sell candles, plastic food storage containers, even chocolate!
A simple search of independent consultant opportunities will present you with more ideas than you have time for. Narrow your list and do as a drop shipper will above, determining whether you will need to speak with an attorney to set up your business, obtain licenses within your state and city, considering the tax implications of working as an independent consultant and deciding if you need to carry insurance to protect yourself.
Handmade Business
Your love of crafting could be your next business opportunity. Whether you sell crocheted scarves or handmade lotions, the hobbies you enjoy right now could equal a profit in the business world.
This is another area where you would want to consult with a business attorney to ask her advice about  product liability insurance and other types of business insurance. You don't want to start selling until you're certain your products won't cause you more financial harm than gain.
But once you're ready to go with policies and licenses in place, you can start selling on places like Etsy or even eBay. Write your description, upload some pictures and start selling. 
Buying and Reselling
Buy at wholesale prices and sell at retail prices. Once you have your resellers permit and the proper business licenses in place, you can purchase items at wholesale and resell them on your website or auction sites like eBay.
Pick the types of products you want to purchase wholesale, such as children's clothing, small electronics or just about anything else.
Create a listing, wait for your item to sell and pack it up to go on its way.
Virtual Assistant Services
Do you have a block of time in your day that you could answer some calls, type up some documents and perform other administrative-type work? Start your own administrative services company offering virtual assistant services.
You can offer your services to many clients based on your schedule. They're not looking for full-time help and you're not looking for full-time clients.
Take this opportunity a step further and form your company to place a pool of virtual assistants with your clients. You assemble your own team of virtual assistants and match them up with your clients' needs. You can be more in charge of the scheduling and management side of your business without having to block off certain parts of your day to answer the phone for your clients.
Consignment Shop
Help other parents keep their kids dressed. Starting your own consignment shop is easier than you think.
With this business model, you're not operating a shop at a retail space on a regular basis. You schedule a consignment sale for a certain date and it can be a monthly or quarterly sale to keep your customer base.
Using social media, connections through your friends and local advertising, you simply gather clothes from parents ahead of time for your scheduled consignment sale. Rent space for your consignment sale, set a date and make money.
Babysitting Placement Service
If you really want to help other parents out, start a babysitting placement service. It's much like starting your own babysitting cooperative, yet you actually make money placing qualified babysitters in this business model.
Start small with a few trusted sitters in your pool. You can even place yourself as a sitter until demand grows. Market your company's services to your mom friends, at playgroups, on playgrounds and in local parenting magazines which usually have low ad rates. Every time you place a sitter on a job, you get a portion of the money that sitter earns.
Resume Writing Service
Starting your own resume writing service is easy and you can have clients all over the country without ever having to meet them. Develop a visually-appealing resume template so that you can cut down your time writing resumes dramatically.
Find out what each client's strengths and career goals are, schedule time for Skype, emails and/or phone calls and gather a list of all of their previous jobs, descriptions and dates worked. All you have left to do is plug that information into your resume template and submit it to your client. You can decide if you want to be paid per job or by the hour but most clients will prefer knowing what they're paying for upfront with a flat fee.
Social Media Manager
Are you a social media pro? You can easily offer your social media services to small businesses that may not have a clue where to get started with their social media efforts.
The best part about this business model is that you can use social media scheduling tools to schedule your tweets and Facebook posts for your customers. While your kids are sleeping, you can set up tweets for your customers that take them through to next week or beyond.