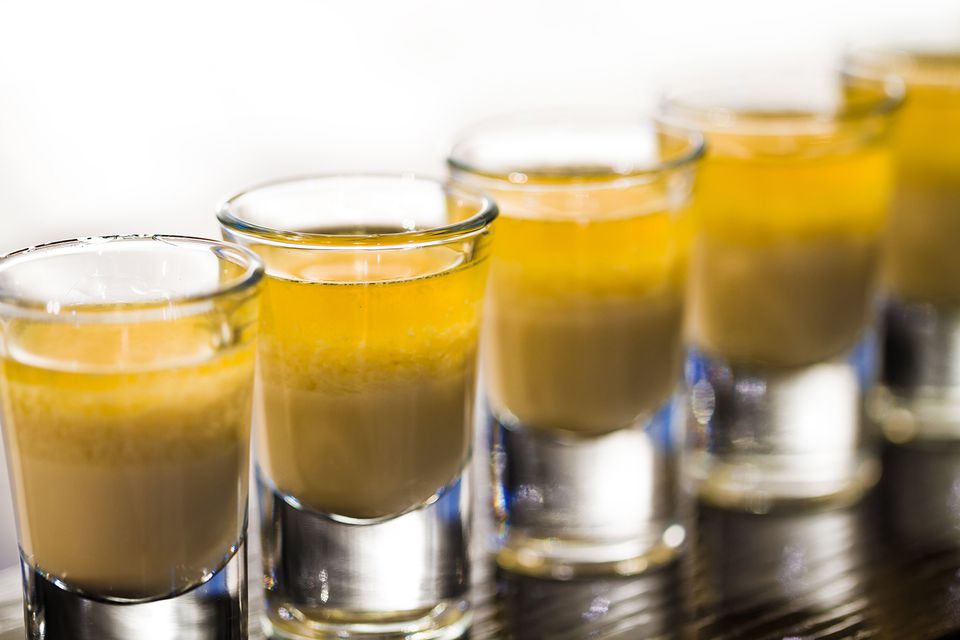 Ah, the Cement Mixer. It is both one of the most popular shot drinks and, quite honestly, one of the most disgusting. How it remains as popular as it is, I don't know. It is probably the reaction of those who drink it and the laugh their friends get out of watching it go down.
The drink itself does not taste bad as citrus and cream are not a bad combination. The problem with the Cement Mixture is the texture which is a lot like drinking concrete. If you have a tendency to gag on weird food textures, join me in avoiding this one. It can be a hard drink to get down and there are better shooters available.
For the rest of you who want to try the Cement Mixer, enjoy!
Pour the Irish cream into a large shot glass.
Slowly float the lime juice on top (or just pour it on, it really doesn't matter).
When you're ready to drink, take the shot and hold it in your mouth.
Shake your head very fast and swallow. You just turned your mouth into a (you guessed it) cement mixer!
What's Going on in the Cement Mixer?
An interesting chemical reaction takes place when a Cement Mixer is made.
As the shot sits, the fat of the Irish cream and the acid of the lime juice slowly mix together. Within seconds, a thick, lumpy slurry is created and it will get thicker over time, especially when it's agitated. Go ahead, stir it with a straw and watch the 'magic' happen.
The texture is best compared to cottage cheese or (obviously) uncured cement.
Timing is important when drinking a Cement Mixer, you don't want to wait too long or the mix will become too thick. Also, the more lime juice you use, the chunkier it will become.
I'm going to categorize this as a 'gag' shot and you can interpret that any way you like.
The Other Way to Take a Cement Mixer
Rather than mixing the two ingredients in a shot glass, some drinkers prefer to mix everything up in their mouth.
Pour the Irish cream and lime juice into separate shot glasses.
Begin with the Irish cream and pour both shots into your mouth (don't swallow yet).
Shake your head really fast to mix everything up, then swallow.
That was fun, wasn't it? 
2 Tips for Keeping the Cement Mixer Down
If you have a weak stomach or may have had too much to drink already, this may not be the best time for a Cement Mixer. It has been known to trigger a session of vomiting.
You might want to have a glass of water available just in case you waited a little too long and the mix became too cement-like. A good rinse should help you recover.
A Few More Cement Mixer Tips
The Irish Cream. Bailey's is the most popular Irish cream liqueur, but there are others available.
Though quality really doesn't matter with the Cement Mixer, you may want to explore your options for other drinks. Carolan's is a nice option that is pretty easy to find.
The Lime Juice. If you have fresh limes around, simply squeeze the juice from half the fruit into the shot glass. If you have a bottled lime or Rose's Lime Cordial in the refrigerator, this is the perfect drink to use it in.
Really, quality is not an issue when it comes to the Cement Mixer, the only goal is to keep the shot down.