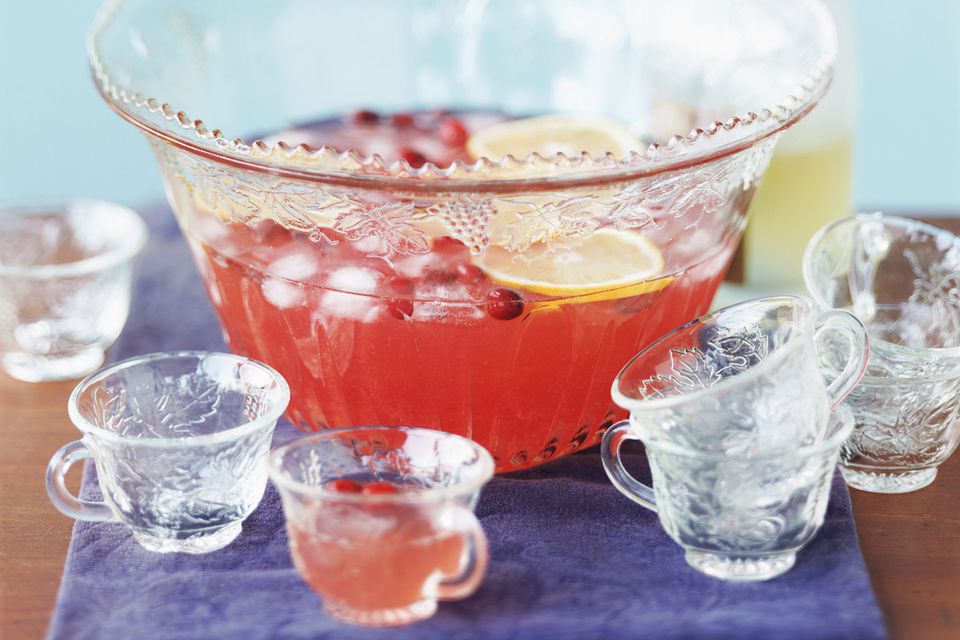 There are many Champagne punch recipes that you can make and each has its own fruity flavor profile. From pomegranate for the holidays to a floral cranberry for summer, even a year-round strawberry option, there's a Champagne punch for every party, no matter the size.
The beauty of any Champagne punch recipe is that the sparkling wine adds a fun and elegant flair to the drink. They're perfect for any occasion, from the holidays and New Year's Eve to weddings and housewarming parties. You really can't go wrong with a Champagne punch.
Pomegranate Champagne Punch Recipe
This first Champagne punch recipe is perfect for any winter party, including the holidays. It is a blend of pomegranate and cranberry juices with a little cinnamon syrup to give it that seasonal flair.
Pomegranate juice is not cheap. If you want to save money, pick up one of the pomegranate-cranberry juice blends. It won't have the pomegranate focus but will be just as tasty.
Makes about 16 4-ounce servings.
16 ounces (2 cups) pomegranate juice
12 ounces (1 1/2 cups)
3 tablespoons
3 tablespoons
8 ounces(1 cup)
1-750ml bottle
12 ounces
Place a frozen ice ring in a punch bowl.
Add all of the ingredients except the wine and soda.
Stir well.
Slowly add the ginger ale and Champagne.
Garnish with pomegranate seeds and other seasonal fruit, mint, or citrus slices.
Cranberry Elderflower Champagne Punch Recipe
A little lighter and with a floral aspect, this Champagne punch recipe is perfect for spring and summer parties. It is very simple and pairs cranberry with an elderflower liqueur.
Makes about 16 4-ounce servings.
To make the punch, mix 12 ounces cranberry juice, 6 ounces St. Germain Elderflower Liqueur, and 4 ounces each simple syrup and lemon juice. When it's time to serve, add 1-750ml bottle sparkling wine and 12 ounces club soda or seltzer. Garnish with cranberries, seasonal fruit, or citrus slices.
Strawberry Champagne Punch Recipe
Strawberries are the featured fruit of this very easy and delicious Champagne punch. It is a recipe that is perfect any time of year and it can quickly become a new favorite.
Possibly the best part of this punch is that you can stop by the grocer's freezer section for a can of fruit punch and frozen strawberries, even when they're out of season. Make sure that both are partially thawed and that you stir the punch well enough to dissolve the juices completely.
Makes about 20 4-ounce servings.
To make the punch, mix 12 ounces fruit punch, 10 ounces frozen strawberries (or 1 1/2 cups fresh, sliced strawberries), 2/3 cup orange juice, 3 cups water, and 2 tablespoons lemon juice. Finish it off with 24 ounces ginger ale and 1-750ml bottle Champagne. Garnish with hulled strawberries, rosemary, seasonal fruit or citrus slices.
A Few Champagne Punch Tips
Though the recipes say 'Champagne,' any sparkling wine will do. Prosecco is often a favorite and it tends to cost a little less than Champagne.
Remember that Champagnes are most often classified as brut (dry) and sec (sweet).
Add wines and sodas at the very last minute. This will keep the punch sparkling throughout the party.