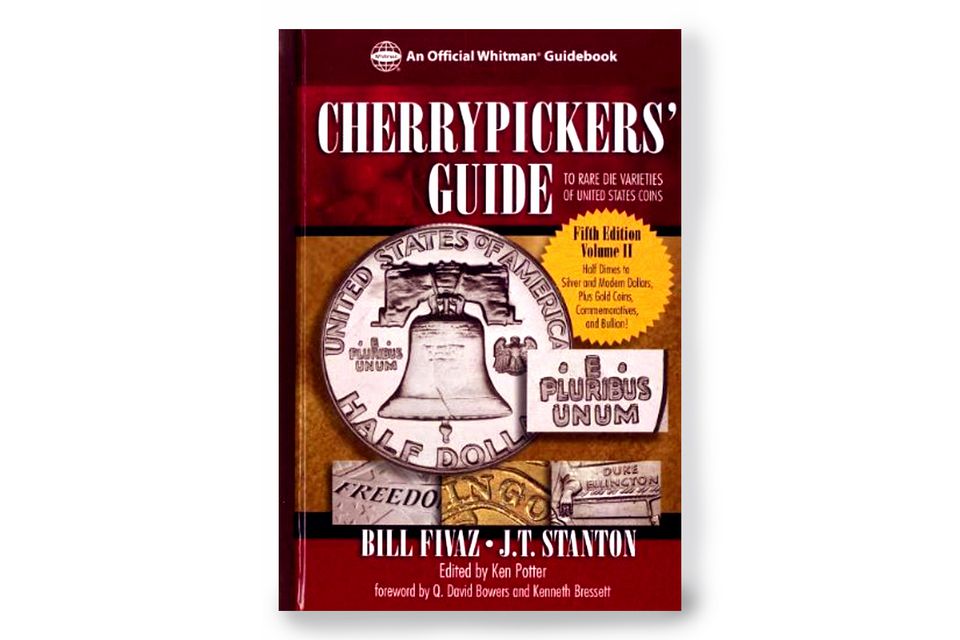 A cherrypicker is a coin collector that searches through pocket change, a coin dealer's inventory or junk bins looking for coins that have been overlooked or not properly attributed. Die variety specialist and author Ken Potter has teamed up with original authors Bill Fivaz and J. T. Stanton to produce the fifth edition of this classic coin guide.
The Cherrypickers' Guide to Rare Die Varieties Volume I covers half cents through nickel five-cent pieces and Volume II covers half dimes to dollars, gold dollars through double eagles, commemoratives and bullion coins.
If you have a previous edition of these books, the extra pages and new varieties will be worth the cost of obtaining this new edition. The bullion coins section is totally new and has never been published before. If you're looking to expand your coin collecting journey into new areas, then this book is for you.
Beginner's Guide and Expert Reference in One Book
If you are new to collecting die varieties, go right to the back of the book and start with the appendices. The Cherrypickers' Guide to Rare Die Varieties appendices covers the fundamental material that a beginner will need to understand before you start collecting. Topics include an introduction to doubled dies, a detailed explanation of the minting process, how to choose a magnifying glass to search for die varieties, common varieties found in proof and mint sets, etiquette to use when cherrypicking and a list of recommended books for further exploration of die varieties.
Before you dig into a detailed section for a particular coin type, be sure to read the "How to Use This Book" section in order to get the most out of this storehouse of information. The easy to use format, descriptions and close-up photography will get you started in no time.
For the more experienced collector, the cross references to the "Fivaz-Stanton (FS) Numbering System", CONECA numbers, rarity factors, interest factors and liquidity factors will help you locate, catalog and attributed your coins.
Regardless of your level of expertise, the updated market values will help you determine how much your coins are worth.
Finally, one of the nicest features in the Cherrypickers' Guide to Rare Die Varieties are the pickup points (PUP) that help you focus on a particular area of the coin in order to determine if it is a variety or not. The detailed black-and-white close-up photographs further illustrate each variety. Study both the description and the pictures carefully so you can properly attribute your die variety coins.
New Additions and Changes in the Fifth Edition
In addition to the over 100 new listings and the new section on bullion coins, this new volume is "cleaner" than previous issues of the Cherrypickers' Guide to Rare Die Varieties. First of all, low interest and debunked varieties have been removed from the detail and pictorial listings in the book, but are still logged in an appendix. New variety listings will not have values, rarity, interest or liquidity factors included in the listing. The reason for this is that since they have never been published before and are now listed the Cherrypicker's guide, this will create interest and demand for it and therefore will affect these factors in the future.
Once the market for these varieties has stabilized, this information will be listed in future editions.
Bottom Line: Buy it!
Product Details:
Volume I (half cents through nickel five-cent pieces)
Title: Cherrypickers' Guide to Rare Die Varieties of United States Coins, Volume I
Copyright: 2008 by Whitman Publishing, LLC
Hardcover-spiral: 480 pages
Publisher: Whitman Publishing; 5 edition (December 1, 2008)
Language: English
ISBN-10: 0794822851
ISBN-13: 978-0794822859
Product Dimensions:  1.3 x 7 x 9.5 inches
Volume II (half dimes to bullion coins)
Title: Cherrypickers' Guide to Rare Die Varieties, 5th edition, Volume II
Copyright: 2012 by Whitman Publishing, LLC
Hardcover: 488 pages; Hidden Spiral Bound
Publisher: Whitman Publishing; 5th edition (2012)
ISBN-10: 0794832393
ISBN-13: 978-0794832391
Product Dimensions: 9.1 x 7.2 x 1.3 inches