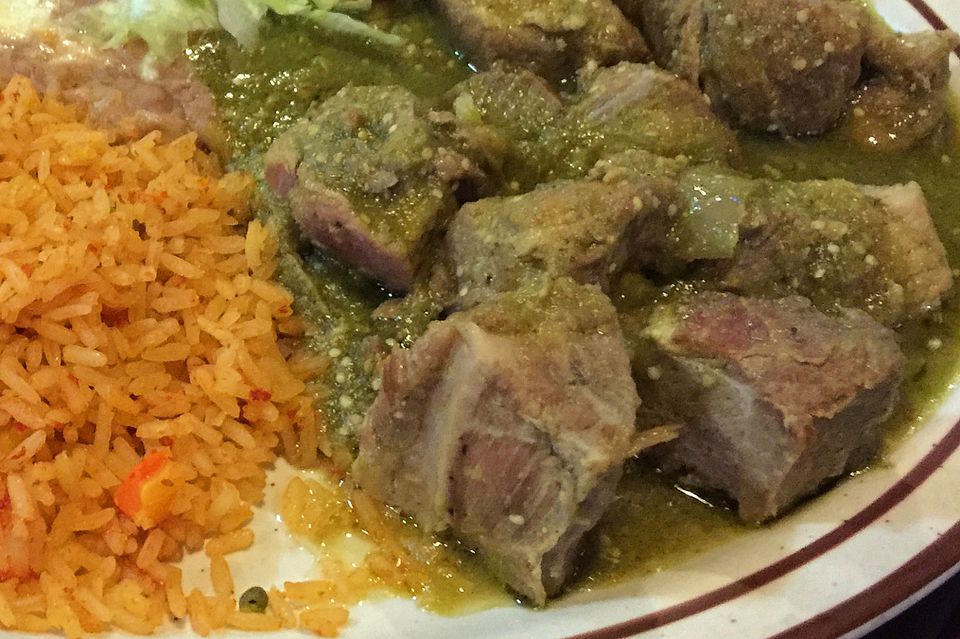 This hearty stew, warming because of the chiles and tangy because of the tomatillos, is as beloved in the American Southwest (where it is known as Chile Verde or Chili Verde) as it is south of the border (where it is called Puerco/Pollo en Salsa Verde). As happens with all iconic traditional dishes, each cook has his or her own delicious version. Use this recipe as a jumping off point for the development of your very own rendition. 
2 pounds (900 grams) fresh green chiles (Anaheim or poblano chiles work well)
½ cup water
1 tablespoon good quality vinegar
1 teaspoon salt
1-1/2 pounds (680 grams) chicken or pork, bone and cut into cubes
2-3 tablespoons pork lard or vegetable oil (for frying)
2 cups coarsely chopped tomatillos (Mexican green tomatoes)
2 cups chicken or pork broth
2 roasted green chiles, seeded and diced
4 cloves of garlic, peeled and diced
1 medium onion, peeled and diced
1/4 teaspoon ground black pepper
1/2 teaspoon salt
1/2 teaspoon ground cumin
1/2 teaspoon sugar (optional)
Prepare the sauce: Roast the fresh green chiles on a grill or under the broiler until the skin is blackened and bubbly. Let chiles them cool, then peel the skin off and scrape out the seeds. Cut the stem off; discard stem, seeds and skin. (See How to Make Rajas for photos and more detailed information on roasting chiles.)

Blend the chile flesh with the water, vinegar, and salt until smooth.

Brown the chicken or pork chunks in the lard or oil, over high heat.
Place the browned chicken or pork, chile sauce and tomatillos into a crock pot set on low or a large, covered pot over low heat. Simmer for 2 hours.

Add remaining ingredients and simmer for an additional 2 hours. Check every 30 minutes and add hot water as necessary.

Serve your delicious Slow Cooked Chile Verde with hot tortillas and with rice and/or beans, if you like.
Variations on Chile Verde
If fresh green chiles are not available—or if you need to save time and effort—feel free to use canned green chiles.

Once the pork or chicken has been well cooked, shred it. Eat your shredded Chile Verde as-is or use it to fill burritos, enchiladas, or tortas, or to top tostadas.

Add cubed potatoes (in approximately the same size as the meat cubes) at the same time as the broth and other ingredients. Potatoes go wonderfully with the flavors in this dish, reduce the intensity of the chile flavor, and make your chile verde yield more servings. Another option: Serve your Chile Verde ladled over mashed potatoes.
Edited by Robin Grose