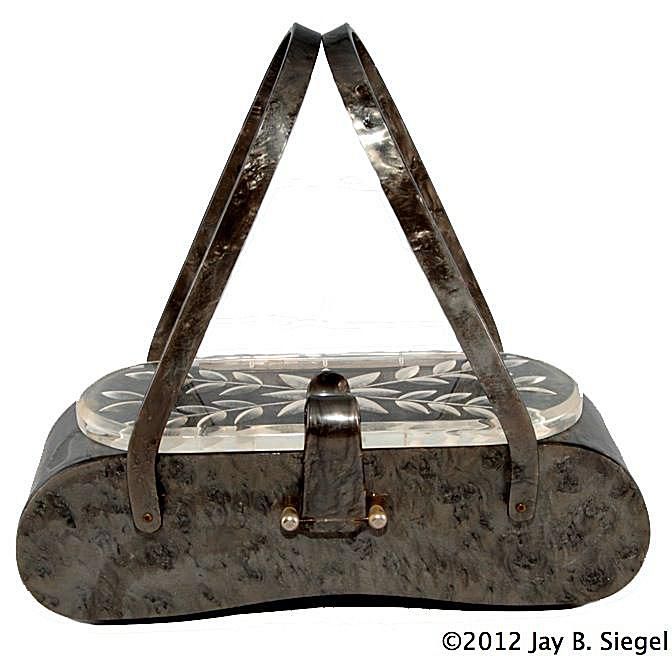 While you may not remember these funky plastic handbags dating to the 1950s first hand, there's a good chance your grandmother does. They were the fashion forward accessory back in the day.
It's clear the original owners had no clue collectors would one day covet these fleeting fad purses. But alas, here we are decades later, and these bags are definitely hot collectibles.
Plastics as Purse Materials
It was just a matter of time until the age of plastics worked its way into the accessories market. And when it did, stylish women everywhere were reaching for Lucite bags in fanciful shapes, according to author Kate E. Dooner in her Schiffer Books title Plastic Handbags: Sculpture to Wear (now out of print).
Lucite was actually a trademarked type of plastic produced by Du Pont just before World War II. Now, as part of a collector's vocabulary, Lucite has become a rather general term for hard plastics produced during the '40s and '50s by many manufacturers. Don't confuse it with Bakelite, however, especially when looking at colors in the butterscotch yellow family.
You may find a purse frame or components like handles made of Bakelite on purses dating to the 1930s or so. Some Lucite examples were misidentified as Bakelite in the past on a popular appraisal television program, in fact.  
Futuristic Mid-Century Styling
One of the distinguishing factors in hard plastic purses of the '50s is the modern look. Architecture, interior decorators, and even cars tried to capture a bit of the futuristic space age look so popular in mid-century modern design. 
These futuristic bags ranged from barrel shapes to cylinders and perfectly square boxes.
Or perhaps a plastic beehive in a deep honey color very appropriate for the motif would be more your style?
Imagine carrying a purse in the shape of a birdcage with rhinestones trimming the edges and you'll have a pretty good idea of how over the top these bags can be. In addition to rhinestones which are almost always clear on these bags, they were sometimes adorned with metal filigree clasps and hinges along with gold confetti flecks within the plastic itself.
And speaking of the plastic, the most common colors were shades of brown, gray and pearly white along with clear. Other bags had colored bodies and lids of clear Lucite with carved patterns to make them even fancier.
Some of the most collectible, and expensive, hard plastic purses have designer labels. Llewelyn, Gilli Originals, Rialto and Wilardy Originals are some of the names to look for when determining how desirable a bag may be. Most of these designer purses sell for more than $75 apiece and can range as high as $200-300 or more if it's a hard to find style or unusual color in near mint condition.
Tips on Condition and Value
There are a few condition factors to keep in mind when shopping for and pricing these items. Always check for cracks, especially near the hinges and where handles are attached.
 Make sure the bag isn't excessively scratched either. Everyday use of some of these hard plastic handbags left them showing quite a bit of surface wear and tear, and this does diminish value.
You can pick up a bag showing its age for a bargain price and still enjoy owning it and you won't have to worry about damaging it if you decide to use it. Some bags without a maker's label, very common styles and purses combining woven metal along with hard plastic accents are more affordable choices as well.
There are also bags that imitate the expensive high style purses, but don't have the thicker plastic and hand assembled characteristics collectors look for in the best hard plastic handbags.
Learn more:
Values for 1950s Lucite Handbags