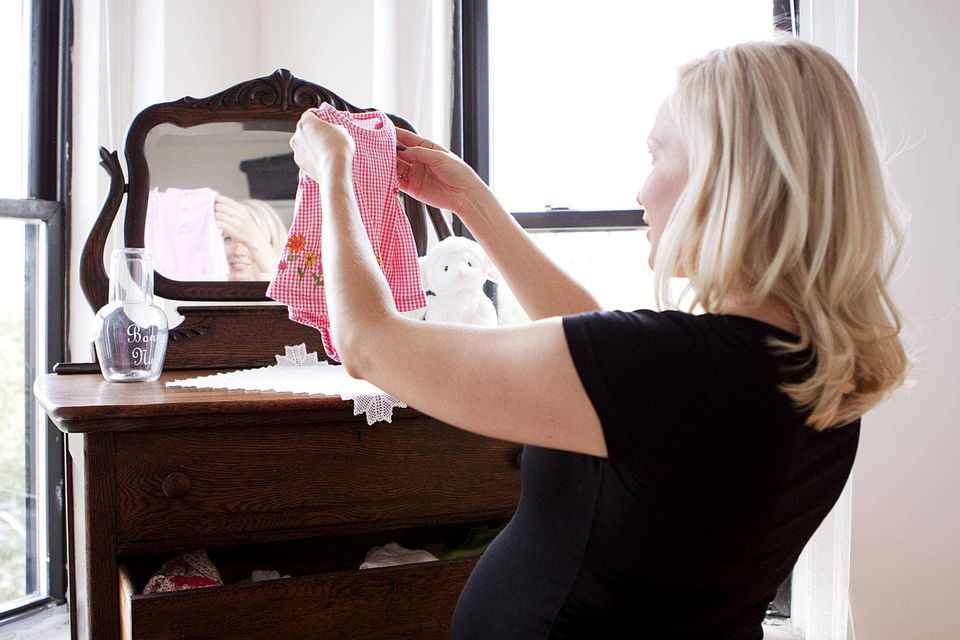 Selecting a coming home outfit is one of the most fun parts of expecting a baby! Your baby will wear this special outfit when you leave the hospital or birth center, and it will probably appear in many photographs. This is what your baby will wear when he or she meets the great big world! With all the cute newborn clothes out there, choosing just one adorable outfit may not be easy, though. Here's how to choose one that is comfortable, travels well and photographs well.
Consider the Season
Infants usually need to wear one additional layer of clothing over what adults would wear, except when it's very hot. Think about what season it will be when baby arrives, and plan the type of outfit accordingly. If you'll need to be outside in the cold, baby's going home outfit should fit easily inside the baby coat or blanket you intend to use, and you should have a warm hat, as well. If it's hot, a single layer of clothing is fine, but you may still want to buy a coordinating sun hat or shade blanket to protect your baby's skin.
Comfort is Key
Babies have sensitive skin, so newborn clothes must have soft, breathable fabrics and stretchy arm, leg and neck openings. If elastic is used to gather the openings, make sure it's not too tight, and that there's a layer of fabric between baby's skin and the elastic, to avoid irritation. Make sure snaps and buttons are attached well and won't scratch.
It's normal to want to dress baby up in something fancy, but remember that overly fussy dress clothes often aren't comfortable, so don't be swayed by ruffles and grown-up details if the clothes aren't also soft and comfy.
Check Sizes Carefully
Many parents try to buy baby clothes in slightly bigger sizes in hopes that their baby will be able to wear the special clothes for a longer time.
This is a great strategy when baby is a bit older, but for newborns, a few pounds can make a big difference in how clothes fit and look. Buying bigger sizes will likely make your newborn look like he or she is swimming in that special outfit. Look at the weight ranges on the sizing tags and go by those rather than age ranges whenever possible. Compare clothing brands in the store to see if your favorite seems to run big or small.
Easy On, Easy Off
You would think that all baby clothes manufacturers would make their clothes easy to fit on actual babies, but that's not really the case. Look for head openings that are very stretchy or that get wider with snaps or buttons. Diaper changes will be necessary, so look for snap openings at the bottom or outfits that are easy to remove entirely. Double check that the clothing is machine washable, too.
Basic for Baby
On baby's tiny body, clothes with lots of details and huge adornments tend to look out of place. Simple clothes in solid colors or fairly low-key patterns tend to look best on newborns. These types of outfits also tend to photograph well, so baby will be ready to smile (or snooze) for the cameras on the way home, too.
Carry a Spare
Unfortunately, babies don't understand the importance of your carefully selected coming home outfit.
One of baby's first messes may land all over it before you get out the door to go home. Have a second outfit ready to go just in case the first gets soiled. This is also good practice for the next few years.
Traveling Newborn Clothes
If you're driving home from the hospital with your new baby, any special outfits will need to be able to fit in baby's car seat. Very long, ruffly dresses, thick sweaters or jackets, or sleep sack-type outfits that would need to be bunched up in order to buckle the car seat are not be a good idea. It isn't safe to have extra fabric bunched under the car seat harness or behind your baby, and it probably isn't comfortable, either. If it's very cold, consider putting baby in the car seat and then tucking a warm blanket over the top of the harness, or else put baby in a thin fleece suit.
Don't use thick snowsuits or winter coats in a car seat.