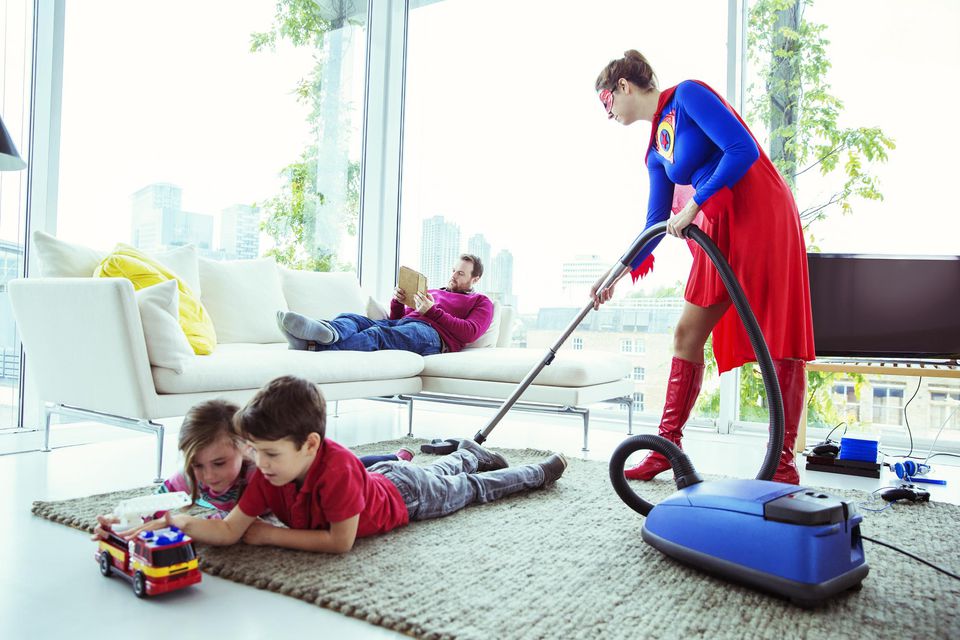 If you've ever spent time in the shoes of a stay-at-home mom, you know the days are not full of pints of ice cream on the couch while watching our favorite TV shows. But there are things we do that heat up the Mommy Wars and make people say that not only are we the luckiest people on the planet, we're also the biggest whiners. Here are the top 5 myths about being a stay-at-home mom and what we can do to combat them:
1. Myth: Stay-at-Home Moms are Lazy
Lots of people work 9 to 5 jobs. We do nothing and then gripe about how much we have to do between running the kids around town and trying to get dinner on the table. Meanwhile, the person who works full time out of the home all day still manages to get the kids ready for school, dinner on the table and laundry folded too.
The remedy: The typical schedule of a stay-at-home mom has us all over the city and doing everything for our family. There are so many things stay-at-home moms do that are completely off the radar of someone who's never been a SAHM. While we're far from lazy, some say SAHMs complain too much about everything we have to do. Instead, we should recognize that every type of parent, whether they work outside the home home or they stay home with there children, has a plate full of responsibilities that include taking care of the kids and managing family life.
2. Myth: Stay-at-Home Moms Can't Carry a Conversation
When we spend most of our time with children under 4 feet tall, SAHMs do tend to talk in shorter sentences and have limited topics to talk about -- we're not exactly spending our time watching the latest news on CNN or sitting around memorizing the Oxford English Dictionary for fun.
However, it doesn't mean that we don't have plenty to say.
The remedy: It's perfectly fine to talk about our children. We've put careers on hold and given up a second paycheck to stay home with them so we obviously have a lot to say about every little thing they do being with them 24/7. But when in a social setting, it's okay to strike up a conversation about something else. Use the conversation starters for couples to pick up some topics you can talk about with your friends and even new people that you meet.
3. Myth: Stay-at-Home Moms Don't Contribute to Society
 Many people think because we have chosen to opt out of the work force that we don't really work. In their eyes, because we don't contribute to the world financially, the work we're doing at home is insignificant.
The remedy: Keep on doing what you've been doing. The thought that stay-at-home moms don't contribute to society is a hard one to change. But you shouldn't worry about that mentality because you're contributing to society in other ways beyond economical means. You won't get this time back with your kids so spend it nurturing them and relishing in the moment. When they grow up and you see the beautiful adults they've become, think back on the naysayers that say you didn't contribute to society and smile.
4. Myth: Stay-at-Home Moms Complain Too Much
The kids have aggravated you all day. You have piles of laundry just waiting to be folded. Dishes never seem to spend time on the shelf because they're always in the dishwasher. Your best mom friend canceled another play date at the last minute. Instead of watching TV tonight, you have to write out the bills. SAHMs have a different set of responsibilities than other people. With that comes a different set of complaints. And, we do tend to complain a lot about some pretty trivial things. But guess what. So does everyone else too.
The remedy: There are many pros and cons of being a SAHM but you can't always have a good day. Between diaper blow outs and public meltdowns, you're bound to feel stressed every now and then, if not every day. How you manage the stress is mainly up to you so you can survive stay-at-home motherhood.
Don't let minor irritations turn you into a complainer. Accept those little struggles move on. You don't want your stay-at-home life to feel like a negative experience or seem like you don't enjoy being a SAHM in front of other people unless you really don't like to stay home with the kids.
5. Myth: Stay-at-Home Moms Think Our Choice is Superior
If another mom doesn't stay home with her kids, she can't possibly love her children as much as we do. This is how a lot of stay-at-home moms come off in the way they talk and act. Some of it is unintentional and, for some SAHMs, it isn't. But this only fuels the Mommy Wars.
The remedy: Working parents don't leave the house for a full-time job because they hate their kids. Stay-at-home moms aren't lazy, which is why they don't have the job. Sometimes people have to work. Sometimes it's more economical for parents to stay home. Sometimes parents choose to work outside of the home and sometimes parents choose the stay-at-home route. No one story is superior. Everyone is just doing the right thing for their own family. That's the way it should be.