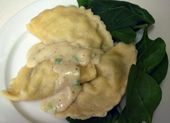 This dairy-free rendition of the classic Polish dumpling is creamy and delicious with a lighter dough and filling than traditional versions. While traditional pierogi are served in butter, this creamy pepper sauce adds a delicious texture and flavor without the saturated fats and cholesterol of most pierogi recipes. These savory dumplings are easy to make in advance and can be frozen and boiled at a later time for a quick weeknight meal.
Serves four
2 cups plus 2 T. white all-purpose flour, divided
1 ½ t. salt, plus more to taste
1 cup and 1/3 cup unsweetened dairy-free soy yogurt, divided
2 cups and 3 T. soy milk, divided
1 large egg, lightly beaten
4 large Yukon Potatoes, chopped
¼ cup and 1 T. olive oil, divided
2/3 cup sliced onions
2 cloves garlic, finely chopped
Pepper, to taste
¼ cup chopped scallions
1. Make the dough. In a medium-sized mixing bowl, combine the 2 cups flour and 1 ½ t. salt until combined. Make a well in the center of the mixture, adding the 1/3 cup soy yogurt, 2 T. soy milk and the egg. With a wooden spoon, pull the flour from the edges of the bowl into the center until forming a soft dough.
2. On a lightly floured countertop or work surface, turn the dough out and knead until elastic, about 5 minutes.
Wrap in plastic wrap and allow to rest for at least 30 minutes.
3. Make the filling. In a medium-sized stockpot or sauce pan, boil enough water to cover the potatoes. Boil until tender, about 20 minutes. Drain in a collander and set aside.
4. Meanwhile, heat the 1 T. olive oil in a heavy bottomed skillet over medium heat, adding the onions and garlic once hot. Stirring occassionally, aute until the onions are translucent and fragrant, about 7 to 10 minutes. Remove from heat and set aside.
5. Place the potatoes, onion and garlic mixture and 1 cup soy yogurt in a food processor, pulsing several times so that the mixture is creamy but not pureed. Salt and pepper to taste.
6. Make the pierogi. Boil several cups of salted water. On a lightly floured surface, divide the dough into four sections and working with one section at a time, roll out the dough until very thin, about 1/8" thick or thinner.
7. Using a round pastry cutter, sharp lid or just a sharp knife, cut out circles of desired size from the dough. Place desired amount of filling on one half of the circle, brushing one edge with a small amount of water. Fold the circle in half, pinching to seal the pierogi. Repeat until all fillind and dough is used, placing pierogi on a baking sheet or plate and covering until ready to boil.
8. Add several pierogi at a time to the boiling water, making sure that they do not touch one another. Cook for several minutes until they float to the surface. Remove with a slotted spoon to individual plates, keeping covered while making the sauce.
9. Make the sauce. In a heavy-bottomed skillet over medium-low heat, heat the ¼ cup olive oil and the 2 T. flour, whisking constantly with a wire whisk to keep the flour from burning. When the flour begins to smell toasty, after about 1-2 mintues, add the remaining 2 cups soymilk and chopped scallions, stirring constantly. Cook until desired consistency, add the salt and generously pepper to taste.
10. Pour sauce over pierogi and serve hot.