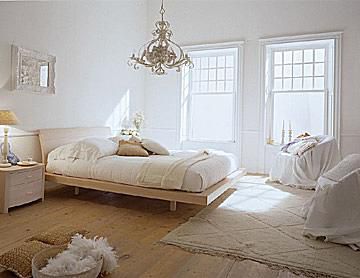 If you've ever been to pick out a white paint, you'll know what I mean when I say white isn't really "just white." There are dozens of shades of white ranging from cool to warm. With so many shades sporting names such as "Whimsical White" and "Snowy Meadow," where should a beginning decorator start?
Good news: All of these shades are simply a bonus for those of us who want or need to decorate on a budget.
Since the key to decorating with white is to vary tones, textures, and patterns, those of us on a budget don't have to spend extra money and time to track down items of a particular shade.
Mixing and not matching opens up a budget shopping world of flea market finds and curbside freebies, and also lends a shabby chic, unique look to any room.
Tips for Decorating with White
Varying tones, textures, shapes and prints of white (or mixing white with ivory or taupe) is an excellent way to add contrast in an all-white room. The beautiful thing is that there are no rules regarding this – an all-white vase collection looks striking no matter where you put it.
If your room doesn't have much architectural detail, warmer whites will cast shadows and banish that sterile look so common in an all-white room. Layered lighting in an all white room will also give it a warmer effect. Balance a warm white with cool glass or silver to provide contrasts and interest to a room.
White is known for opening up even the smallest, darkest spaces. In a small or poorly lit space, use the same color white throughout the space – on the walls, moldings, and ceiling – to provide a cohesive look. Painting everything the same color will allow the eye to roam throughout the space making your room appear larger.
Remember that any color you add in an all-white room will really stand out. A small goldfish in a glass bowl becomes a feature element in an all-white room. Use the K.I.S.S. rule when adding color and instead add variety through varying tones and textures.
Tips for Staying in Budget when Decorating with White
If you have a crafty streak, painting an item white is an easy, budget fix. Choose a flat white unless the item doesn't have much shape. The shadows of the piece will reflect well on flat white and look casual yet chic in your space. A light sanding will also give an all-white piece variety and texture.​​​​​
Covering your existing furniture with white slipcovers or muslin fabric is a fabulous way to save and can add a shabby chic or coastal look to your space.
Believe it or not, the cluttered look works well in all white and mixing a variety of all-white furniture doesn't speak "college dorm" as much as it does "eclectic chic," which is good news for those on a tight budget. In other words, use what you've got as long as it's white.
Covering books in white butcher paper give shelves a modern, uniform look. Parchment paper also works well and lends a softer look than plain white. Look for large packs of parchment paper at office warehouses and combine coupons with sales to save even more.
For frugal window coverings, white sheets work as well as any fancy hand-sewn shade. If you don't sew, fusible bonding web can be found at any fabric or crafting store and is easy to use. You'll only need an iron.