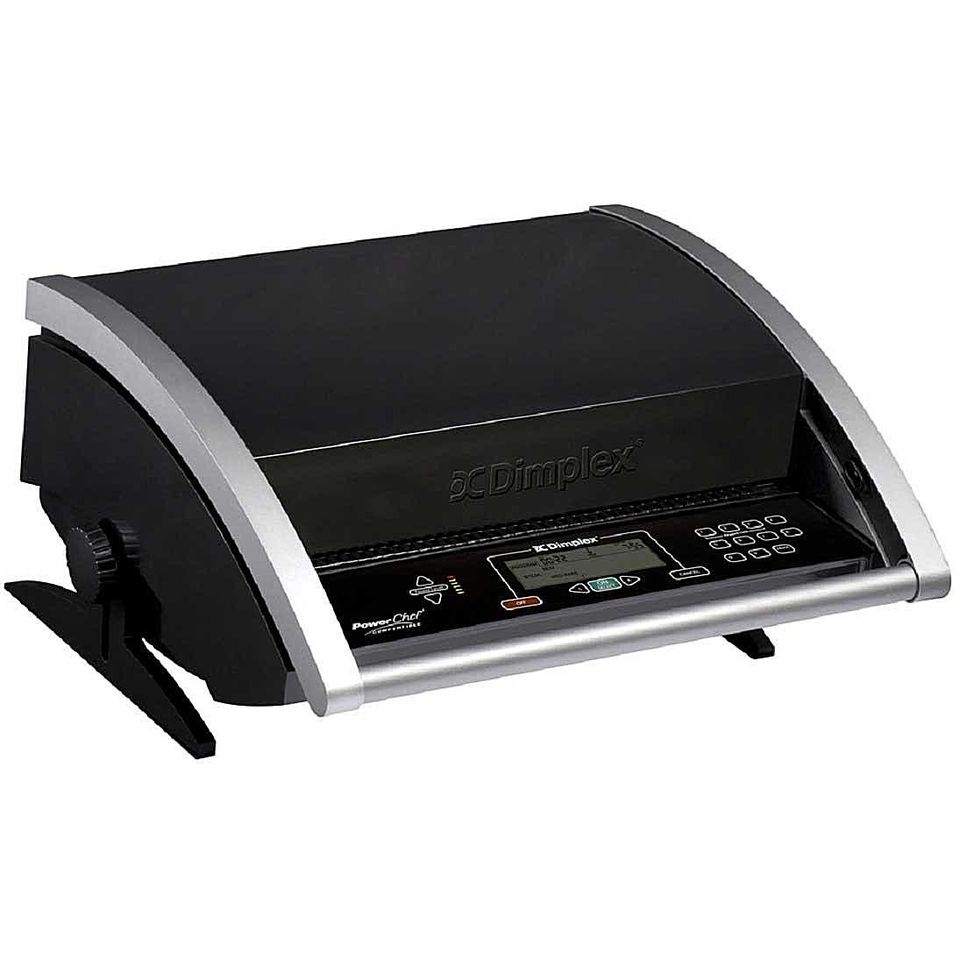 The Bottom Line
Electric grills in North America are limited by 120 volts. They do not produce the heat or the flavor of charcoal, or even gas. However, more and more people are restricted to an electric grill or nothing. This electric grill from Dimplex is a high end, well designed electric grill that does a great job of grilling, for an electric. Typically selling for around $500USD, this electric grill comes with a computer controlled grilling system that lets you select the food you are cooking and then let the grill tell you when to flip and remove.
The problem with the computer is that it has no imagination.
Pros
Complete compact design
Computer controlled grilling
Authentic open grilling in an electric grill
Locking lid
Cons
Expensive (over $500USD typically)
Computer controlled grilling
Description
216 square inch cooking area
1630 Watt heating element
Stainless and enameled steel construction
Locking lid allows for single handed carry
Weighs 33.5 pounds
Removable full sized drip pan
Computer controlled cooking system
Retractable legs
Optional wall mounts, full height pedestal, side tables
Made in China by Dimplex North America Limited
Guide Review - Dimplex PowerChef Automatic Tabletop Convertible Outdoor
Dimplex has discontinued its line of electric grills.
Unless you have an electric fireplace (yes, they come in electric too) you probably haven't heard of Dimplex. Well, Dimplex started out in Ireland a long time ago and entered the North American market in 1991.
Recently they took their experience in electric heaters and fireplaces and developed a line of electric outdoor grills. What I am saying, is that this is a company that has been around for a long time and are known for their technology. That shows in this grill. The Dimplex PowerChef Automatic Tabletop Convertible Outdoor Electric Grill not only has a ridiculously long name but is loaded with technology and attention to detail.
Electric grills restricted to 120 volts have trouble producing the kind of heat you want when it comes to grilling. This one does it by placing the heating element in direct contact with the cooking surface. Because of the proximity and the enclosed grilling space, this grill can produce something really close to searing temperature around 650 degrees F. The cooking surface of this grill, 216 square inches, is about as large as you can get in an electric grill. Like any electric grill, cooking times will be longer and food may be more prone to drying out, but that is the nature of the heat source.
The sticking point of this grill is the computer control system. You turn on the grill and select a program, say Beef > Steak > Medium Rare. The grill preheats (8 minutes) then beeps for you to put on the steak. Push a button to say it is on the grill and close the lid. When it beeps again you flip the steak and push the button again. Again, the grill beeps when the steak is ready. Take off the steak and turn off the grill. This system is supposed to take all the guess work out of grilling (and maybe the fun as well). The problem is that it isn't sophisticated enough to take into account whether your steak is chuck or rib, 1 inch or 1 1/4 inch.
You still have to use your judgment to decide when to flip and when your food is done.
This is a very well designed and constructed grill. It is perfect for the apartment or condo dweller who can't use gas or charcoal and who doesn't need to grill for a large number of people. This grill is, however, expensive (get what you pay for). At around $500USD from many sources, this is one of the more expensive electric grills. It is, however, more like a full grill than a portable like most electrics. This grill can be had with optional side tables, a wall mounting kit, or a full height pedestal.
Disclosure: Review samples were provided by the manufacturer. For more information, please see our Ethics Policy.