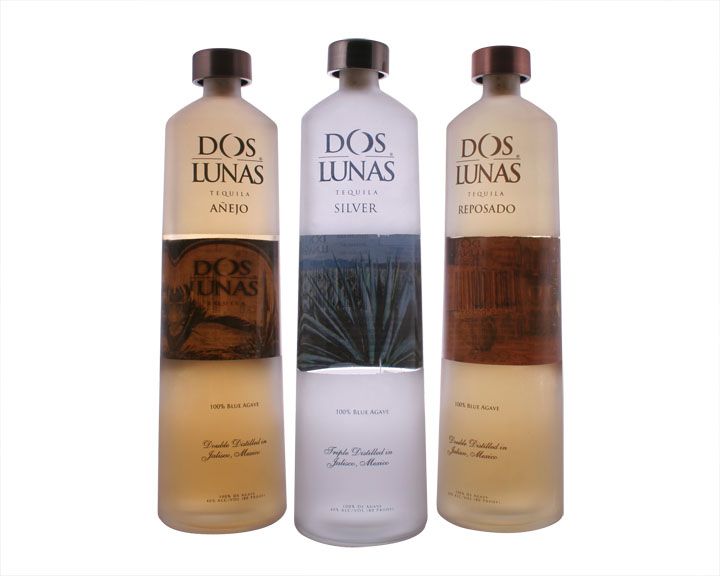 Dos Lunas Tequilas are simply impressive, with tastes as elegant as the bottles. They are distilled of 100% blue weber agave grown near Zapotlanejo in the highlands of Jalisco using an all-natural process; no additives or chemicals are added for flavor, color or to accelerate the fermentation.
Each presentation is a fine example of real tequila and should be appreciated for their taste, smoothness and mixability.
You can use any these tequilas to transform the ordinary tequila cocktail into something extraordinary.
Dos Lunas Silver Blanco
This is one of the nicest silver tequilas I've had because, despite the lack of barrel time, Dos Lunas Silver has the complexity of some of the lighter reposados. Beyond that, this is simply one fine tequila worthy of any mix or a solo appearance in a snifter.
A sweet, herbal, lush tequila aroma with a medium-bodied palate that is clean and pure. The peppery finish tops the experience off with a sugary fade.
Retails for around $30/750ml bottle
2007 Silver Medal Winner, San Fransisco World Spirits Competition
2006 Bronze Medal Winner, International Review of Spirits
Dos Lunas Reposado
This reposado is the gem of the Dos Lunas tequilas when it comes to creating "culinary cocktails." Experiment with the more exotic, all natural ingredients and the finest flavored liqueurs or simply stir Dos Lunas Reposado with something like Cinzano dry vermouth.
It is well-rounded and flavorful, without being overly rested for some drinks and for a reasonable premium price it is worth stocking semi-regularly (at least).
Waves of oak and caramel fill the warm fragrance with floral notes. it is rich and velvety with more oaky sweetness that grows into a warm, peppery finish, which takes its sweet time fading away.
Aged for 9 months in white American oak barrels
Retails for around $40/750ml bottle
2006 Gold Medal Winner, International Review of Spirits
2007 Silver Medal Winner, San Fransisco World Spirits Competition
Dos Lunas Anejo
This Anejo is spectacular, although lighter than most, especially in the notes of oak. I like it the way I do most anejos (neat or rocks) but this one is worth mixing. It's almost a crime not to toss it into an Envy, Tequini, Margarita, or anything else that you want to turn into the best tequila cocktail you've ever had.
A light, sweetly aromatic aroma filled with fresh hay and a brightly floral rose. Silky, smooth entry with a delicate caramel, orange and lemon palate. The short finish gets warmer and more complex with sweet, delicious notes of oak, agave and straw. Pleasingly smooth and richer than Dos Lunas other tequilas, truly the star of the line.
Aged for 18 months in white American oak barrels
Retails for around $60/750ml bottle
Dos Lunas Tequilas at a Glance
Distilled and bottled in Guadalajara, Jalisco, Mexico
Super-premium, 100% Weber Blue Agave, double-distilled tequilas
Presentations: Silver, Reposado, Anejo and Grand Reserve (10 years in Spanish Sherry casks)
40% alc/volume (80 proof)
Imported by Dos Lunas Spirits, LLC
The Bottles
The Dos Lunas bottles are elegantly designed, a tall, lean column of frosted glass, which tapers as it rises. Each presentation has it's own look to match the age and color: Silver - white, clear; Reposado - lightly golden; Anejo - warm copper. The cap is a flat oval and slightly rounded, and make opening and closing very easy while concealing the cork enclosure. When corking these bottles pull straight up as the cork inside can (and did) break when jiggled back and forth too much.
Disclosure: Review samples were provided by the manufacturer.