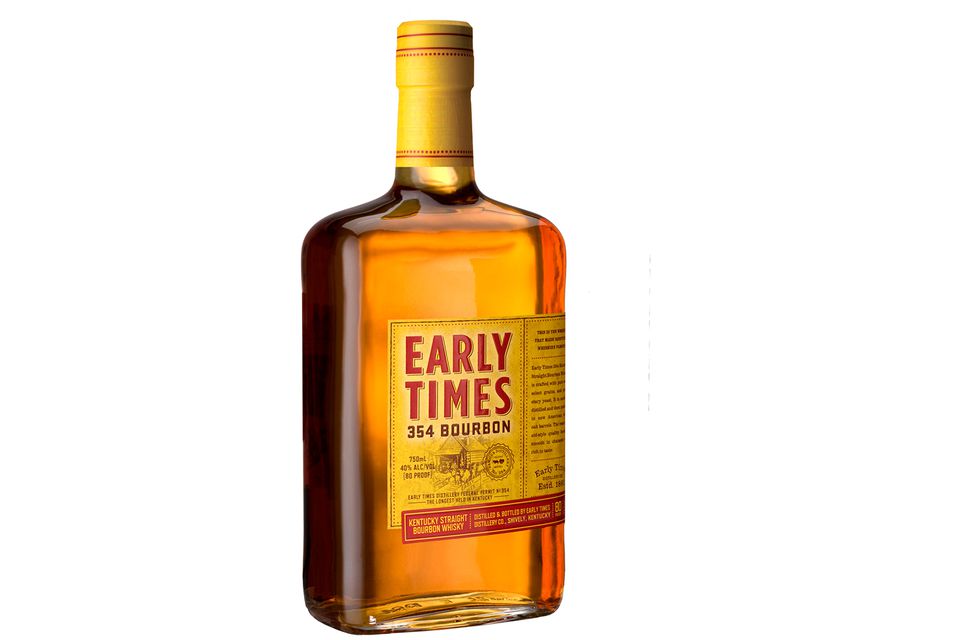 Early Times is a classic name in American whiskey. The brand launched in 1860 and its founder Jack Beam was the uncle to the famous Jim Beam who founded that other whiskey brand. The long lineage of whiskey tradition flowed through the Beam family and both lines continue today by producing notable whiskies.
About Early Times Whiskey
Early Times can be confusing to the consumer. It is important to note that Early Times produces two whiskies: Early Times Kentucky Whisky and Early Times 354 Bourbon.
Early Times is the second oldest continuously made Kentucky whiskey on the market, and during the 1950's, Early Times Bourbon was the best-selling bourbon in the United States.  
For many decades, Early Times 354 Bourbon was the brand's flagship whiskey. It was aged in both new and old barrels, making it illegal to be labeled as bourbon. In the 1980's it was pulled from the market and relabeled as Early Times Kentucky Whisky.
Early Times 354 Bourbon was recently reintroduced to the market and is aged for four years in new charred American oak barrels. The '354' is the distillery's federal permit number. It is bottled at 80 proof and sells for around $16 a bottle.
It was that whisky's time in previously used barrels that caused the commotion at Early Times and that was when Early Times Kentucky Whisky became the brand's marquee. For awhile small amounts of 'bourbon' were exported to Japan.
Early Times Kentucky Whisky is aged for at least three years in used oak barrels.
It is bottled at 80 proof and sells for around $12 a bottle.
Early Times also produces two flavored whiskies: Fire Eater (cinnamon-flavored whiskey liqueur - 33% ABV) and Blind Archer (spiced apple-flavored whiskey liqueur - 33% ABV).
Review of Early Times 354 Bourbon Whisky
Nose
On the nose, Early Times 354 offers notes of caramel, vanilla, oak, cinnamon and allspice intertwined with hints of corn and cereal grains.
This bourbon will please those who prefer a sweeter style of bourbon and there is just enough spice to provide interest to fans of spicier bourbon whiskies.
Body and Palate
Early Times 354 bourbon is a deep amber colored whiskey that is light on the tongue and has enough viscosity to coat the mouth without overwhelming it. On the palate, warm vanilla pound cake, cinnamon apple cider, warm caramel apples, dried apricots and mandarin orange flavors play on the tongue with just a touch of spice and toast notes evident.
Finish
Early Times 354 finishes rather quickly, but as this is more of a session bourbon, perfect for poker nights, cocktail parties and barbecues, a quick finish is very desirable. At 80 proof Early Times 354 gently slips off the palate, but not before a final temptation filled with baked apples, corn on the cob and vanilla pudding.
Final Thoughts
At a suggested retail price of $16, Early Times 354 Bourbon offers a nice, smooth Kentucky bourbon at a very affordable price point. Early indications are that this bourbon is quickly turning into a hit, and given its long, rich history in the annals of American whiskey, it is about time that Early Times 354 returns to its place among the top-selling American bourbons.
Whether you are seeking a great entry level bourbon at an affordable price point or looking for a versatile bourbon for your home bar, Early Times 354 Bourbon is sure to deliver maximum satisfaction.
About Early Times 354 Bourbon Whisky
Kentucky straight bourbon whiskey aged for 4 years in new charred American oak barrels.
Produced by Early Times Distillery Co. of Louisville, Kentucky
Retails for around $16/750ml bottle
Originally Published: February 16, 2011
Edited by Colleen Graham: October 25, 2015
Disclosure: Review samples were provided by the manufacturer. For more information, please see our Ethics Policy.