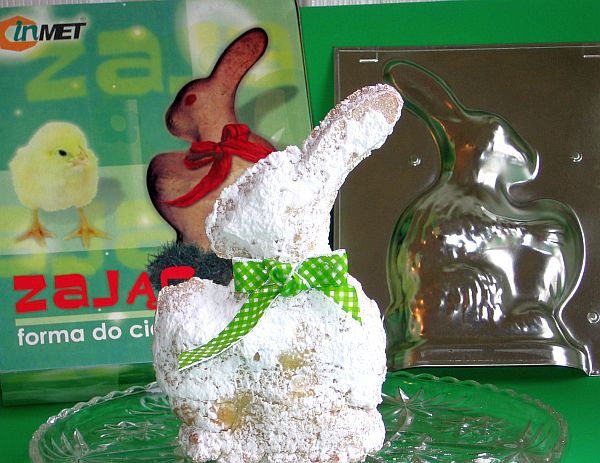 I translated this recipe from Polish on Inmet's Easter bunny cake mold box, sold by Domitp.com in America. It is perfect for a mold that produces a 9-inch high by 5-inch wide rabbit cake. This is a very thick batter and produces a dense cake -- perfect for the bunny to stand on its own.
3 tablespoons butter (softened)
1/4 cup sugar
1 large egg
1 teaspoon
1 teaspoon rum (or rum flavoring)
1/2 cup cake flour
1/4 cup potato flour
1/2 teaspoon baking powder
Pinch salt
Garnish: confectioners' sugar
Heat oven to 350 degrees. Liberally coat a 9x5-inch rabbit mold with cooking spray. In a medium bowl or stand mixer, cream together butter and sugar until light and fluffy. Beat in egg, vanilla sugar, and rum.
In a separate medium bowl, mix cake flour, potato flour, baking powder, and salt. Add to butter-sugar mixture and combine well. The batter will be thick. Transfer to mold, following manufacturer's directions, and bake 30-40 minutes or until a skewer inserted into the middle of the mold tests clean. Let cool lying down on its side on a wire rack for 20 minutes.
Remove top half of mold and cool completely. Then remove the bottom half of the mold. Dust with confectioners' sugar or decorate as desired.
Note: In the case of the Easter bunny cake mold from domitp.com, the mold is baked upside down in two clips that serve as a stand. After baking, place the mold on its side to cool.