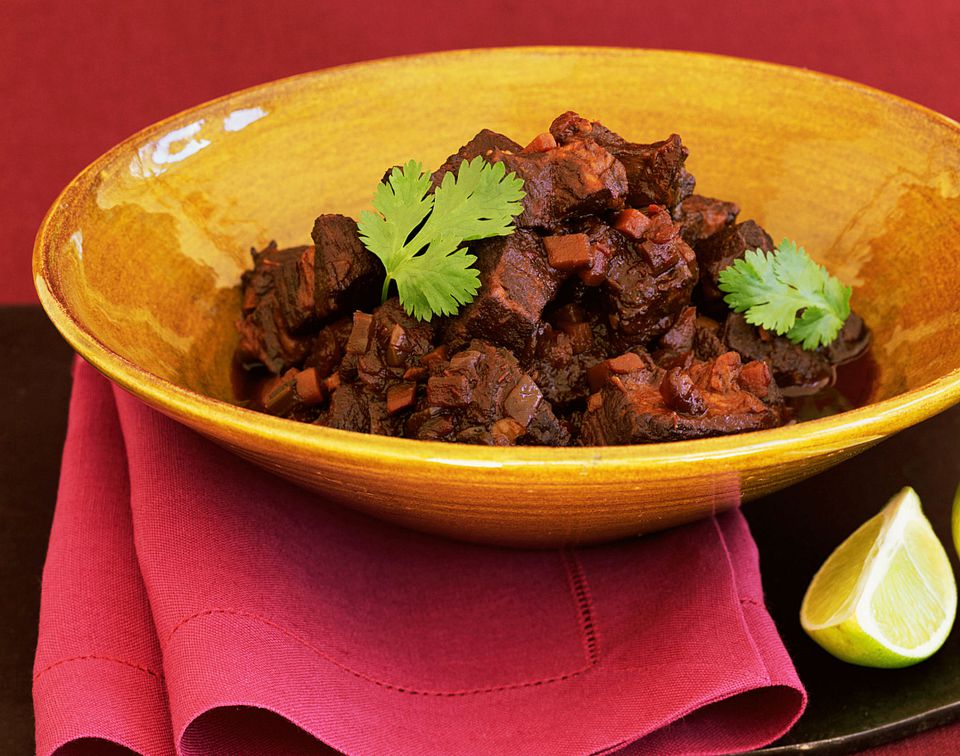 The Spanish word colorado basically just means red, and that is one description of the sauce in this stew made with tender beef. Other appropriate descriptive words would be rich, flavorful, and satisfying. Chile Colorado is a favorite comfort food in Sonora and Chihuahua (in northern Mexico) and the southeastern United States, where it is served with fresh flour tortillas.
3 pounds (about 1.3 kilos) beef roast
8 dried red chiles (such as Guajillo, Anaheim, or New Mexico peppers)
2 cups tomato puree (tomato sauce)
4 cloves of fresh garlic, peeled and finely diced
1 tablespoon dried oregano
1 teaspoon salt
2 tablespoons pork lard or vegetable oil
2 cups beef broth (homemade, canned, or prepared with bouillon cubes/powder)
Chopped white onion and cilantro for garnish
Place beef roast in a large pot and cover with water. Simmer for 2 to 3 hours, until it is fork tender. (This could also be done in a crock pot during the day.)

While the beef is cooking, prepare the chile sauce*: Pick while dried chiles that look fresh and have no tears or broken pieces. Rinse off any dust or grime under cool water. Pat dry, then cut the top off of each chile and then slit it down the middle. Shake out the seeds, using your fingers or a spoon to dislodge any seeds that want to stick. Peel off any excess dried veins that are lighter in color and run in a line down the inside.

Heat a comal or griddle over medium/high heat and roast the dried chiles for 2 to 3 minutes. Turn them often to avoid burning them. Cover the roasted chiles in hot water and let them soak for about 30 minutes.

Remove the chiles from the water and place them in a blender with about 1/4 cup of the soaking liquid (if it is not too bitter), the tomato puree, the garlic, the oregano, and the salt; puree until smooth.
Remove the beef from the water; drain the water out of the pot and either discard or set aside for another purpose.

Add the lard or oil into the pot over medium-high heat. Cut or pull the beef into bite-sized pieces and fry them briefly in the oil. (This step adds flavor and texture, but can be skipped if you'd prefer a lower-fat version.)

Add the beef broth and the blended chile-tomato mixture to the pot and simmer for about 30 minutes, until the flavors have melded and the desired texture is reached. (Some people like the sauce very liquid, while other prefer to let it evaporate and thicken more.)

Serve with steaming hot flour tortillas and a garnish of chopped onion and chopped cilantro leaves.

Store leftover Chile Colorado in the refrigerator; use another day as a filling for burritos, enchiladas, or tortas.
*Once you've learned to make this sauce, you'll see how good it is in other dishes. After feasting on the dish as specified in the recipe, try pork, chicken, tofu, or eggs cooked in Chile Colorado.
Edited by Robin Grose