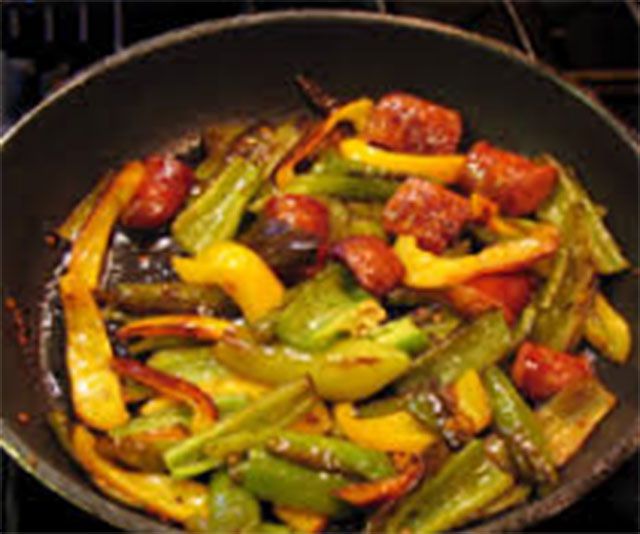 This typical Spanish tapa is simple, quick and easy. Green and yellow peppers fried with Spanish chorizo sausage and garlic make a colorful addition to the table. Served on a platter in the center of the table, and mound the mixture on slices of fresh rustic bread. It is also a great first course or accompaniment to scrambled eggs.
2 long green peppers
1 yellow bell pepper
2-3 cloves garlic
2 fresh chorizo sausages (1/2 pound or 1/4 kilogram)
Olive oil (for frying)
Dash salt (or to taste
Rinse peppers, then remove stems, seeds, and membranes.
Cut in slices lengthwise, about 1/3-inch wide.
Peel and finely chop garlic
Cut chorizo into 1-inch lengths.
Pour 4-5 Tbsp olive oil into a heavy bottom frying pan and heat.
When oil is hot, fry chorizo pieces and pepper strips, stirring often.
When peppers are browned and almost cooked, add minced garlic and continue to fry.
When chorizo and peppers are cooked, serve on a platter with rustic bread.