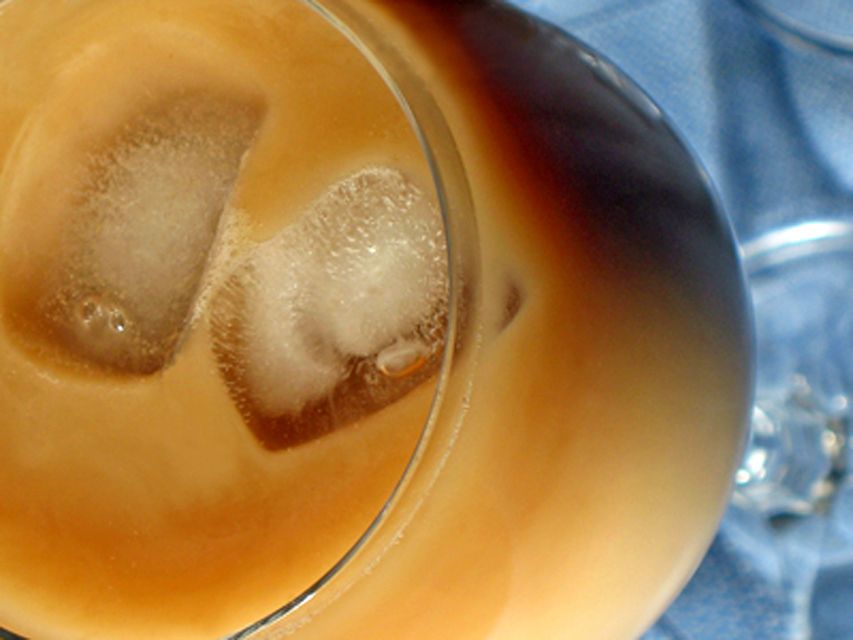 Step aside Starbucks, because this authentic Thai iced coffee is just as good (or better), plus it's easy to make and costs just pennies a cup.
If that's mot enough, making it yourself means you get to choose your favorite blend or brand of coffee bean.
This drink is sold on all the streets and beaches in Thailand. It's the perfect to quench your thirst on a hot day when served simply over ice.
Adding your favorite liqueur kicks it up a notch for a delicious afternoon/after-dinner drink. Make a jug of Thai iced coffee and keep it on hand in the refrigerator for whenever the mood strikes you and whenever a jolt of caffeine is in order.
2 large cups of strongly brewed coffee OR strong instant coffee (if using leftover coffee, briefly reheat)
4 to 6 tablespoons sweetened condensed milk (to taste)
1/4 cup evaporated milk OR fresh heavy cream
Ice cubes
Pour hot coffee into a glass jug or other container for mixing/pouring.
Add sweetened condensed milk to taste and stir well until dissolved. Add a few ice cubes and refrigerate 1 or more hours.
To serve, place a few ice cubes in the bottom of each glass and pour the coffee over. Top with a few tablespoons of the evaporated milk or heavy cream.
Taste test the coffee. You want it to taste strong and sweet. Add more sweetened condensed milk if you prefer it sweeter, or more evaporated milk/heavy cream if it's too strong or for a richer taste. (Note that this iced coffee is meant to be rather sweet.)
This iced coffee is excellent as is, or serve with a shot of Cointreau, Bailey's Irish cream, Kahlua, or your favorite liqueur.
More Coffee Drinks
German Coffee and Ice Cream Recipe: Cold coffee and ice cream never tasted so good, and the caffeine content has a restorative quality.
Italian Iced Espresso Recipe: In Italy, the popular caffè shakerato employs a cocktail technique to transform espresso into a frothy, frosty drink with a thick layer of creamy foam.
Bailey's Irish Ice Recipe: Guinness gelato meets Irish cream in this yummy iced dessert coffee. The entire drink is topped off with a shot of espresso, whipped cream, and fresh mint.
Homemade Coffee Liqueur Recipe: Make an economical version of Tia Maria or Kahlua at home. This coffee liqueur recipe is easily customized to personal tastes by varying the level of coffee, sugar or vanilla. 
Coffee with Tea Recipe: This unlikely combination of coffee and tea is a tasty and energizing beverage from Hong Kong. The combination of homemade milk tea and fresh-brewed coffee in this incredibly easy recipe provides quite a jolt of caffeine.