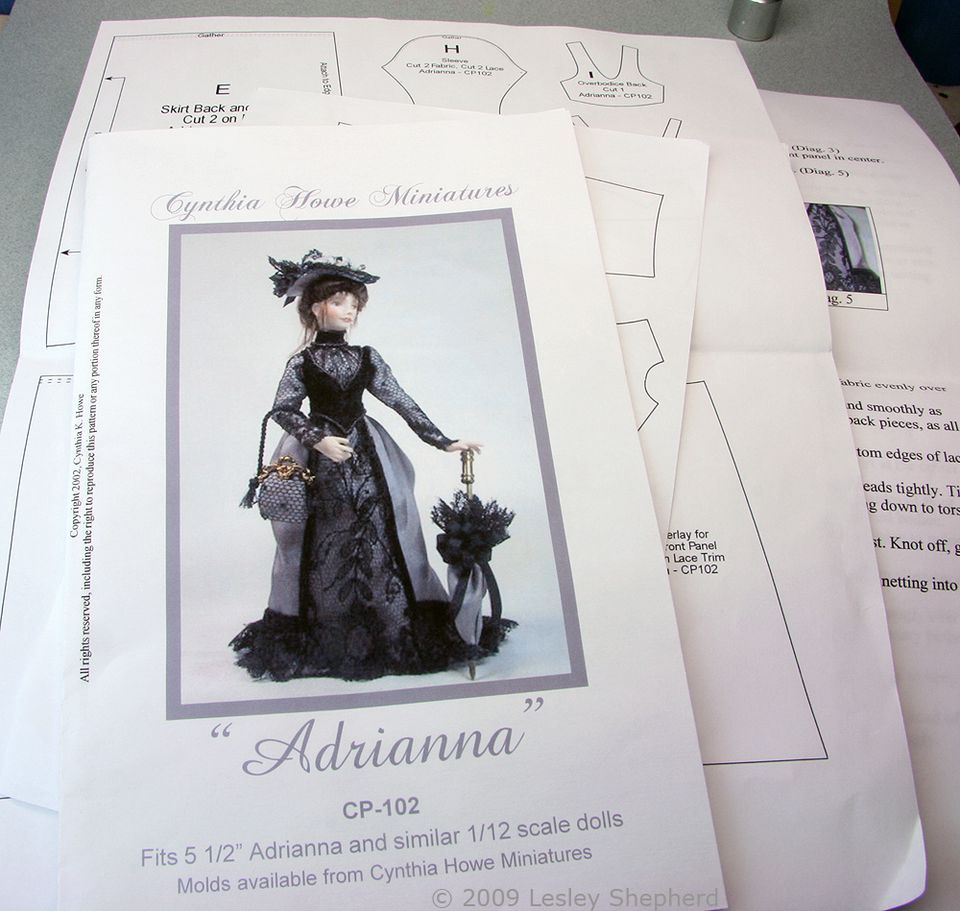 The Bottom Line
Well drafted, original pattern designs for 1:12 scale dolls with clear online photo tutorials make these patterns useful for intermediate dolls dressmakers. The patterns and instructions assume the maker is familiar with clothing construction and proper fabric choice (weight and drape) and pattern layout to take advantage of fabric grain. The costumes are designed to be glued to the doll and construction details make it difficult to adapt them to be removable.
The costumes are very well suited to the dolls showcased and relatively easy for experienced dressmakers to assemble.
Pros
Beautiful, simple to assemble designs make good use of fabric details.
Well drafted, well-labeled pieces contribute to overall fit and finish.
Excellent online step by step photos available to supplement the included instructions.
Cons
Limited range of designs
Not suitable for absolute beginners despite online photos. Not enough information proved on fabrics.
Designed to be glued on the doll.
Description
Lovely costumes can be adapted for various looks through clever use of materials and trims.
A limited number of seams for maximum trim and contrast effects.
Costume style allows for adaptations and varied inserts by seamstresses with some experience.
Experienced costumers can use a wide range of fabrics to produce several variations from a good basic style.
Guide Review - Elegant Dresses for 1:12 Scale Dolls
Cynthia Howe Miniatures produce lovely porcelain dolls, kits and a small range of patterns.
The patterns are designed to fit particular Cynthia Howe dolls, but will also fit other 1:12 scale dolls. The advantage of Cynthia Howe patterns for less experienced costumers is that photographs accompanying each assembly step are posted on the web.
What's Included With the Pattern? The pattern includes several pages of detailed instructions for assembly, accompanied by some photographs for the main steps.
Further photographs for most patterns are available online in the costume tutorials section of Cynthia Howe's website. A well-drafted set of pattern pieces for the costume are included; the Adriana costume reviewed here has sixteen pattern pieces, clearly labeled, with instructions for how many of each piece to cut. With these costume instructions and pattern pieces for a hat, purse, and parasol are included, along with a dress with an over vest, pantaloons and a half slip. The pattern envelope has a large illustration of the finished costume and accessories, along with a basic list of fabric requirements for the various costume elements.
Sew or Glue? Cynthia Howe suggests you get finer seams by gluing the pattern pieces with a narrow tip glue dispenser. A seam allowance is not given, and the bodice of the costume is glued to the doll so a beginner may need to test fit carefully as they go along. It is recommended that all pieces be finished with fray check to help strengthen the seams.
Recommended Skill Level These patterns would be difficult for a complete dressmaking novice to complete. There is no grain line given for pattern pieces, no measured seam allowance, and the fabric guidelines assume the correct weight of various fabrics will be chosen by the dress maker.
It is assumed the maker is used to working with fabrics and dolls.
Price $8.00