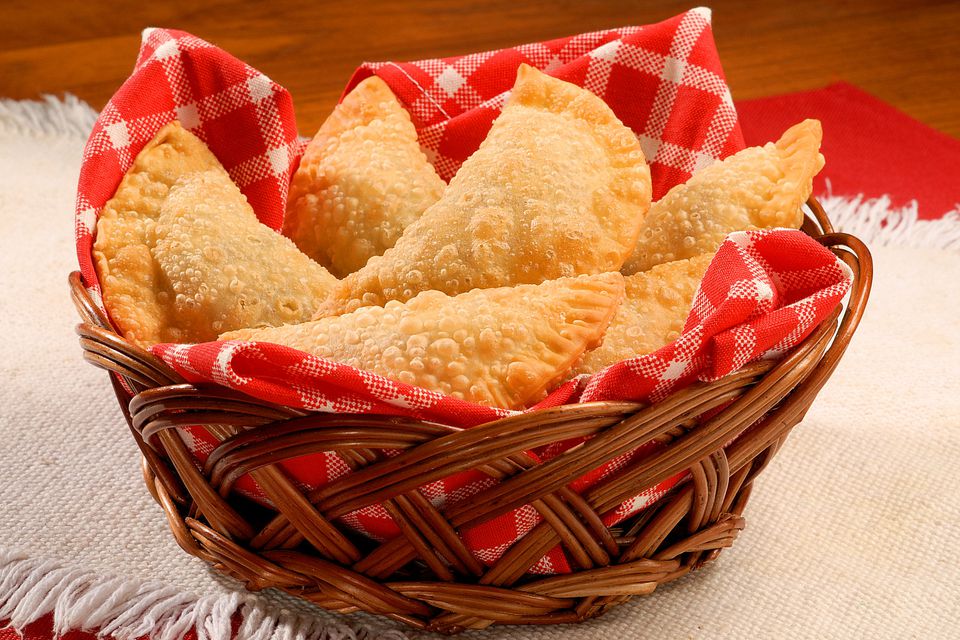 My grandmother used to make these sweet treats with the dough left over from making meat empanadas. When apples were in season, she would cook them up with sugar and raisins to make the filling; then she would fill the "extra" dough with this and fry the empanadas after dinner for dessert. Somehow, her empanada dough recipe always made way more than we needed, but we never complained!
Enjoy these as a wonderful dessert, breakfast, or snack—or make the small version for a great holiday appetizer or as a novelty treat on a cookie tray.
For the Dough:
3 cups all-purpose flour
4 teaspoons white sugar
1 teaspoon ground cinnamon
3 teaspoons baking powder
pinch of salt
1/2 cup good quality pork lard or vegetable shortening
1 egg
3/4 cup water
For the Filling:
1 cup water
4 pounds (1.8 kilos) apples, peeled, cored and cut into small cubes
1 tablespoon ground cinnamon
2 cups white sugar
1 teaspoon lemon juice
1/8 cup water
1 cup raisins, softened in warm water and drained
oil or shortening for frying
Prepare the Empanada Dough:
Mix the flour, sugar, cinnamon, baking powder, and pinch of salt together.

Cut in the lard with a pastry cutter or 2 knives until the mixture resembles coarse meal.

Whisk the egg and add the 3/4 cup of water. Add this mixture to the flour mixture and knead until dough forms. Cover and refrigerate for 30 minutes.
Make the Apple Caramel Filling:
Bring 1 cup of water to a simmer in a shallow pan. Add the apples and cinnamon and simmer until the apples are fork-tender and the water has evaporated. (Add a little more water, if necessary, for apples to cook.)
In a small saucepan mix together sugar, lemon juice and 1/8 cup of water. Begin to warm over low heat, stirring constantly. Continue to heat and stir constantly until mixture reaches a simmer. When mixture turns a dark golden color (if you have a candy thermometer, if should be at about 335 Fahrenheit / 168 Celsius), remove from heat, but don´t stop stirring!

Quickly stir in the cooked apples and softened raisins.

Tip: If filling begins to harden, return to stove over low heat to keep it soft.
Assemble and Fry Your Apple Empanadas:
Lightly flour a surface and roll out dough to 1/4 inch (6.3 mm) thick.

Cut into 4-inch (10 cm) circles for small empanadas, 5-inch (13 cm) circles for medium ones or 6-inch (15 cm) circles for large ones.

Place 1 tablespoon of filling in the center of the dough circle for small empanadas, 2 tablespoons for medium and 3 tablespoons for large.

Fold dough over to make a filled half circle and use a fork to press the edges together.

Refrigerate uncooked empanadas for 3 hours.

Deep fry in oil (350 Fahrenheit / 177 Celsius) 6 to7 minutes until golden brown. Drain empanadas briefly on a metal rack or on several layers of absorbent paper before serving. Careful- filling may be very hot!
Edited by Robin Grose