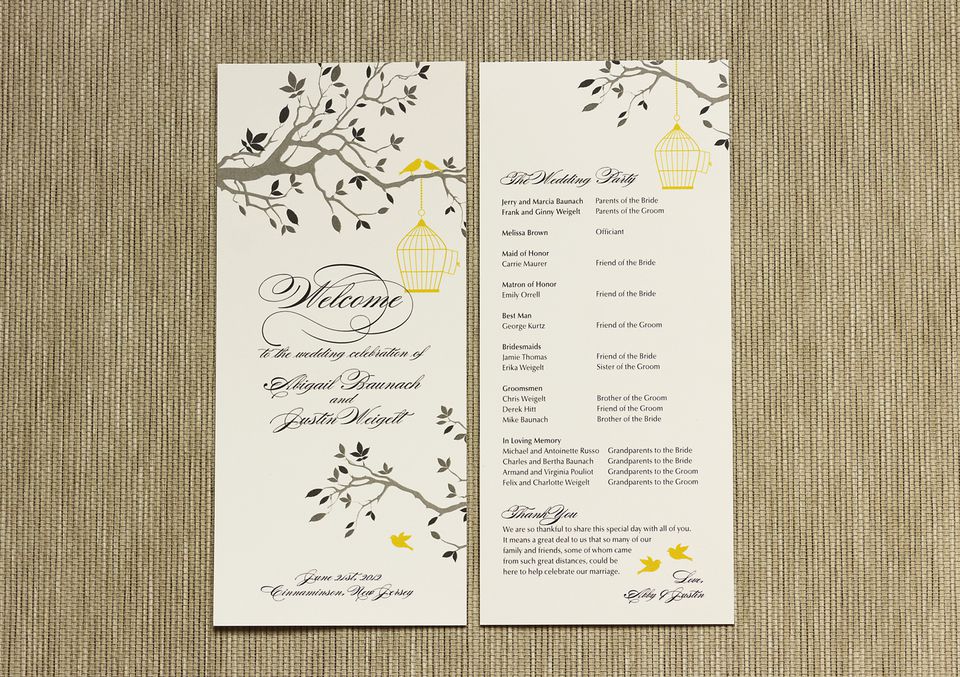 When you're looking to scale down your wedding planning to-do list, wedding programs might be one of the top items to get the axe -- but you may want to reconsider this. Wedding programs not only have a very specific purpose, they are also one of the little details that add an extra special something to your big day. Wedding programs help guests feel included and to understand what is taking place during the wedding ceremony, as well as highlight and introduce your bridal party, and leave you a place to share a sweet, sentimental note for your guests if you have room.
Outlined here are all the essential items to include in your wedding program so your guests can be kept in the loop. 
Do You Need a Wedding Program?
While wedding programs are not required, they are a useful (and sometimes necessary) piece of wedding stationery. Wedding programs are extremely helpful if:
Those who are short on time or money may wish to forgo the wedding program entirely, but remember that a simple wedding program doesn't have to require much time or money. Many guests will appreciate them as a thoughtful gesture and souvenir.
Paper is a very affordable medium, and there are plenty of free, downloadable wedding program templates that you could easily customize with your own word-processing software. 
Elements of a Wedding Program
The Cover Typically the cover of your wedding program includes the date and/or the names of the couple.
It may also include the location and time of the ceremony, a picture, or design element (such as a flower, scroll, etc.) For an added dose of personalization, make the program match your wedding invitations to keep your theme cohesive. 
The Order of Events If you haven't already included your names, wedding date, location, and time on the front cover, consider listing that information on the inside just before the order of events. Then list what will happen during the ceremony, including, but not limited to:
Your list may not include all of these elements, and it may include some traditions not listed here. Be sure to list the events in the order they will occur and list the names of those performing the readings. 
Members of the Wedding Party This is a simple list of the names and roles of your wedding party. For example:
Officiant: Reverend Michael David
Parents of the bride: Mary and John Smith
Parents of the groom: Elizabeth and Thomas Jones, Jr.
Grandparents of the bride: Sarah Smith, Margaret Blackwood
Grandparents of the groom: Susan Michael, Thomas Wilson Sr.

Maid of Honor: Maria Gellert
Best Man: William Harris
Bridesmaids: Rebecca Brown, Juanita Ramirez
Groomsmen: Calvin Aremu, Jonathan Goldstein
Readers: McGuire Johnson, Alexander Wilson
Other Optional Program Elements to Include 
Updated by Jessica Bishop, June 2016