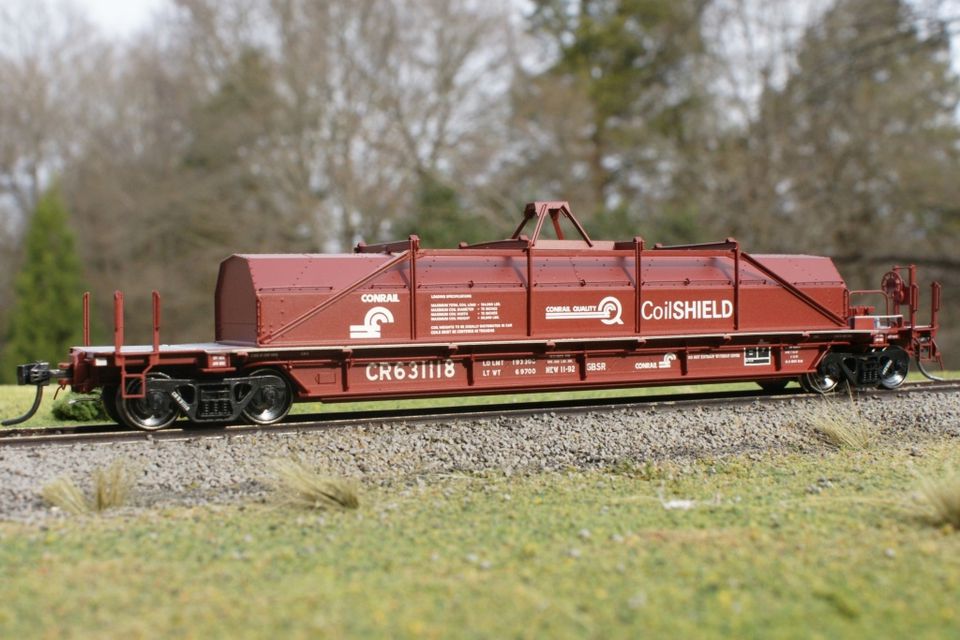 I'll admit from the beginning that as a Conrail modeler, ExactRail's announcement of a Conrail CoilShield in HO scale was a dream come true. This is one of the most distinctive cars on the Conrail roster in the 1990s and as high as it is on any Conrail fan's list of cars to own, it is also one of the last I'd like to try and build from scratch.
I've actually known about this project for some time as ExactRail approached us at the Conrail Historical Society for drawings and data on the car when they started the project well over a year before the public announcement.
That prototype research has clearly been put to use on these fine models.
So we know that Conrail fans will be happy - but what about everybody else? Only a few short years ago, manufacturers would have stayed away from a prototype like this. However, although Conrail was the only one to buy this distinctive car, they could be found hauling coils of steel all over North America. So I'm sure a BNSF modeler will be just as happy to have one of these in their trains as I would be to have a Flexi-beam flatcar in mine. Unlike almost anything else on the rails, these CoilShields have that certain "cool" factor that should make them a hit beyond the Northeast.
For the first run, ExactRail has produced Conrail's G52R class in 24 different road numbers. Cars are available directly from ExactRail for a retail price of $46.95. They are offering a 10% discount on orders for 6 cars or more.
Prototype History
Since its creation in 1976, Conrail served most of the steel manufacturing centers of the Northeast. They also served many users of that product, including more automotive manufacturers than any other carrier. Providing better service to these customers was always a priority and Conrail took pride in its steel and automotive service groups.
In 1992, Conrail worked with Thrall Car to develop and deliver a new type of specialized car for coils of sheet steel. These were the first big advances in cars for this service since the evolution of the steel coil cars of the 1960s. Conrail already had a large fleet of these cars as well as earlier specialized cars from the Pennsylvania and Erie Lackawanna and conventional gondolas equipped for steel coil service.
The new CoilShield cars employed several advantages to ensure safe travel for the expensive loads.
One of the most noticeable changes was the very low center of gravity for the new cars. This improved ride quality. Coils were also loaded in the trough parallel to the rails as opposed to perpendicular in gons and other coil carriers. Together, these changes greatly reduced the chances for coils to topple over in transit.
The distinctive hoods which covered the wells were also designed to provide a tight seal to protect the loads from moisture yet be strong enough to survive the rough treatment they were guaranteed to receive in the mills.
Two different designs of coil hoods were used on subsequent classes of these cars, with some having additional bracing on the ends.
Conrail would order four groups of these cars in individual sub-classes G52R through G52U.
In addition to the cover modifications noted above, there were several notable changes in the Conrail graphics as well. Norlfolk Southern also received similar cars but with an even more distinctive cover. ExactRail has promised these for 2014 and I would not be surprised to see the other Conrail variations as well.
Following the Conrail split in 1998, the CoilShields were distributed among Norfolk Southern and CSX along the same 60/40 split as the rest of the roster. CSX cars were noted with new NYC reporting marks. Norfolk Southern's retained CR marks. As of today, no cars are known to have been repainted by either road.
ExactRail's Model
OK, I've already admitted my personal bias, but one look at this model and you just have to say, "Wow."
ExactRail has been producing some exceptional models and this one may be their finest yet.
It is certainly the most unique (with the possible exception of their early Vertipack auto-loader.) This car is sure to stand out in any train - and it will grab and hold your attention.
The model is mostly plastic construction. The hood is undoubtedly a separate casting, but it is glued onto the model. Since these cars were never shipped without the hood (instructions for which can be clearly read in the fine print on the model) that shouldn't be much of an issue for modelers.
With so many angles and details, it is hard to pinpoint one area of the car as "most interesting." All are very well done.
The "B" end of the car has the handbrake and also most of the air brake equipment mounted above the platform. This is very well done. I found one small bit of flash the brake lines of some of the cars I purchased. This is easily fixed with a gentle touch and a sharp hobby knife.
On the ends of the car, the draft gear is some of the nicest I've seen yet on a model. Kadee No. 158 couplers are used which are close to scale. The coupler pockets have a narrow profile avoiding the "big slot" look found on most models.
The only detail omitted on the ends is the air hose. The train line simply ends at the edge of the platform. This is probably a good compromise. With the magnetic uncoupler wand on the Kadee representing an air hose, having this detail gives the look of a second air line. That fine detail is also likely to get broken off on operating layouts anyway. For those who are after a more scale appearance, the Kadee can be replaced by a true-scale coupler and the air hose added. Most operators will, I suspect, be perfectly happy leaving the car as is.
The many walkways around the platforms and sides of the car are another distinctive feature. ExactRail has duplicated the different tread patterns found on the prototype's walkways. On one of my sample cars, one side walkway was bowed up when I opened the package. A little glue will fix this problem, although it looks like the piece was not installed properly or is just a little too long for its location which put the extra pressure on the part causing it to spring up.
One out of 24 cars isn't too bad, and it's not a hard fix.
Paint and Lettering
The only thing that would have been a bigger challenge than building this carbody from scratch would have been decaling all that small data! There is fine print on this model everywhere you look and it is all crisp and clear.
A fellow CRHS member and modeler who has photographed many of these cars has noted that the build dates on some are off by one month (showing 11-92 when they should be 10-92.) Again, this is a problem I can live with or easily correct. (Most likely the former.) To be honest, it is a detail I'm surprised ExactRail missed, but with so many things to check on each prototype, it is literally a small oversight.
Beyond that, the lettering has matched up perfectly to photographs I have studied of the prototype. There were some changes in the logo and other printing on subsequent classes. These models capture the style of this first group accurately.
As seen on their recent centerbeam flatcar release, ExactRail has even put the reporting marks and road number on the truck sideframes. I love this detail. It is the perfect compliment to what I also believe are the nicest truck sideframes in HO scale today.
On Your Layout
Whether or not you model Conrail, if your railroad is set any time from 1992 to the present, you can easily justify at least one of these cars on your railroad. Spot it at a rolling mill, auto body plant or any other industry that uses steel coils. Or just keep it in run-through service between interchanges or off-line industries.
With this one-of-a-kind look, the CoilShield is sure to shine in any consist among the conventional gons, boxcars, tanks, etc. Of course if you model the Northeast or any industry that would use lots of these cars, then there is no need to stop at just one. And with 24 numbers already available, it is easy to build up a large fleet.
In service, these cars regularly show up alone in trains, as small blocks, or mixed in with other coil cars and gons.
Sitting low to the rails, these cars picked up quite a bit of road dust even after a few months in service. Add a little weathering to suit and you've got a contest-quality model.