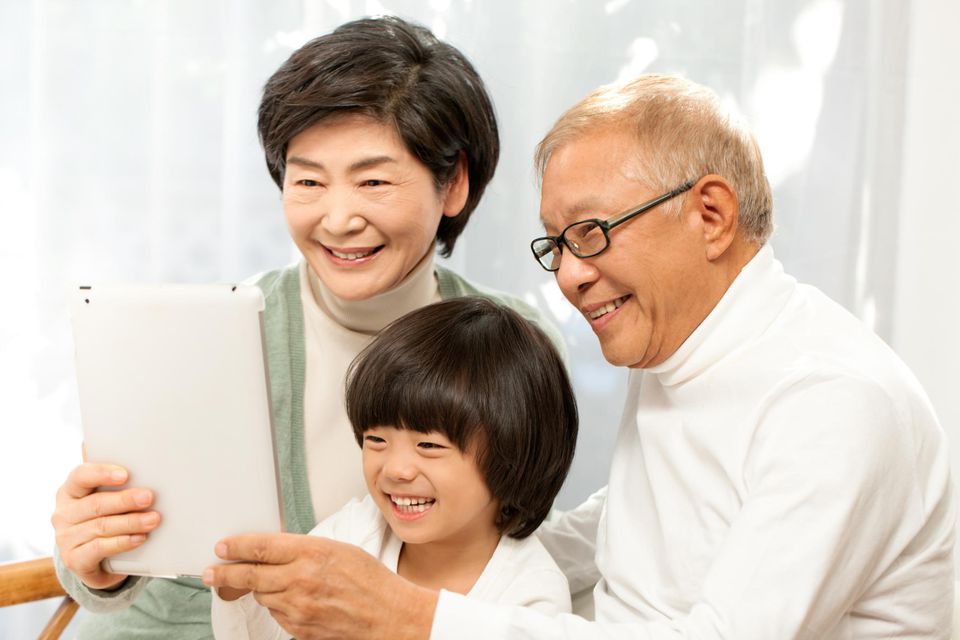 A friend and I had lunch in a tiny Thai restaurant recently, and the only other customer in the place spent an hour talking to his iPad, at least that's what it seemed that he was doing. My more tech-savvy dining companion said, "Oh, he's on FaceTime." I had questions, lots of questions, in addition to wondering what the etiquette mavens say about someone chatting with a dining companion who isn't really there.
Maybe you have questions, too.
What Is FaceTime?
FaceTime is video chat technology that can be used on a number of Apple devices. Minimum requirements are a wireless connection plus one of these devices or a higher version of one of these devices: iPhone 4, fourth generation iPod Touch, iPad2 or a Mac computer with camera.
FaceTime is preloaded on qualifying mobile devices, so it requires no download or installation. You don't even have to set up an account. Just tap the FaceTime button to invite someone in your contact list to participate in a video call. Macs do not come with the application, but downloads are available.
Is FaceTime Free?
FaceTime is free from Apple, but when accessed over a cellular network, it will be charged to your data plan. It could cause you to exceed your data limits. Otherwise the only time you pay for it in any sense is if you pay for access to a wireless network.
You will need a broadband wireless connection. If you make a phone call to initiate a FaceTime contact, that phone call will count against your minutes, but it's not necessary to use the phone to start a FaceTime session.
How Do I Use FaceTime Over a Cellular Network?
With the release of the iOS6 operating system, Facetime can be used via cellular network.
 AT&T at first made FaceTime available only to those on specific data plans, but it is now available to all users. Sprint and Verizon have not restricted use of FaceTime over their cellular networks, but they have far fewer iPhone users in their systems than AT&T.
If you are having trouble using FaceTime over a cellular network, be sure that you have turned on cellular data for Facetime. You should also be sure that FaceTime is turned on and your camera is turned on. All of these are available in settings. If you are still having trouble, you may have to turn your device off and then back on, or you may need to update your operating system. Still having trouble? Contact your service provider.
Is FaceTime Like Skype?
If you've been using Skype, you won't find a great deal of difference between that application and FaceTime. I find FaceTime somewhat easier to use. For one thing, you have to create an account to use Skype, so it's a bit more trouble to get started. Skype started out as a computer-to-computer protocol, but now it is available for Windows phones, Android phones, Apple iPhones and iPads.
Do I Need Any Other Special Equipment?
Some users like using headphones or a Bluetooth setup, but these are not required for a FaceTime session.
Why Can't I FaceTime on Other Devices?
Generally speaking, two cameras are required for Facetime. The iPhone3G and 3GS models have only one camera, so Apple has never installed or supported FaceTime on anything less than an iPhone4.
What If I Have Technical Difficulties?
FaceTime is so easy to use that you are unlikely to have problems. If you do, Apple support will likely have the answer.
How Do I Make the Most of FaceTime?
In my hints for using Skype, I advise grandparents to set up their video calls ahead of time, to ensure that family members are available and not too busy. As FaceTime becomes increasingly a mobile app, FaceTime calls will likely evolve into briefer, more spontaneous exchanges. Still, having something specific to say is helpful, and since you have picture with your sound, props are nice, too.
Whether you are using FaceTime or Skype, your call should be geared to the age of your grandchild.
Need more information? Learn how to use FaceTime, how to set up FaceTime on an iPod Touch or how to use FaceTime on an iPad.