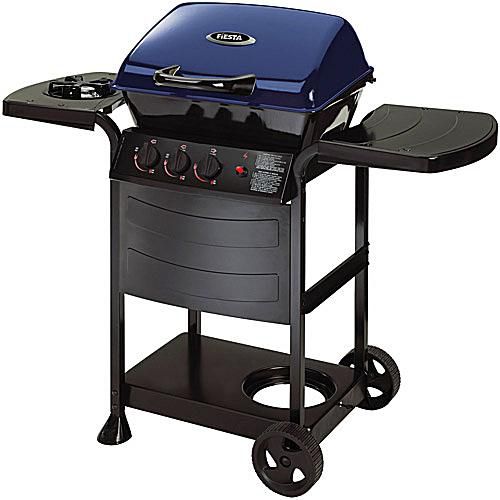 The Bottom Line
Like most of the least expensive 2-burner gas grills on the market, the Fiesta Gas Grill at Wal-mart this is lightweight and thin. Of course, for around $120USD you can't expect a lot. The Fiesta grill is made by Onward Manufacturing, the people behind Broil-King and Huntington Grills. This grill is very similar to the other grills in this price range. Expect a flimsy grill that can do a pretty good job of grilling some burgers.
Pros
Cons
Under powered side burner
low quality burner
Large amounts of plastic
Description
One dual control stainless steel (thin and low grade) burner with 12,500 BTUs per side
260 square inches of primary grilling space for a total cooking area of 435 square inches
25,000 BTU maximum output from the main burner
10,000 BTU side burner without cover
Single push-button piezoelectric igniter
Porcelain coated steel wire cooking grate with chrome plated warming rack
Porcelain painted steel body
Porcelain coated steel vaporization barrier
Propane tank and cover sold separately
Made by in China by Fiesta Grills, a division of Onward Manufacturing, exclusively for Walmart
Guide Review - Fiesta 25,000 BTU 2 Burner Model# BP26035-024BL
When Onward Manufacturing picked up the Fiesta brand of grills they intended it to be their lower priced product line. This Chinese made Fiesta gas grill is lightweight and inexpensive model exclusive to Walmart.
Packaged, this grill only weighs 45 pounds, so you can imagine just how lightweight this grill is.
The Fiesta 25,000 BTU grill is a very basic gas grill. The body is thin, porcelain painted steel. The single, dual control burner is low grade and thin stainless steel. The truth is, in this day, getting a gas grill in this price range doesn't mean quality or durability.
While very basic, this grill is better built than many of the comparable products.
The first component of this grill that will fail will most likely be the burner. As a single unit, when it goes bad it has to be replaced. The cost for a new burner is around $25USD so the decision that you will be making in a few years is whether to replace the burner or the whole grill.