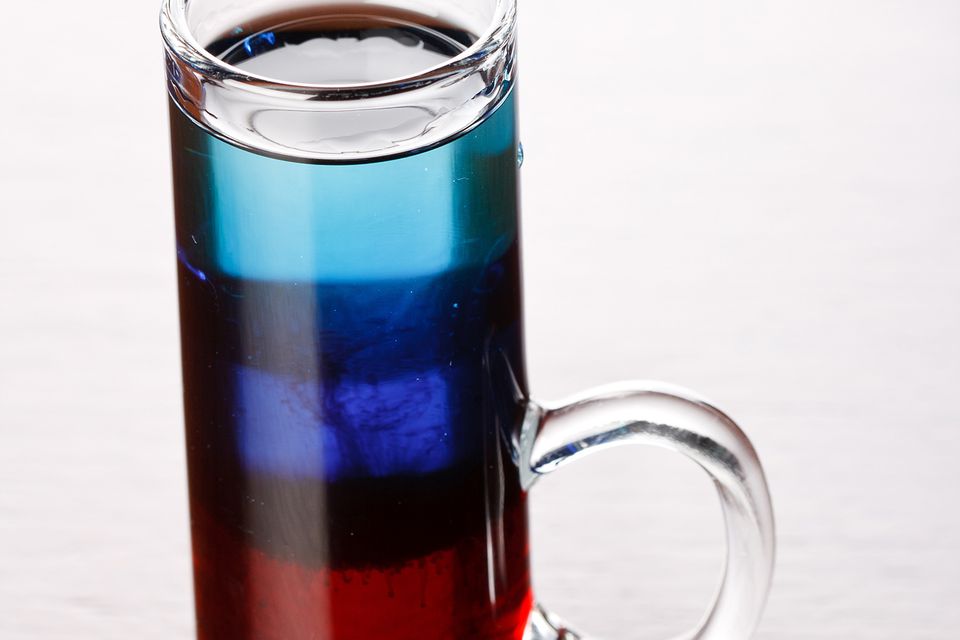 The Fourth of July (or Patriot) is a popular layered shot drink that shows off the color of the American flag in a glass. It's a fun vodka shot for Independence Day parties or anytime you want to celebrate with a patriotic theme.
This is actually one of the easiest layered shots you can create, so it's a perfect place to begin practicing your floating skills. It comes together so easily because the density of the three ingredients are very far apart from one another and you will have no troubles creating distinct layers.
Now, if you don't want to use up your vodka, you can top your shot with peach schnapps instead. In this case, you will be creating a Red, White & Blue shooter. ​
Both are fun drinks for any party and they are the perfect excuse to show off some of those bartending skills you've been working on.
Pour the grenadine into a shot glass.
Float the blue curacao on top of the grenadine.
Float the vodka on top of the Curacao.
Tips for Successful Layers
There are two simple things that you must remember when creating layers in any drink: pour the last two ingredients over the back of a spoon and pour them in order.
Grenadine is a syrup and one of the thickest, heaviest ingredients in the bar, so it almost always goes on the bottom.
The sweet liqueur known as blue curacao is perfectly situated in between.
Vodka is one of the lightest liquors, and it has no sugar, so it goes on top.
Tip: To remember the layering order, simply think about how much sugar is in each ingredient. Also, the higher the alcohol content, the lighter the liquid.
How Strong Is the 4th of July Shooter?
There is no mixing this drink, so there's no water to dilute it. Grenadine is alcohol-free, so it helps tame this shooter down a bit. That takes what could be a 66-proof shot down to a relatively mild 46-proof (23% ABV).
The Fourth of July is nowhere near as potent as a shot of tequila, but it's also not the weakest shooter you can bring to the party. Don't let the sweet taste deceive you as this one can sneak up on you.
More Layered Shots
Layered shooters saw their heyday before the turn of the century. During the 80s and 90s, these colorful little drinks rocked the bar, but they've lost a bit of steam since. That doesn't mean they are less fun to make or drink; it's just one of the many trends we see in the bar world.
If you would like to explore more of these 'retro' drinks - that dates a few of us! - Be sure to play around with these recipes. The B-52 is the hottest of the lot and still has many dedicated fans.
Santa Shot - grenadine, green creme de menthe, peppermint schnapps