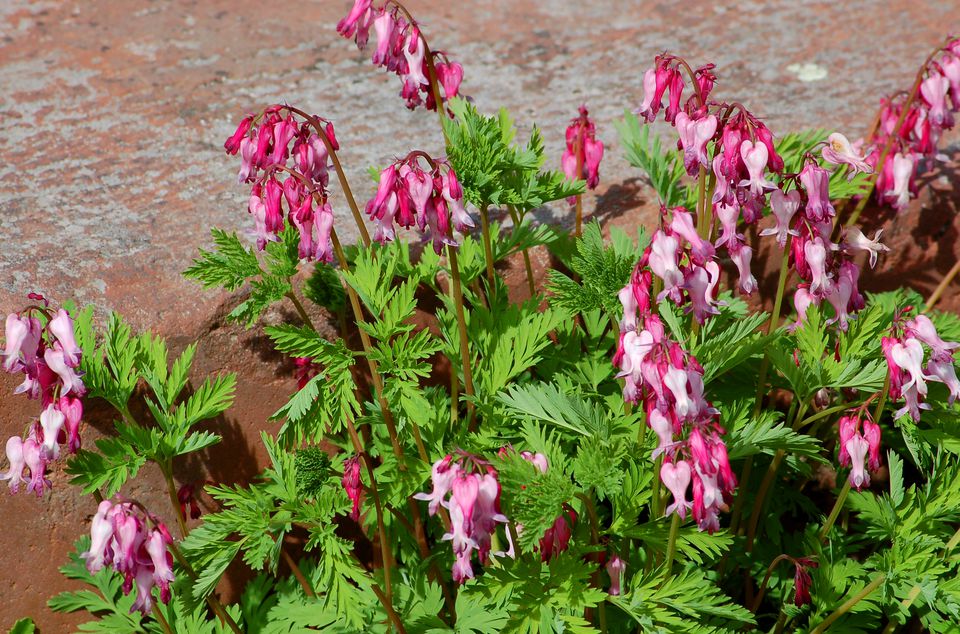 Fringed bleeding heart plants are herbaceous perennials.  Plant taxonomy classifies fringed bleeding heart plants as Dicentra eximia. 'Alba' is a white-blooming cultivar of this wildflower.
Whoever named these plants evidently thought very highly of them, as the specific epithet eximia means "distinguished" in Latin. When the Romans were preparing for an animal sacrifice and found a "choice" victim, that animal was called eximia (or eximius, if the animal was male).
Characteristics of Dicentra Eximia
Fringed bleeding heart plants reach a height of 12-18 inches with a similar spread. In addition to their romantically-shaped flowers, which first come out in spring, these perennials are valued for their grey-green, deeply dissected leaves. They bear several drooping flowers along a leafless stem. The flower color is commonly pink or reddish purple.
Planting Zones
Indigenous to eastern North America, Dicentra eximia can be grown in planting zones 3-9.
Sun and Soil Requirements
Plant in shade to partial shade. Dicentra eximia grows best in moist but well-drained ground. Furnish this perennial with a liberal dose of humus for optimal growth.
Uses
The fact that fringed bleeding heart plants are sometimes found in rocky soils in their native habitat suggests usage in rock gardens. However, they are not as tolerant of dry conditions as many perennials used in the rockery.
Shade-loving and capable of naturalizing, they're also an obvious candidate for woodland gardens and shade gardens. They can spread both by reseeding and via rhizomes.
Wildlife Attracted
Fringed bleeding hearts attract hummingbirds. Since they are poisonous plants if ingested, it is not surprising that they are also deer-resistant plants.
Growing such deer-resistant perennials is a great way to cut down on landscape maintenance.
Care
Divide these perennials in spring, every few years, to ensure vitality. Apply mulch to minimize competition from weeds. Deadhead to promote reblooming.
Outstanding Features
The fringed, fern-like appearance of the foliage is the reason that some gardeners prefer Dicentra eximia to the showier and more widely grown bleeding hearts, D. spectabilis. The leaves are not only attractive but also persist through the summer heat, unlike those of D. spectabilis. 
Similar Perennials
Dutchman's breeches (Dicentra cucullaria) bears white flowers that truly do remind one of pairs of pants hung out to dry. Squirrel corn (D. canadensis), like Dutchman's breeches, has white flowers, but they assume a shape more like that of Dicentra eximia and D. spectabilis.