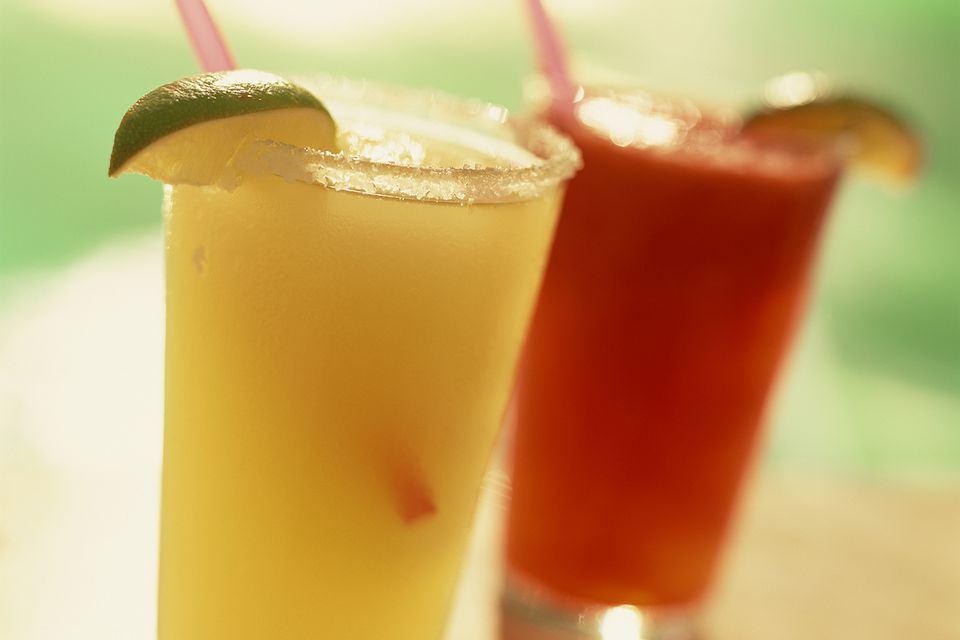 There are two styles of daiquiris: frozen and shaken. This recipe is for the frozen version of the basic and original lime Daiquiri. It is simple, delicious, and a fantastic way to cool down on a hot summer day.
The daiquiri family of drinks is much like the margarita; they can come in any flavor, style, and color imaginable. Where the margarita has tequila, the daiquiri has rum and from there, a fruit and a sweetener are added.
In the case of the basic Frozen Daiquiri, the fruit is fresh lime juice and the sweetener is simple syrup. Toss these three ingredients into a blender and mix it until smooth and you have yourself a perfect tropical drink in minutes.
Blend the ingredients with 1 cup of ice until it reaches the desired thickness.
Pour into a chilled collins glass.
Garnish with the lime wedge.
More Tips for Making a Great Frozen Daiquiri
This is a very basic recipe that is designed to be played with to suit your individual taste. The measurements given create a well-balanced drink of sweet and sour though you may find that you enjoy more or less lime.
Blended drinks don't always come out perfect the first try though fixing them is very easy. If the mix is too juicy, add more ice. If it is too thick, add more juice. Blend again and adjust as needed.
The choice of rum is going to be a personal one. There is really no need to use your best rum here, a good mid-range rum will be perfect.
There is also no reason to stick with white rum. This daiquiri is very transparent and could use some depth every now and then. Try making it with a gold or aged rum and, for even more flavor, you may consider a spiced or flavored rum.
Fresh lime juice is going to make a far better daiquiri than any bottled juice you can buy. It is key to finding that balance between sweet and sour and many of the bottled lime juices are too sour or too sweet.  However, the average lime yields less juice than this recipe calls for, so make sure that you are prepared with plenty of limes.
Add Flavor to Your Daiquiri
As I mentioned, this is a very basic daiquiri recipe and, while it is fantastic, it can also be enhanced in a number of ways.
You can add just a hint of extra flavor by using a flavored rum or simple syrup. Almost any fruit will complement the lime. Pineapple rum and strawberry syrup would be two excellent places to begin. Infuse either ingredient with herbs like rosemary, lavender, or mint to add even more dimension.
For a big change in flavor, simply add your favorite fresh fruits to the blender. Cut them into chunks for easier  blending and don't be afraid of mixing flavors.
Pineapple-kiwi, strawberry-banana, apricot-peach... the combinations are endless.
How Strong is the Frozen Lime Daiquiri?
Frozen cocktails are very interesting when it comes to estimating their finished strength because we have to account for the entire volume of ice which becomes part of the cocktail. This naturally makes the drink lighter in alcohol than cocktails of any other style.
In this recipe, we use 1 cup (8 ounces) of ice and will assume that an 80 proof rum is poured into the blender. With those measurements, the average Frozen Daiquiri would be right around 6-7% ABV (12-14 proof), which is almost equal to the average bottle of beer.