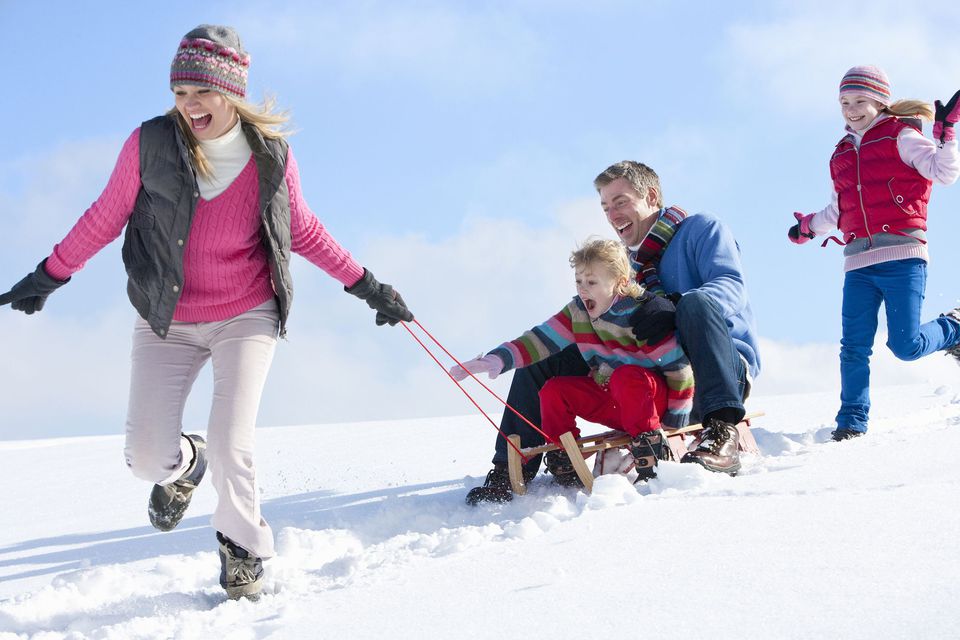 Christmas is closing in but your family isn't celebrating this holiday. There are still plenty of things to do this winter as an alternative.
Volunteer
Of course you can volunteer any day of the year, but there's an extra need for volunteers during the holidays. Fortunately, there are many family-friendly volunteering opportunities so everyone can be involved.
Volunteer at pet adopt-a-thons to help animals find a new home this season.
Spend an afternoon volunteering at a soup kitchen so that others can get a good meal. Donate your family's time to help collect coats for less fortunate kids. There's no limit on how you can help other people during the holidays.
Find Winter Festivals
Look for festivals that celebrate the winter season. Craft and art fairs are extremely popular in November and December so artisans can sell their work. Some of these events also have winter-themed activities that can include games, face painting and rides for the kids.
And don't rule out festivals that contain the word "Christmas" in their title. Check their activities because many times the difference between the two is minimal.
Enjoy Winter Season Activities
Instead of hibernating until the temperatures warm up, embrace the colder weather. Work your way down this list of winter fun for families.
From snow games to building projects, there's plenty of fun to be had indoors or out.
You just need some willing kids and an adult or two who wants to play too.
Throw a Winter Wonderland Party
You're getting invites to every Christmas party within a 25-mile radius of your family. Throw your own party with a winter wonderland theme.
From the snowflake decorations to the frosty punch, you can throw an inexpensive party that doesn't have to be centered around Christmas.
Make your theme all about Old Man Winter instead. For the kids, add in some winter party games to your event or, if the weather's cooperating, host a sledding party.
Make Presents for Others
Get the whole family involved in making presents for other people. There are many ways you can help.
Fill shoe boxes with essential items, such as toothbrushes, toothpaste, toilet paper, etc., for nonprofit organizations dedicated to helping others in third world countries. Pack boxes for the members of the military serving overseas. Closer to home, make low-cost gifts for others in your area. Nursing homes and hospitals are a great place to start. A present can be anything from small bouquets of flowers to items you can buy at a dollar store, such as sparkly window clings or winter decorations that will brighten up any room. Homemade gifts are even more special and cost effective if you and your family have the time.
Take a Vacation
The real meaning of Christmas has become lost in a sea of commercial clutter for a lot of people. And that means a lot of families are going overboard with presents, presents, presents.
If you're scaling back this year or choosing not to celebrate Christmas, you can take the money you would be spending on presents and put it toward something else.
How does a family vacation sound? While other families are traveling to see relatives, pack your family up for a holiday getaway. Go skiing or escape the cold temperatures for the beach. Your choice.
Start a New Family Hobby
Take up a new hobby that's a collaborative effort. Get the whole family involved in a brand new hobby.
As a group, decide what this new hobby will be. Try putting puzzles together as a family. Collect stamps. Learn new card games. Set up badminton in the backyard if it's not too cold.
Split into mini-groups, if necessary. For example, the ladies can take on sewing or writing, while the guys in the house may learn how to play a new sport or start to tinker with old cars.
Hit the Movies
December is an excellent time to catch a new movie. While some are Christmas themed, many are not.
The box office is a popular place during Christmas with many new releases hitting the silver screen for the first time close to year's end. Take advantage of this time so you and your family can spend an evening at the movies.
Or stay home and make your own movie theater right in your living room. Rent a DVD or stream a new movie without ever leaving the comfort of your jammies and your couch.
Try a New Activity Every Day in December
Did you know that December is Write to a Friend Month and Read a New Book Month? What better way to enjoy the last month of the year than by participating in these global events?
Print this list of December activities. From getting to know your neighbors during Hi Neighbor Month to Universal Human Rights Month, there's something for every family to try together.
Donate Items
The end of the year is the perfect excuse to get organized. Even if you've scaled down Christmas or simply don't celebrate, that doesn't necessarily mean your kids won't be getting presents from others.
Get your home organized and help others at the same time. Donate those old summer clothes your kids won't be able to fit into next May. Clear up that toy clutter and make way for some new arrivals.
Bake Together
Spending time in the kitchen is a favorite way to pass the time on those cold, snowy days. Bake breads, make thumbprint cookies and even make snowflake marshmallows for your favorite hot chocolate recipe.
Think of all of of the fun winter baking projects you can make. You'll be all set until the spring thaw.
Spend Time with Your Family
What's most important any time of the year? Spending time with your family, of course! As the year comes to an end, use these last days to sneak in some quality time with your kids.
Bonus: Use the Holidays to Make Extra Cash
There's something else to think about when it comes to the holidays. You can earn extra cash.
The demand for seasonal employees surges during the holidays. Stores need extra team members to stock merchandise late at night or work the cash register on the weekends.
And with many stores extending their hours, you can find an opportunity that works around your schedule. So if you don't want to work until after the kids go to bed, you don't have to. Contact your favorite stores to get started or visit their website. Many have seasonal job listings posted directly on their "Employment Opportunities" pages.