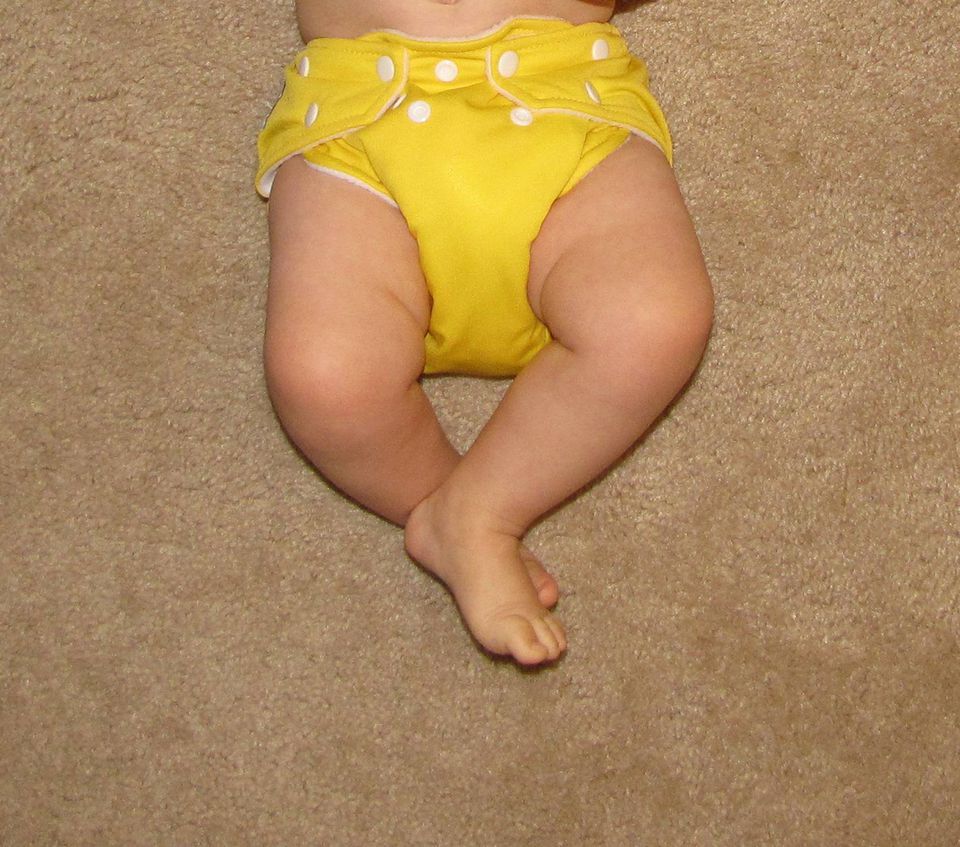 FuzziBunz is one of the best selling cloth diapers year after year. There's a reason for that. The drawbacks to using this brand over its competitors are minimal, which make it a popular choice for cloth diapering parents. Find out more about FuzziBunz one size pocket cloth diapers with this review and information to help you decide if this is the right cloth diapering option for your family.
Pros of FuzziBunz One Size Pocket Cloth Diapers
Included replaceable elastic makes the diaper usable from birth up to 35 pounds
Over 30 possible adjustments
Durable diapers that stand up to the rigors of daily use, washing and drying
Microterry insert easily shakes out of the diaper and into the washing machine.
The FuzziBunz Diapers website features videos and pictures to explain more about each type of diaper.
One-year warranty on craftsmanship
Cons of FuzziBunz One Size Pocket Cloth Diapers
Limited selection of colors
Only available with snap closures, no Aplix closures
Only available as a pocket diaper. No all-in-one or diaper cover options.
Adjustable elastic in leg casings contain buttons, which will need to be checked often to make sure the button isn't loose. This button is also up against your baby's skin. (One Size Elite Diaper takes care of this issue with the buttons being placed inside the gussets and away from baby's skin.)
Waterproof interior of FuzziBunz makes it difficult to stuff the insert back into the pocket.
FuzziBunz Diaper Inserts
Each diaper comes with two microterry inserts. Both inserts are the same size.
The inserts are thick. When you double up on the inserts for bedtime or to accommodate heavy wetters, your baby's bum will look like a ball of fabric.
Many of my baby's clothes that are big on him in other cloth diapers are too small around his hips with two inserts inside the FuzziBunz One Size Pocket Diaper.
The snaps in his pajamas keep popping when both inserts are used.
FuzziBunz One Size Pocket Diapers
The FuzziBunz One Size Pocket Diapers are bulkier than some of the other cloth diapers on the market. FuzziBunz says that's one problem its new One Size Elite diaper corrects.
Even with the extra padding, FuzziBunz is one of the favorites in my house. The microfleece is thick and soft. The colors are bright. The diaper is well constructed.
While a lot of other cloth diapers only have two snaps on each side to keep the wings secure, FuzziBunz has three per side. I own a lot of cloth diapers with two snaps to hold one wing in place. The third extra snap on the FuzziBunz diapers does make a difference. The diaper feels more secure and more like a custom fit with this extra snap.
Unlike most other one size diapers, FuzziBunz does not have snaps you adjust to raise or lower the length of the diaper. Instead, FuzziBunz's size is adjusted through the elastic in the legs.
The buttons and buttonholes you'll find in your children's pants to adjust the waist is pretty much the same system FuzziBunz uses. You also get a replacement elastic just in case the heavy use you'll be getting out of this diaper over the years takes its toll on the elastic band.
If you love cute prints, you'll probably be disappointed that FuzziBunz only come in solid colors. But this diaper's vibrant colors and durability make it a must-try for cloth diapering parents.
FuzziBunz Diapers Wash and Care
I wash my FuzziBunz Diapers daily. Out of all of the cloth diaper brands I own and have to wash, FuzziBunz is one of the fastest to dry. This gets them out of the wash and back on my baby quickly.
The company's official instructions ask you to run a cold rinse or soak cycle without any detergent. Your second step is to add detergent and run the diaper in a hot cycle. Follow that with a cold rinse if the diapers are especially dirty. Tumble dry on low or line dry.
My FuzziBunz diapers are dried on the permanent press cycle with the dryer temperature on low. I've never had a single diaper leak.
Tips for Buying FuzziBunz Diapers
You can't buy FuzziBunz diapers directly from the manufacturer's website. Do check the website for a list of authorized retailers, though. Many only have online stores but offer free shipping, clearance items and special sales.
Comparison shop between several sites. Sometimes Amazon.com has the best deal on a certain color. Sometimes one of the online-only retailers listed on the manufacturer's website has a better deal. The savings can be a few dollars or more.
Buy one FuzziBunz diaper to try before committing to more. If this diaper isn't for you, you won't have to deal with the hassle of returns.
Disclaimer: A FuzziBunz One Size diaper was purchased for review from an online retailer. Total cost was $19.95.