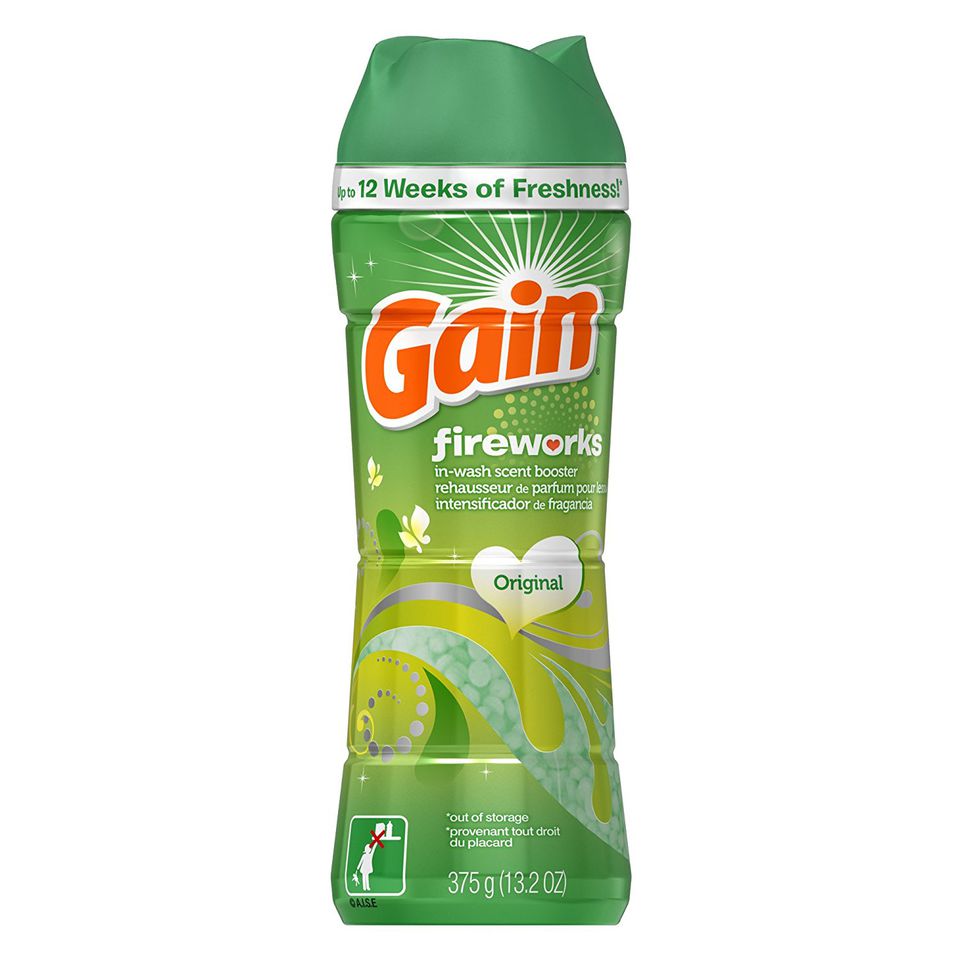 If you have kids, you end up with some interesting combinations of smells in your laundry room. There are times, like during soccer season, when a little extra kick of scent would be welcome. Gain's Firework In-Wash Scent Booster offers to kick up the scent of your laundry with small crystals that release scent directly during the wash cycle.
Gain Fireworks: Directions
Using this product is actually fairly simple.
The cap for the Gain Fireworks serves as a measuring tool. Choose how much of a capful you want to use. Measure the little crystals into the cap before dumping them directly into the drum of the washing machine where the clothes are also placed. Do not put these crystals in the soap or fabric softener dispenser. In my daughter's eagerness to add the pink pretties to the laundry, she put them directly in the fabric softener dispenser. We had a clumpy mess to remove once I figured it out. When added properly in the drum of the washing machine, the crystals dissolve, leaving behind a fresh scent for.
Gain Fireworks Trial
I sniffed the bottle and was impressed. The scent was a typically Gain, fresh laundry scent that wasn't overwhelming but recalled the soft, fresh smell of clean laundry.
At home, the first test for the product was a load of my daughter's bed linens. I was a little worried that pink color would find it's way onto her white linens, but that didn't happen.
Instead, we pulled the clean blankets and sheets out of the dryer. She grabbed them and hugged them right away. Commenting on their wonderful smell, she went straight to make her bed!
Over the next couple of weeks, we tried the Gain Fireworks on all different laundry types. The smell definitely stayed with the clothes for at least 1-2 weeks after washing.
I usually added 1/3-1/2 of a capful to most loads. Adding more would increase the scent.
Gain Fireworks Details
Gain Fireworks comes in a 14.1 oz container and it is available in Sweet Sizzle scent. I was able to do at least 18-20 loads with the one bottle, but that depends on how much you use.
Gain Fireworks: The Bottom Line
I really liked using the Gain Fireworks In-Wash Scent Booster. It's a simple product which delivers on its promise and it's easy to use. The scent lasts longer than just out of the dryer and the smell is fresh and comforting without being overwhelming.
I've read some reviews that complained that the crystals didn't dissolve or left residue on clothing. After washing over 20 loads with this product, I didn't experience that even once. There are a lot of claims that the scent can last for a couple of weeks in your closets, but for us, the scent lasted at most a week. Gain ended up having my favorite scent, although each of my kids had their own favorite among the competitors.
My problem with these types of products is pretty much the same with Gain's version as it was with the Purex Crystals and Downy Unstoppables. All of these products are scent products only. They don't act as a fabric softener, a dryer sheet, a stain remover or a detergent.
They cost as much or more than many of these other laundry additives, but only provide scent. For me, adding this to my laundry routine doesn't make financial sense. If you are big on scent, though, this product might be for you.